Green Broke
Join Date: May 2009
Location: Winnipeg, Manitoba, Canada
Posts: 4,510
• Horses:
2
Ever get worried your horse is smarter then you are?
---
I dunno, sometimes training Jynx that's exactly how it feels! She just astounds me. Several of you may recall how I was having issues with her gas pedal - she was just a lazy little thing who I had to kick repeatedly to get a response out of. I carried a crop once and she did fantastic - and that was almost the last time I rode her. The weather has kept me off her back for several weeks now, although I did ride her bareback a couple days ago because it was to cold for a saddle and the day before that WITH a saddle and her first time in a hackamore.
Anyway, this morning the cold snap finally broke a bit (it was only -27 with the windchill, YAY!) so I saddled her up! Haha, trying to ride with this many layers is tricky, and I didn't round pen Jynx today (she has to learn sooner or later, I'm not asking her to run in circles everytime I want to ride!) so as soon as I swung my leg up, she was rarin' to go. She decided to throw a little tantrum so I swear we must have made quite the sight as I fought to find my stirrups in big winter boots with bratty face kicking up a crowhop every second step
But eventually we settled in nicely!
And then she proceeded to SHOCK me. This is only her second real ride with the hackamore, and she isn't phased the tiniest bit. I'm able to use extremely soft movements to straight rein her in the hack (I know, I know, bad me, but you come warm up a metal bit in this weather!!). I would stop using it in an instant if it was confusing her, but I swear she straight reins better in a hack then she did with a bit!
She was so amped, I got Shay-la to video because I thought for SURE today might be the day I see some bronc in her - nada. She proceeded into an absolutely BEAUTIFUL working trot, without a lick of encourgement from me almost the entire time. No trying to stop, no trying to walk, no trying to evade, she simply just trotted her legs off and went exactly where I asked her to!
I swear, anytime I try to teach this filly something, she learns more standing in a pasture and contemplating it then she did in the actual lesson! It's been a joy working with her, and here are some pics and vids!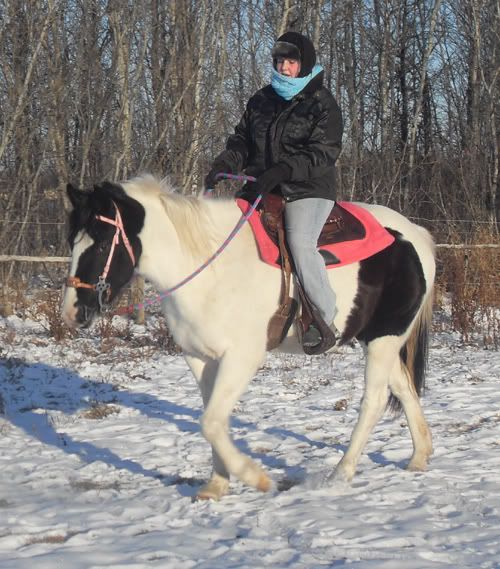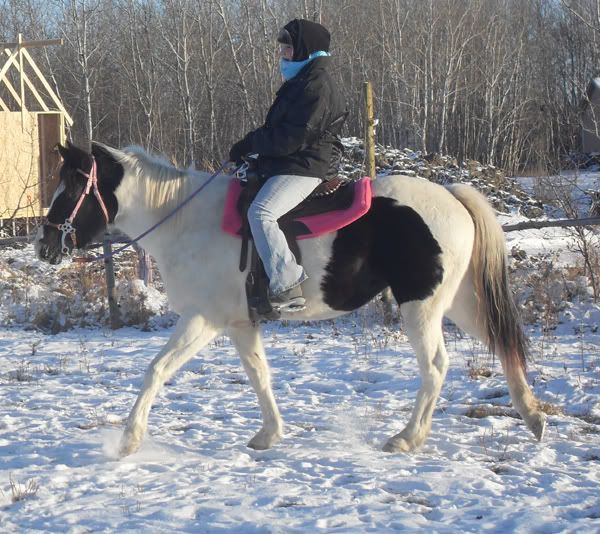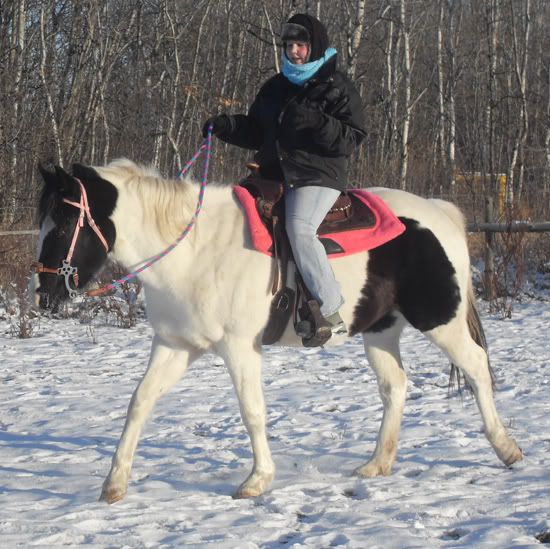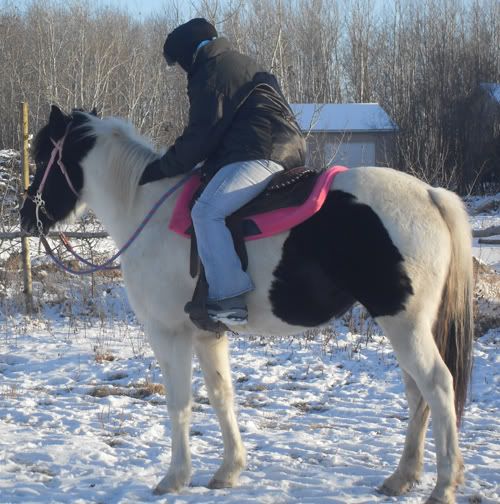 ---
Quote:
I hope God tells her to smash her computer with a sledgehammer.
she looks like shes doing great =] & i hope you guys are staying warm up there !!!

oh and yes i KNOW my horses are smarter than me !
---
Gypsy & Scout <3
Everybody is a genius. But if you judge a fish by its ability to climb a tree it will live its whole life believing that it is stupid. ~Albert Einstein
HAHA...gotta love the impulsion that magically shows up once the temperature drops below 30. I'll be riding the energizer bunny for the next 4 months. Sometimes cold is a great thing. Hopefully for your girl she'll forget about being dull to your leg once it warms up again.
lol, who says horses or animals in general - are not intelligent. Just because they cannot communicate in our language, doesn't make them any less than what we are.

:)
---
I've always found it much easier to teach horses than to teach people. I know they are smart. The funny thing is, my main horse who I've had for years is the one that throws kinks into my plans more than any other. He has helped me train horses, work cows, compete in just about everything, but he is the first one to humble me.
LOL. I know my horses are smarter than me. I just wish they wouldn't flaunt it every chance they get!

That said, I used to have a horse who always needed a day to "think it over". She wouldn't get it at all, then the next day she's breeze through the same thing and wonder why we weren't moving on to something else already.

Best of luck! I hope the training continues to go well. :)
Is that a mechanical hack? I've never seen one in person. But I know a few people who perfer it to a bit. Some people even start a horse with it before they bit them up. She looks like shes having fun.
Green Broke
Join Date: May 2009
Location: Winnipeg, Manitoba, Canada
Posts: 4,510
• Horses:
2
Yup, we like the short shanked hacks with the nice soft nosebands. It also gives you the ability to straight rein if need be, and most horses understand it. All of Shay-las youngsters were started in one and did well. Naturally I want to get her more used to the bit, but it's just to cold right now and we don't have a warm place to keep the bridles
But she's doing well in it, so she can learn how to go in one for the winter - we're working on neckreining every ride anyway!
---
Quote:
I hope God tells her to smash her computer with a sledgehammer.