Ex racers advise on retraining for dressage
---
Hey everyone i took on an ex racer in May she had sustained 2 complete ruptured tendons whilst racing and basically been turned away for a couple of years and completly left to it. I absolutely adore this mare she is 16.3 13yrs old and a very trainable temperement. I did all the basics to get her back into work and she is getting quite fit :) we completed our first intro dressage test yesterday and she was extremlely wound up!!!!!!!!! but we completed the test she was tense and hollow so got 51.8% but such a huge deal for us to be there after 6 weeks of lessons!! She had no idea when i took her on had only raced and hunted!!
This link i am looking for advise on re-schooling ex-racers (as this is a first for me) tips that may help us things to look out for and would love to hear about other peoples experiences too. She is such a fab mare who really likes to have a job!! and i want to get the best i can from her in the nicest most fun ways :) She has been completley checked over by the vet and is 100% sound and cleared to work, she has been carefully lunged and stayed sound too which has helped greatly with introducing her to schooling :) hope for some help :) alice x
Heres some pics :)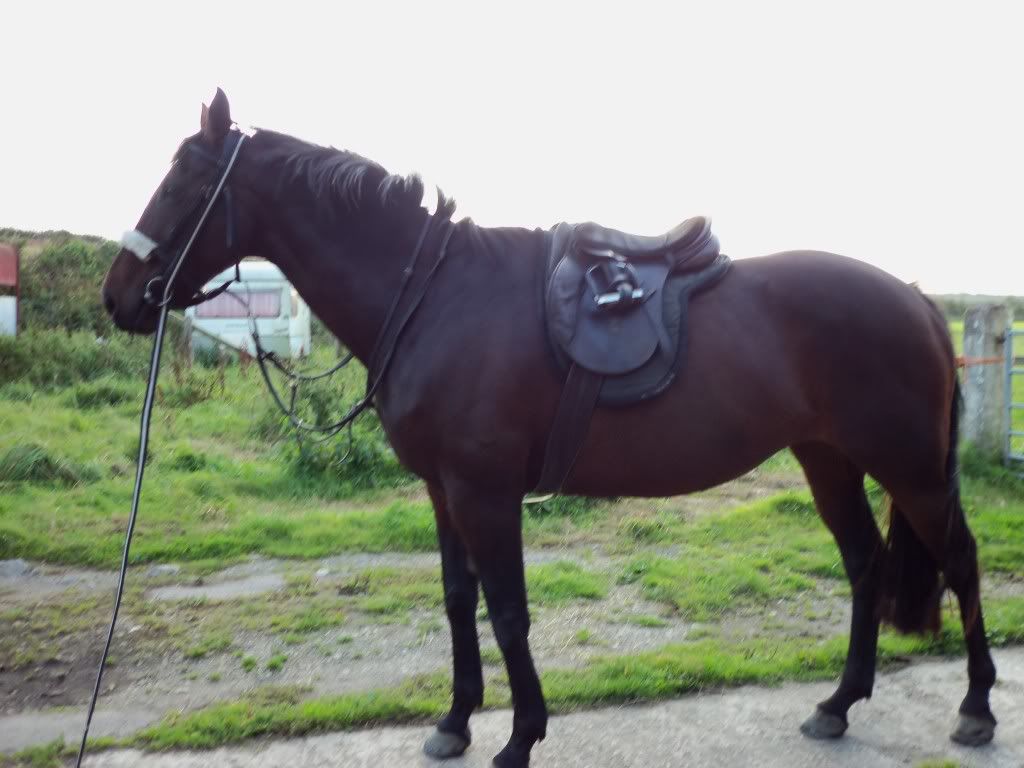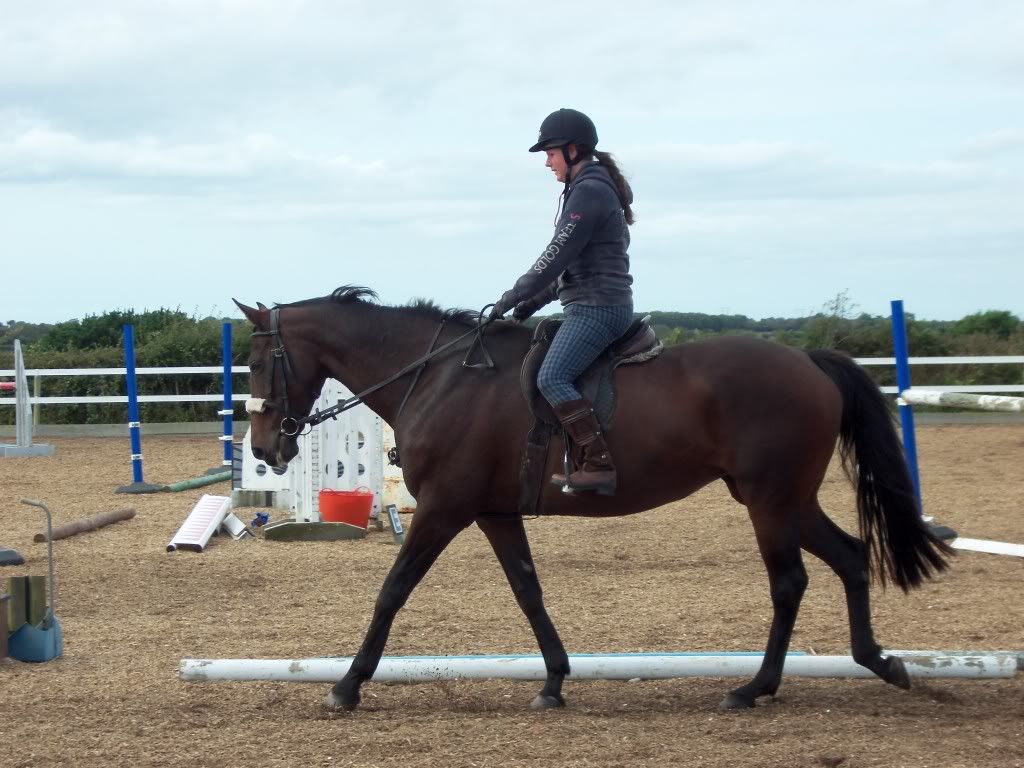 Are you sure her tendons were actually ruptured??? Which tendons?
She appears to have 'bowed tendons'. If they had been 'ruptured', they would have put her down.
she had ruptures on each front leg at different times (i think 18 months apart) i have her scans she definately ruptured them the "bowed effect" you can see the vet said is scar tissue :) I have never seen a horse in the UK destroyed because of a initial tendon injury. Thanks for links valentina :) x
I think you mean torn, not ruptured. When a tendon ruptures, the leg collapses and the horse cannot bear weight on that limb.
Let me know how it goes, because I'm really wanting to take on this challenge as well : )
thanks anbrady90 its definately very rewarding and she is a fast learner :) may be doing our second dressage test on the 30th if i can get a lift!!!!!!!! x
I trained my OTTB from track to dressage. The key is lots and lots of trail riding to change their psych, and short rewarding arena training, with lots of relief. I got a lot of help from a website called horseproblems.com.au, and bought a video from the website called 'from track to dressage'. I also found the 'above the bit' video unbelievably helpful in getting my horse to work correctly, long and low.
thanks so much phaebarrett this was the sort of post i was hoping for i cant wait to check those dvds out :) what level is your tb competing in dressage? Did you enjoy the re-training? have u any pics? :) x
Thank you. I am not competing as I lived in the middle of nowhere without a float! My horse was given to me as a psychopath! He was pretty dangerous. Quite frankly I think he could be used for teaching beginners now! I was scared of the trail work, but it really worked. You go out 'looking for trouble', ditched, bushes, logs, and teach these horses leg on, leg on, leg on. Your riding must be good enough to perform an excellent one reign stop just in case. The trail work is where you get all the results - not the arena. I recently had an expert dressage rider have a go on him, and quite frankly I burst into tears - he went beautifully. The hardest part fro me was 'letting go of the reigns'. Pull on these horses mouths at your peril - they will take it on and run. Once I let go of the reigns and put my legs on him, he became slow and controlled! ??? doesn;t make sense does it, but it works like a dream. To say have I enjoyed it... I have a horse that people in the community comment about our 'bond' - we lie down together and share sandwiches! That is more rewarding than any dressage technique I could hope to learn. Good luck with your lovely horse. (I only just joined so haven't got pictures up yet, but I have posted one in my profile - I think).