Fiona& her journey
---
Today I have had Fiona for 1 week. She is a project filly. She is 18 mo. old. She came off the trailer with spooky dragon snorts, huge blue eyes, and not a clue what was happening to her.

For 3 days she had a drag line on in her paddock bc she was Miss Catch Me Not. As soon as I would get close enough and grab the lead rope she would relax and follow.

She is extremely head shy and refuses to allow her muzzle to be touched. Not her nose or her chin is allowed. She doesn't mind you rubbing her forehead though or belly, and even her butt!

Fiona has 0 trust in people. I am not sure if she was abused, or just not touched at all, but I know we have a lot of work to do.

I'm determined to make her into a gentle trail horse. I am planning on getting her gentle as she grows, and teaching her respect and trust during the process. I'm working on some Clinton Anderson methods as well as bringing in a few others. When she is old enough to get started under saddle she will be going to a professional trainer that can give her the education she deserves so that both of us will have a safe and happy future together.

Today we had a break through. Fiona took feed out of my hand. She refuses a carrot, hay, anything long enough to be more comfortable. She actually got enough courage to touch her mouth to my hand and take some feed. The sigh of relief she had when she realized that was her only task for the day was so sweet.

She leads just fine, and of course spooks here and there. She even gets a little too close, and we're working on that. She has accepted my presence and is now really starting to trust me. I'll be sharing our journey together with ya'll. :) And of course pictures also! :)
Hello Tejas,
good to see that you started your threat about your new filly. Again congratulations! Spend a lot of time with her now and give her time to warm up to you - baby steps
One suggestion I have that I forgot to mention to you in my filly's threat - try to keep her away from other horses for the next few weeks till she warms up to you, basically YOU should be her best friend - not another horse.. you will see - she will end up following you around in no time. Also I would do too much hand feeding and giving treats as that often times leads to nipping and biting once the horse is more comfortable with you - cause they are always looking for that yummy molasses cookie that they think you are hiding :-D
Good luck and keep us posted - oh and pictures please!
Pix as requested!
I took some shots of Fiona yesterday evening when I went to visit her. I'm sorry I didnt get to upload anything until today. :)
The lighting under the barn was not so great, and it was cloudy,but at least it is with a digi cam and not a phone!
A few days ago playing "you cant catch me hahah~"
Eating Dinner yesterday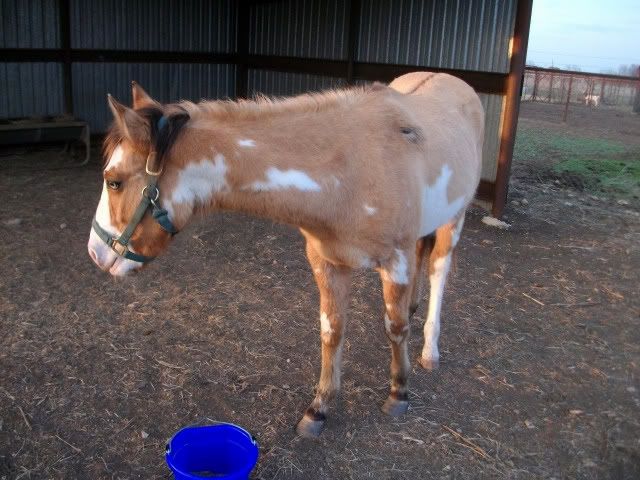 Don't mind me. Please look at the horse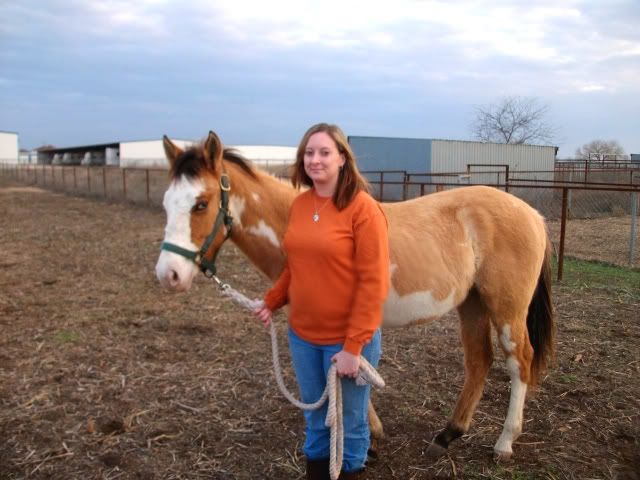 Getting prettier by the day!
You can see little brown hairs coming through!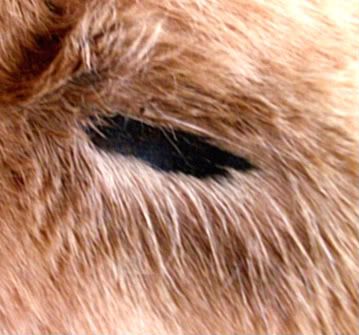 I know you have a carrot somewhere!
Gimme!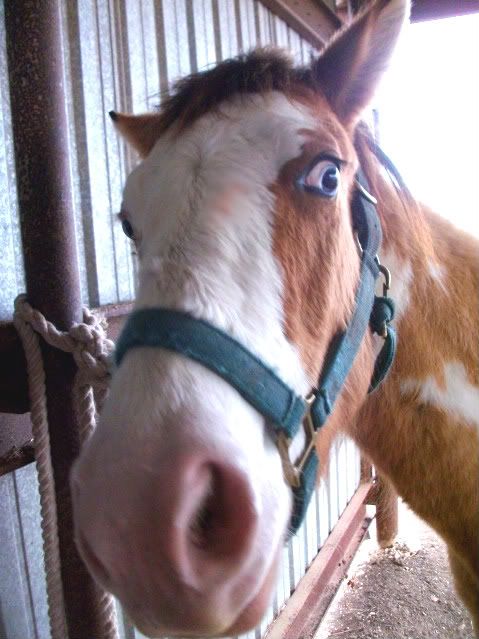 Disgruntled "no carrot" face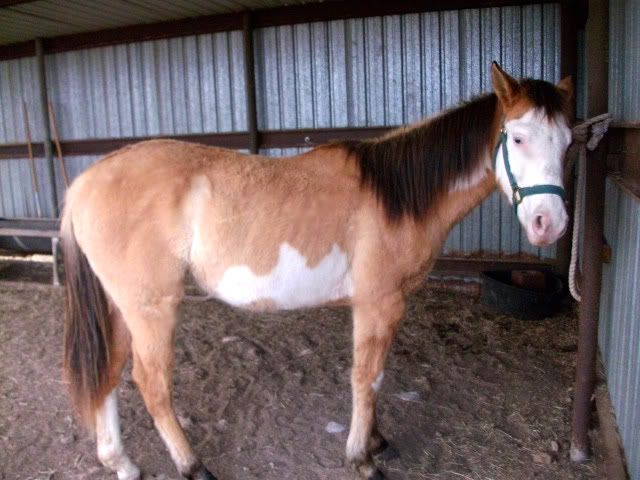 Carrot?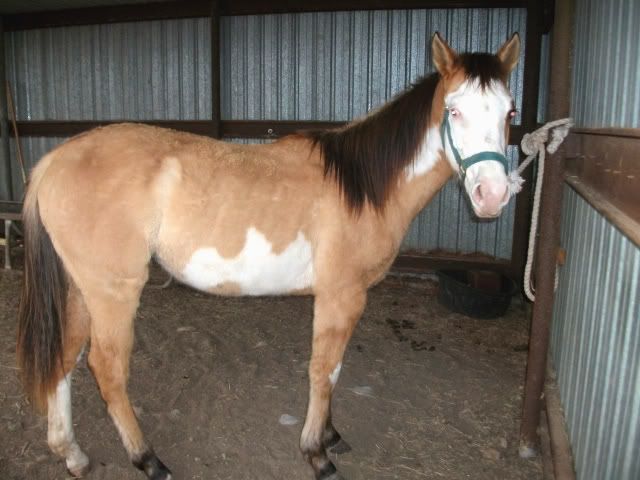 Stop with the flashy box plz! kthnx!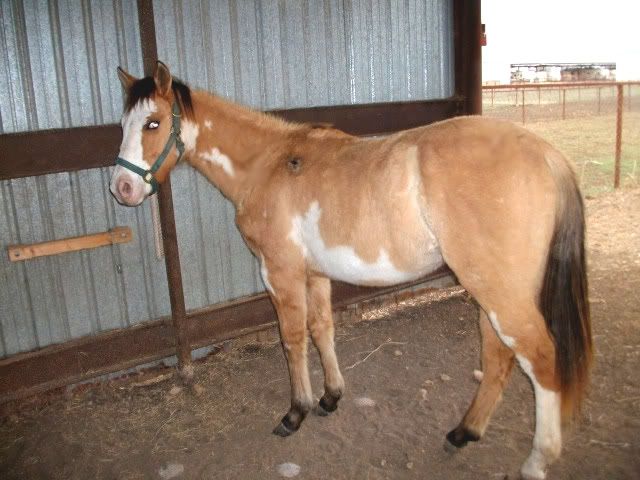 Danty girl
More carrot?
Awww.. she is a cutie!! love her eyes - she has a nice expression in her eyes! She has got eyeliner!! Pretty pretty eyes.. I think she will be a nice gentle horse - in the past eyes told me a lot about horses personality.. she eyes are nice, big and soft.. and that is considering she's got blue eyes hard to get, cause blue eyes can look spooky sometimes..
- nice horsey, you and her will do just fine, just spend a lot of time together and love on her.. she will come around
Aww, so cute! Shes wearing knee pads,lol. You don't know her history? Sounds kind of like shes been twitched a few times, possibly nose and/or ear, which can cause some long lasting phobias. Will she let you touch her ears? Sounds like you're approaching this in the right way, just take your time with her. Personally my first goal would be to teach her that you can touch her everywhere and you're not going to hurt her. I am working on the same thing with a flighty weanling right now, the fact that I have long nails and he loves to be scratched helps;p. It is hard to spook when you're leaning into a hand that scratches oh so gooood. Good luck!
I thought the same. That she may have been twitched, but everyone is saying that she simply wasn't handled at all and everything to her is new and scary. I'm teaching her what you suggested. I want her to be comfortable with being rubbed everywhere and calm about me moving around her like normal.

I love that her blue eyes have become more relaxed and less psycho looking. lol. She is really coming around. I can't wait to see what a pretty young lady she will be~:)
Knee pads lol.. never thought of that! cute!
She does have a nice eye, and I am not partial to blue eyes. I can see how she is coming around just from looking at the pics. Shes not nearly as leary and nervous looking in the recent pics, just seems to be interested in what you're doing for the most part.
Have her feet been trimmed? I am not sure if it's the angle/light in the pic or if they're just long, but the left fore looks to have a slightly funny angle. In another pic it doesn't though.
She is super cute, I think you have found yourself a lovely girl in the making!
Ugh no :( She barley lets me touch her front legs. Her feet need to be trimmed :(
Everyone has been telling me not to fret over it until she is gentle enough to pick them up, but I know there are some farriers that can do the job. I just don't want it to be traumatic for my little girl. :(

We are working on the "picking up the feet " issue. She gets nervous when i barley brush her leggies :( I havent even tried touching the back ones just yet. I can brush her butt just fine though!
You're right, specifically because she is spooky I wouldn't want her to have a bad experience. Has she ever had them done? Do you think she might be a little more accepting if you worked with her while she had a big pile of hay? Sometimes it's a good way to give them a positive association with whatever you're doing and distracts them at the same time. May I ask what methods you're using? I have had good luck with the approach and retreat method.
We're doing approach and retreat. :) I rub her in an "iffy place" and then go back to a place that is more comfortable. Each time I go out to the barn I incorporate a new "iffy place" to our routine.