I wouldn't worry over much about the stalls at this point. I would work on getting your horses healthy and use to people. Bring little treats out when you go and see them feed mom if babies won't come to you and slowly start offering the treats to the babies. If the babies haven't been handled very much there is no rush to get a halter on, I would guess they were not imprinted at birth so everything is going to be new for them.

It is entirely possible that they are not twins and the mother took on a second foal from another horse. We once had two mares give birth 4 days apart, the foal from one abandoned his mother and stuck with the other mare like glue. I guess he just didn't like her. She ended up bringing him up and nursing him along with her filly. After a while she wouldn't even let the other mare near him. I am not sure how common this is but I do know from experience it could happen. (It was the first time we ever had mares give birth so close together)

And of course congratulations are in order. Best of luck with your new baby!
---
Last edited by lives2hope; 07-20-2012 at

05:12 PM

.
I am here to update a little. the owners of the horses claimed them, verified they was theirs then agreed to sell them to us so we got all 3 for $175. the 2 babies, are not twins.. born 1 week apart and are 14 months old. they have the same dad ( a throughbred) and different moms. We have done a lot of work with them and the smallest baby, we are getting somewhere with.. she now, lead walks, stops, backs up, lifts feet.. the other baby is more stubborn.. We did get a halter on her and can catch her and put a lead on her.. she walks with the lead and LOVES baths.. but is very pushy and demanding.. if not given her way, starts to act out. we are learning as well as she is so we have a guy working with us working with her. he is really good and she listens to him very well, so I am sure her pushyness with us is something we are doing wrong. she will walk with me very well, but if I try to treat her, she becomes demanding and pushy to get more treats even when I do not offer.. so I have been leaving the treats out of it until our time together is coming to an end for the moment.. then I treat and release. she has finally started licking her lips and yawning when around me (from my understanding that means she is giving in).. but like today, after working with her for 30 minutes, I hosed her down (which she loves and is always upset when I stop), I gave her her treats and went to rub my hand on her shoulder (backish area) and she threw her head back, screamed at me, and turned to kick.

I just really hope my learning with her is not going to do more harm to her (mentally).. she is definately much better than 2 weeks ago when she was biting and kicking everytime we came near. but I also think removing her from the bigger horses is helping alot too. the 2 babies are in a pasture together and the rest are in another. any thoughts?? also, I am going to post pictures now that we legally own them.. so let me figure that out and I will post them here as well!
Also, if it helps on background on her (the stubborn one), her mom was shot when she was 3 months old, they did not think either her or her mom would survive, so they seperated them in hopes to save the baby alone.. mom did survive as well, but baby was on her own from then out..
Good to hear the owners surrendered them to you if they can't look after them themselves.

Re the treat issue - don't treat at all. You're asking for trouble. Some horses you can treat without them being pushy, but for a youngster who is already starting to stretch her legs and test the boundaries, treating at any time is asking for her to get worse.
If you REALLY want to treat, put some carrots in her feed, but never allow her to eat from your hand.
This is momma - KaSigha' (11 yr old bay) with her baby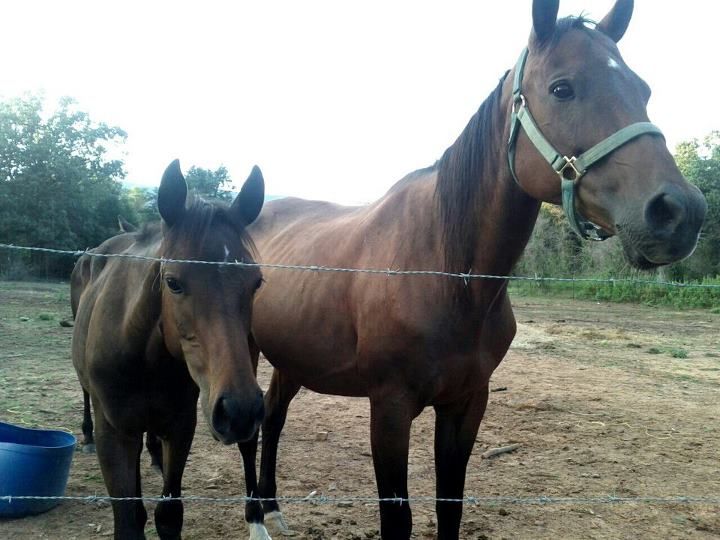 This is Kenta (the stubborn one)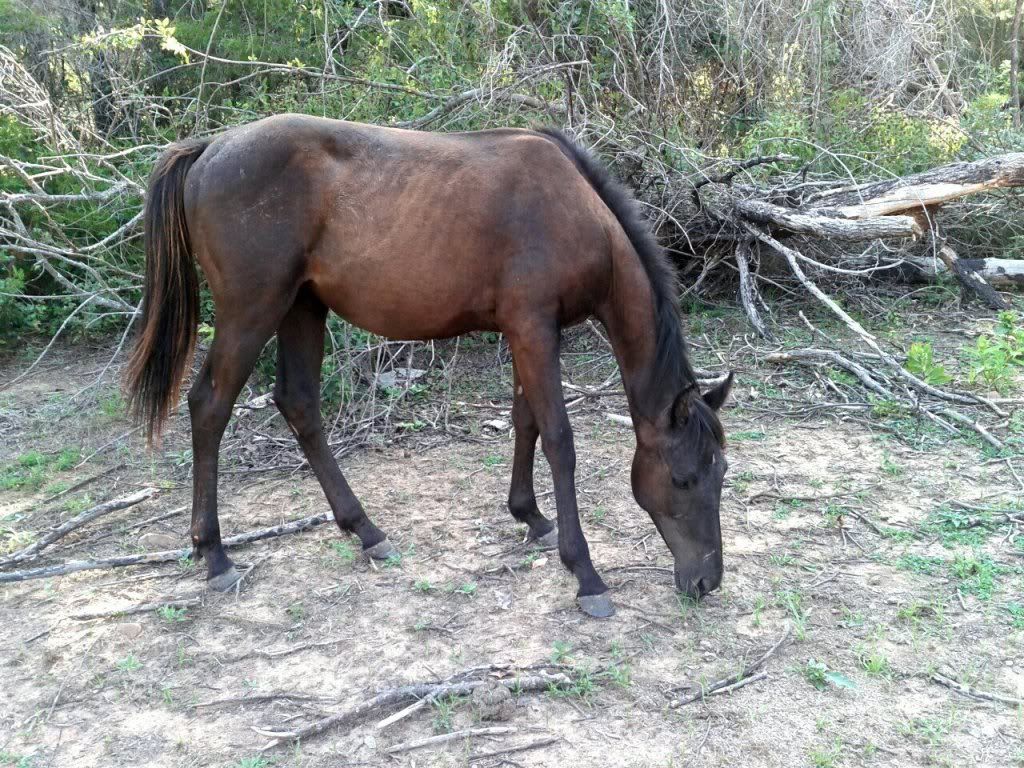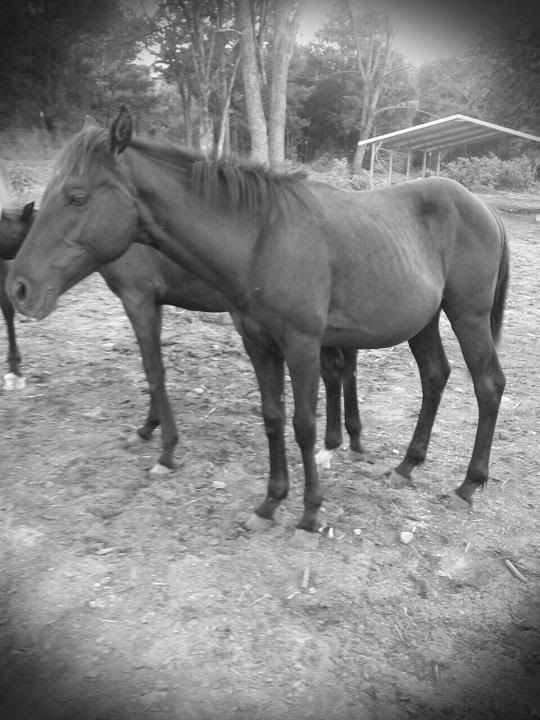 and this is KaySha' - mommas baby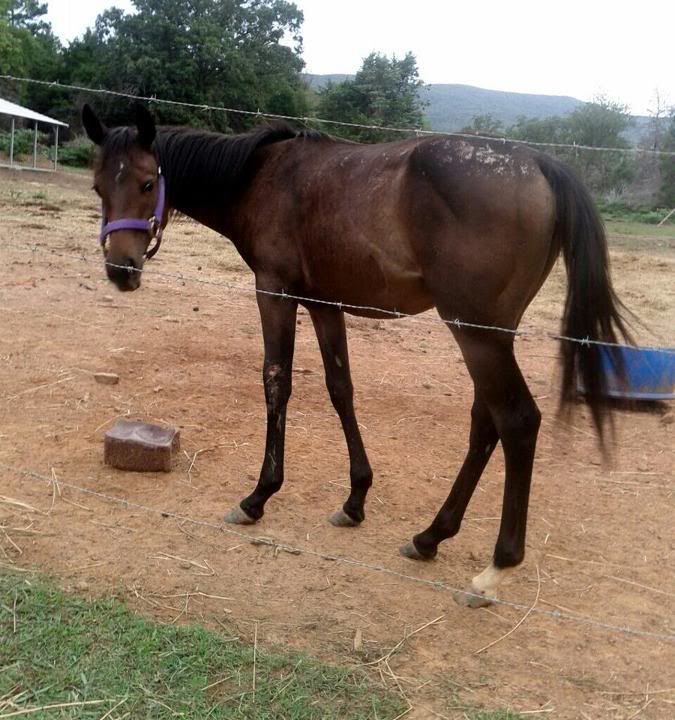 The youngsters should have an adult horse with them to teach them some manners. As for the sassy one, I'd start her moving around the paddock with you off her hip out of kicking distance. Use a lunge whip and hold it behind her like it's a barrier. Horses drive those of lesser status in this manner. If she tries to turn toward you without you stepping back and inviting her, move your whip to block her jaw. Try to keep it low key but be persistant. If you handle her all the time in the paddock then you can drive her when she becomes resistant or offers to hurt you. You are reminding her that you are the dominant one, not her.
I have been watching videos and reading up on training like crazy.. but to be honest, I am a little fearful of them (unknown horses with attitudes).. with that said, I am doing my best not to show my fear.. I do not run when she pushes.. instead I push back.. not hard to hurt her or anything.. just enough to get her out of my space and when she stops being pushy, I reward her (well, try to with a rub and a treat).. I guess I will stop using the treats if that could be doing more harm than good.

Kenta is a natural jumper.. she loves trotting around and jumping any and everything from the feed station to rocks, etc.. she does it so beautifully..

and yes, if your curious about the sore on KaySha's leg.. she came to us that way.. not sure how it happened, just that it was a huge nasty hole in her leg (you could see her bone).. it is no longer a hole, just a flesh wound now.. her swelling has went down dramatically and she now put pressure on it..
Id do away with the barb. Been there, done that. No good!
Posted via Mobile Device
Saddlebag. We did go and get a lunge whip and have tried it a few times... her attitude does improve right after using it.. (we have not whipped her with it, just the noise alone it makes on the ground and air work fine).. but in all honesty, I am not sure we are doing it right.. We've watched over 100 videos trying to learn, but we've had it less than a week too. (we've never had to use one on the other horses).. when we run her with it, she runs about one turn then stops and faces us with her ears up and starts licking her lips.. so we stop.. if I am correct, that is what we are suppose to do?
Cowgirls boots, we plan to. We are doing some reading on what to use.. our trainer uses electric, but I am afraid the kids would touch it.