HELP, me with my pony
---
i know many of the people were i live think that ponies heads are naturally head up compared to horses
well a little background information: she's approx. 8 years old just turned 8 in march, she's a rescue, ex-gymkhana (gamer), previous cattle horse training...
she's my first horse and i've trained her on my own, and i've had at least 5 years of exp. with horse before owning her. (i know thats not a real long time but i love it so much & i bought her)
for english i'm using a kimberwick (low port)
for western i'm using a tumb tom w/ copper rollers
she's really a quick learner and LOVES people...
but i need help with:
keeping her head down
slowing down her jog, and lope
Here's some pictures
Here Jog
Here lope
Her Deep Dark Bay
Why did you choose the bits you are riding in?

I don't think her head is high at all. Where do you want it to be? Lots of circles, serpentines, and transitions will help her start to use herself and
I would echo that, why use those bits. If you want a western look when riding that style just use a curb or bar. You also CAN use a snaffle in western

Is she trained western or both? I'd give her a little more rein. She looks like she's holding her head fine to me
---
Last edited by IdahoCowgirl; 07-13-2009 at

01:50 PM

.
yes her head carriage looks fine, I hate when they force a horse to carry his head nearly on the ground yucky to me :)
she's very sensitive to bits, so i don't need a large bit with a huge port, and english i use the kimberwick because she listens to it very well, and it just enough so i can get her attention, and she's better suited for english and i'm in the process of training her for western...she's coming along nicely i just need advice on getting her speed correct, and in the pictures they are down but she brings it up often...
---
Last edited by IdahoCowgirl; 07-13-2009 at

02:23 PM

.
so what did would you suggest for western?
she's not overly sensitive but i think she just wouldn't look happy
I'm going to have to disagree with IdahoCowgirl on the martingale. First off, her head carriage looks just fine to me, and in general, martingales are just a quick fix to a problem that should be solved with training. In your case, a martingale, used correctly, would do nothing to make her head lower.
I agree with Chev in that the horses head placement looks fine to me. As I said before.
Personally I use a grazing curb bit, but my mare is a little onry hehe. I don't use martingales either her head carriage is fine for me.
Are you just looking for the LOOK of a longer shank? Something like this
I've never used one but I have heard the mullen port bits are easier on the mouth.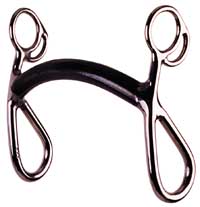 Or just a longer shank snaffle
ok, thanks. i don't care what the bit looks like, as long as it does the job :]]