One more thought... how about a goat? I have a neighbor that has a goat and a horse, and they are never more than a few feet apart when grazing in a large pasture...

In the meantime, I would not bring the mare anywhere near him... just keep offering good hay and supplements...

Good luck on this difficult situation.
---
There is no passion to be found playing small - in settling for a life that is less than the one you are capable of living. - Nelson Mandela
Take this with several grains of salt, as I am just getting back into horses after a long break and I'm a dog (not horse) trainer. You could try to desensitize him to watching the mare leave. We do this when dogs get separation anxiety when their owners leave.

You go through the steps of her leaving for short amounts of time like taking her 1 step. If he doesn't freak out, he gets whatever he likes best and she comes back. You never take her further than he can handle while exhibiting mild concerned behavior before the mare returns. Looking for her=okay. Calling, pacing, charging, ect= too much. It helps if you give them some work to do in the mean time. (Some won't be able to focus so no punishing if they can't.)

I can tell you with dogs this is a very, very, very long process. It is almost never fixed and only managed with lots of training.

With horses, it may help. But, as I said, I don't really know that it will.
Horse are a herd animal and should not be left by themselves in pasture. It makes a horse lonely, sad, lose weight, get sick and they can die. They need to be with other horses just like people need to be in human contact day to day.
You can get a goat or even a small pony to keep him company in his pasture.
Is there a way to take down the fences and let all the horses together?
Just a thought.
Pattie
Showing
Join Date: Jun 2011
Location: Cariboo, British Columbia
Posts: 11,940
• Horses:
3
This is a saying I coined myself & I stand by it "Mares make geldings do stupid things".
my Gelding Did this when we stabled him but he would be fine after we saddled him other wise he would be a freak, now that hes home i have 2 younger geldings and one is attached to him and i take him away when they are eatting, they watch but are fine. they will whinny once or twice in an hour. when i take him back my one gelding will whinny over and over until he reaches us but then will walk back when hes back in. ive also taken my other horse out for a few nights to a round pen that you could half see the pasture and let him spend a few nights in there it helped alot so i could take him out without each other spazing.

maybe put her in the pasture next to him and then after a few days move her another over and do this for a while if it doesnt stop, get rid of the mare..
Quote:
This is blunt, and may offend some. I would give the mare away. Free horses always attract someone. Maybe she'll get a home breeding more incorrigable babies, but honestly, then she's someone else's problem. And she's off your feed bills and gives your gelding a chance to recover.
I am also going to be blunt. Doing as Ace suggested would be pretty irresponsible. why should the OP sell the mare to possibly breed when those foals stand a chance of inheriting her less than pleasant disposition? there's already a flood of homeless, abused, and unwanted horses in this country, let's not add to the problem. if she really is that mean and violent, it's best to put her down rather than contribute those traits to a gene pool. before the PETA folks get all fired up, I'm a veterinary assistant and a great lover of animals, but even I know some can't be saved - especially mean horses that can turn dangerous.
as for your gelding, OP, is there no way he can be turned out with other geldings? [sorry if you've already covered this, I skimmed through the posts.] I know he may be able to see and/or touch noses with other horses, but he needs to run with them, graze with them, groom them, etc... He needs to feel like part of a herd. It sounds like he has developed almost an OCD because he's not being satisfied psychologically. if giving him the opportunity to be part of a herd is not possible, and selling the mare is not an option either, then as much as you like the horse, I would re-home him to someone who can fulfill this need. that's really what is in his best interest.
---
We drink to our youth, to the days come and gone; for the age of oppression is now nearly done.
---
Last edited by arrowsaway; 01-23-2012 at

02:35 PM

.
Hi guys, thanks for all the advice :) I will try and address everyone in order.
I am considering giving her away, but I wouldn't do it as a broodmare only as a pet/lawn mower.
Ace - A goat isn't possible because of his yard fences, not sure if you can see properly in the photo but it would be very easy for a goat to escape with those fences.
Trixie - Not too sure about that, seems to me like it would be just teasing him, I don't think he would really learn anything from that as there is no way to reward him when she leaves and make him see it as a positive thing. May give it a try, but not sure.
Pkelchner - We have tried this, he has no attachment to the others and being with them does not satisfy him, only the mare. He is more likely to just stir the others up with his behaviour and cause an injury if I put him with someone else.

Waresbear - I completely agree with you - usually I keep mares and geldings on seperate properties as it brings nothing but trouble! However we have had problems with the agistment properties so we had to bring her and another mare home, starting to wish I had just left her at the problem agistment as I wouldnt be in this situation if I had!

HarleyWood - They can't share a fence - he will go through the fence to get to her. That's how he origionaly injured himself. So adjacent pastures are out of the question unfortunately.

Arrowsaway - You make a good point and I won't pretend I havn't considered it. She definitely won't be used as a riding horse by us again, and certianly not as a broodmare, she is obviously a useless companion horse, so really she hasn't got much use. I am not a supporter of euthanizing horses without dire need, but she is dangerous to people and other horses and keping her even at an agistment will cost me money.
It may sound heartless and harsh, but it is definitely something I have considered doing. However, she was origionally my sisters horse who gave her to me after she couldn't handle her, so that makes it trickier - my sister is very unlikely to agree but I can only try.
In response to turning him out with others, he really doesn't care much for the others and it doesn't seem to make a difference.

The problem is sort of moot at the moment anyway, we have had some torrential rain this week and everywhere is flooding (Oh please not a repeat of last years January QLD floods, God no!) so I had to bring the mare home anyway (we are on higher ground) so he is happy and eating once more and as attatched as ever *sigh* and now I feel like a monster for putting him through 5 days of torture only to bring her back! Ughhh. Horses!
I also vote for giving the mare away. Hopefully she won't be bred. Be honest about her "problems." But I bet someone would take her as a free project. Euthanasia is also an option. Better and more responsible honestly. I guess it just depends on if you think she's salvageable or not. If she's truly dangerous and not safe......

Why get rid of the gelding if he's a nice horse? He would be the one I would keep.
---
Last edited by trailhorserider; 01-24-2012 at

02:08 AM

.
Well I am glad you decided to keep the mare so he can have a pasture mate. Are you able to keep them together in one area so he doesn't get so depressed? I hope he works out for you.

Pattie
Hello everyone, decided to post a quick update on how things are going with this situation.
The mare was given away to an experienced rider (who tried her out and knows of ALL her issues) who thinks she may be able to turn her around. She was well informed about the specifics of this mares nature and behaviour, and I would never have let her go had she not been. I also asked her new owner to sign a document stating that she was aware of the risks involved with this horse prior to taking her on so that I was protected if anything should happen.
Last I heard they are doing alright, she is having the same difficulties we had with her but she is confident she will work them out in time.
Flash is doing much, much, much better! After the mare left he failed to settle after a few days so we got him his very own miniature horse companion. Surprisingly, he loves the little fella and is happy to be stabled and paddocked with him, though not to the level he was with the mare (He can be taken out to be worked now and the pony can be taken from him without TOO much fuss) so all in all a great outcome. He has put on a heap of condition now that he is not constantly stressed out, I will attach some photos below.
I just want to thank everyone on here for their contributions to this unique issue, a combination of the suggestions made on here and some things people in RL mentioned lead me to to the decision I made and I am very happy with the outcome. So thanks guys!!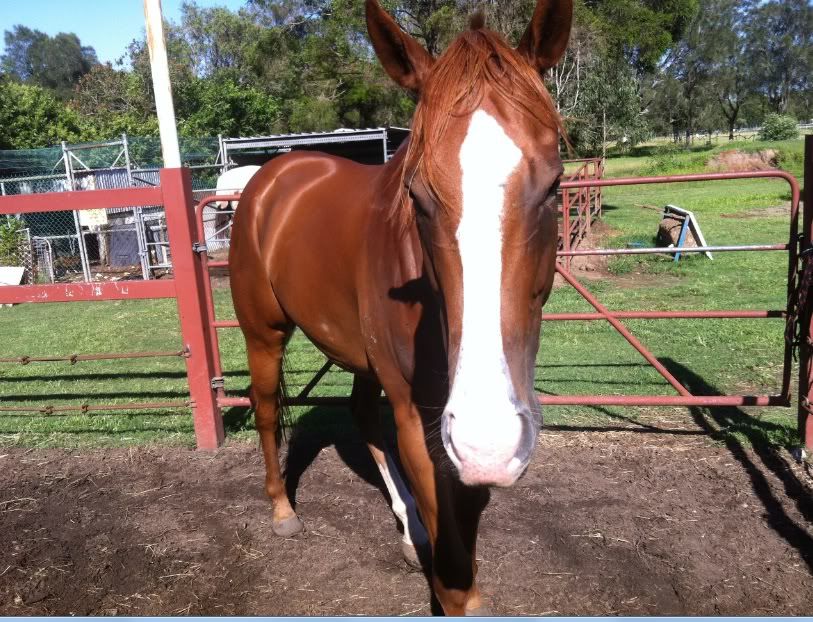 And a little comparison photo. Right hand side is when this whole thing peaked and left hand side is a few days ago.
\
THANKS AGAIN EVERYONE!!!