Hill Therapy
---
My horse doesn't use his hind quarters and I cannot get him to do them under saddle. I was reading the Parelli site and everyone said "HILL THERAPY!" I completely understand how it works but I'm worried. He is 8 years old, so he is fully grown up and everything but hill therapy can be harsh on joints. Not only that but I was checking him out today and he's a little tub-a-lub. He has rolls, and definitely needs to be put on an exercise regiment, which I've already set up but I wanted to incorporate Hill Therapy to help him learn to use his Hind Quarters.

Has anyone ever done Hill Therapy? Should I put him on some joint supplements?
After reading a little on Hill Therapy (I found a great article here:
http://www.parellisavvyclub.com/media/hilltherapy.pdf
), it sounds like you should be fine to start even if your boy is a little chubby. I'd just say maybe find a very, VERY slight incline to work on at first and maybe even just do 3 minutes each direction instead of 5. Then, as he gets in better shape, you can increase the duration.
How is Hill Therapy hard on joints? I'd think, if the footing is good, then he should be all right, but maybe I'm wrong.
Well i havnt actually read, nor have any knowlege of the parelli hill theropy theory. But..... i think hills are a expellent thing to incorporate into training.
My two horses live on hills. one lot of land i lease is all hills, and they are pretty steep in many parts. I believe it gove them quite a work out sometimes. And i think they actually enjoy them, they love to hoon down them when they are all excited....much to me going eek some of the times, lol.

But yea i think they are benificial to training. When i come across hills out riding i always get my horses to go up them, sometimes at a walk, sometimes trot or faster, depending on how they are going that day. I think it works on there breathing and over all fitness also, not just on the hindquarters, so it quite effective.
I dont know about the whole joint thing, my boys seem no worse for wear, and they are aged, 18 and 20 yrs old. So i think your 8 year old fella would be fine.
His entire pasture is hills and it has helped but he is still... flabby I guess. I'm not sure but I read somewhere it could be hard on joints for some horses.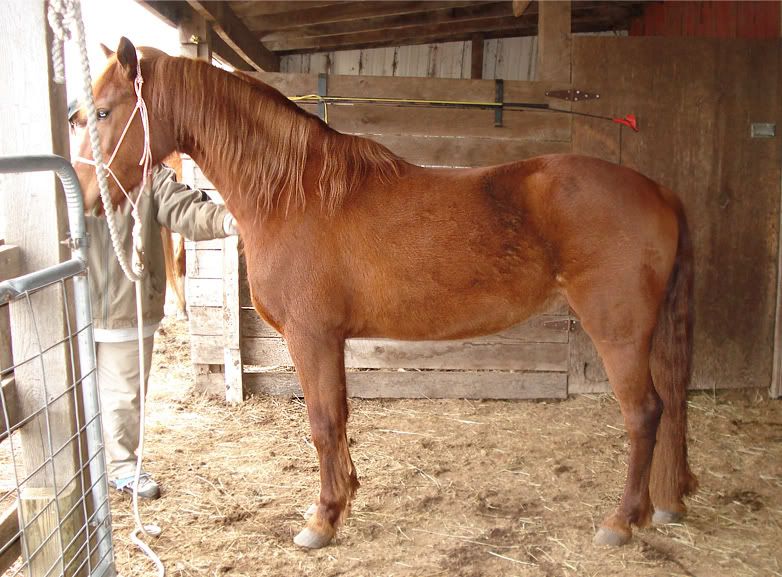 I took those yesterday. You can see he has almost no muscle definition, he has a tiny bit of shoulder and chest with a floppy rump.
Just FYI, it's going downhill that really builds the hindquarter strength.

If your horse isn't used to it, start out slowly and build up. Mostly walk and first and maybe a little trot. As he gets stronger and feels balanced, increase amount of time at faster speeds.

I always polo-wrapped my horse's legs to give a little bit of added support and to protect from overreaching, etc since their movement will be different on the hills.
---
Jackie
Quote:
Originally Posted by regardinghorses
Just FYI, it's going downhill that really builds the hindquarter strength.
Well, he's gotta go up the hill before he can come down.
I've done Hill Therapy with my Parelli Levels horse and I was very pleased with the results! It really helped him learn how to use his body and it really helped build his topline. He learned how to "push" himself up hills instead of "pull" himself along and he learned to actually USE HIS BODY going down hills instead of just falling! lol. I plan to do it with my new horse once the ground dries up from all this rain.
We have a great hill loop incorporated into the bridle paths on our property. I think hills are great for muscle strength and endurance. Just take your time working into it. :)

The back-slope of our dry pasture also had a pretty steep hill all along it. Our silly horses must think they are mountain goats because they are walking all over the side of the hill all the time. I never dreamed they would try to climb it when I fenced the area in. They seem to love it though. :)

Spirit horse...how is it going with your new horse?
Hill therapy works wonders. It gets them in shape no matter how old they are. I keep all of my horses working up hills at least once a week whether or not they have leg problems. Supplements would not hurt.
AKPaintLover,
Arie is doing fabulous, thanks for asking!!
I've already gone onto Level 2 ground work with him and all of his "bad, aggressive" behavior was actually unconfidence and/or playfulness. Needless to say I'm not having any problems with him at all! He's a very playful horse, very honest, extremely sensitive and EXTREMELY smart. I'm just in love with him! lol.