I forgot to mention this. Actually thought it when first read this and posted but forgot it when posting.

The 4th or 5th ride is almost always when things will come unglued.

First couple of rides horse is not quite used to what is going on, sensory overload, if you will, that keeps them from trying many things.

After those first couple of rides?

Horse gets it in head to try things. Which is what happened here.

Old horsemen would tell you this, and they were so right.

I'm not a big fan of making a horse move when what I am after is it standing still either. I teach "be still" or command similar, and don't want horse to move then.

If one is being fool, for stupidities sake? I will use chain shank and move them back and then bring them up and tell them to stand there.
---
Horses make me a better person.
Keep in mind they see, smell and hear things we can't. This can account for unexplanable one time behaviour - it keeps them alive. Is he a medicine hat? That makes him a sacred horse.
You're still making excuses for a horse with holes in his training. Why does anybody want to put up with "spooky bc of something I cannot see, but the horse can?" What does he see, the ghost of his sire?
Look, certain attitudes are acceptable as LONG as your horse is obedient. When we reenacted, our commander would ALWAYS think of some message he had to send to a company commander right before the "show." He always sent ME to do it. So, me and "Corporal" (1982-2009, RIP) would have to wind our way through a moving body of spectators, find the person, deliver the message, and get back before the battle started. Corporal was obedient and we went at the walk. He never stepped on or ran into people, but he WAS herd sour. So, every 5 minutes or so he would call out to his friends. People walking in front of us didn't all notice a horse walking in their midst, so they'd flinch, then laugh when he'd whinny. For a 900lb, 15'1hh Arab, he had a loud and deep throated call.
THAT's what you want your horse to do. Let him notice things, but not act out on them.
This is the same horse who would race all over the field in the battle when asked, and then stand next to a cannon and graze. You train their minds and then you think and the horse "does."
You need help from a trainer who will also train YOU. You need to learn groundwork and horse body language. Circling the mounting block tells me that your horse doesn't want to be ridden. A smaller animal, like a dog, would have bitten you that day. =/
Well yesterday I rode the little stinker!
I tacked him up and he stood in the same spot tied to the post the entire time...no pacing, pawing or backing up. His head was low and his foot was cocked and relaxed. He even took the bit the first time I asked and didn't have to stick my finger in his mouth to make him open up!
I sat on him a few times, with my friend holding a lead rope...he was doing so well I had my friend lead him around with me on his back! He couldn't have cared less...his head was hanging and relaxed, walking extremely slow and he would tilt his ears back every couple of seconds listening to me. After a few times around the arena she lunged us at a walk in a small circle and he was very good...this was with other horses in the arena which I think is helping him a lot too.
I'm going to do this a few more times before I feel 100% confident on him again. I'm already gaining back my confidence every time I sit on him and actually having him walk around with me on my back has helped tremendously. I don't even hesitate when hopping onto his back anymore like I did a couple days ago...I can tell by the look in his eye and his stance if he is going to let me on him.
I think the cut back in his feed has helped out a lot too...he's been SO lazy lately and I have to actually get after him to get him to canter, when before he'd be anticipating it the whole time. I'd spend the majority of our session getting him to relax and trot since all he wanted to do was canter. We've been working on his transitions and he is doing so well, walk-trot, trot-walk, trot-canter, canter-trot, trot-walk and just repeat it.
Tonight we rode together on our own without my friend leading us around! I just walked him around the rail and did a few circles on the inside for 5-10 minutes and hopped off. He tucks his head really nice and low once we get moving...is this just him having a super soft mouth? I'm using a d ring snaffle with copper rollers, but I might go back to the waterford so if he ever decides to take off bucking it'll be harder for him to take hold of the bit since it'll collapse...plus he likes playing with it and it keeps his mind busy. I'm barely making contact with his mouth and he tucks his head and is in full listening/work mode with his ears tilted back listening to me. I wish it showed in the photo...the video I have wont upload for some reason.
Please dont critique my riding...I haven't ridden much in the past few months I've had him since I have been working with him on the ground for the past 4 months. Plus I rode english the past 7 years and just decided to switch back to western again since jumping was too hard on my knees. And since I know he can be a bucker it'll be easier for me to sit them in a western saddle
Look how relaxed he is...I couldn't even get a picture like this before. If I took a few steps away he would start pacing and pawing and pinning his ears...now he's like "whatever okay..."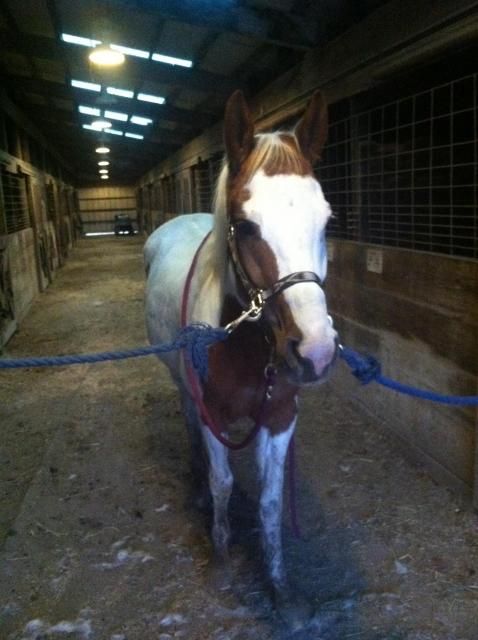 You two look good! Sounds like you have it figured out and under control now.
Posted via Mobile Device
Thank you!

We had another amazing ride yesterday. I rode with two other horses in the arena and he did really well. He was a little confused with one passing us on the inside going the opposite direction but got over that quickly. He was very relaxed and we even did a little bit of trotting. I've been lunging him before I ride just to feel out his mood for the day and to get out a little bit of his extra energy if he has any. If I have to do anything more than cluck in order to get him to trot, I know he's going to be a quiet, lazy ride...lol.

He lets you know his mood the second you bring him out of the pasture...whether he is going to be an antsy brat or going to be calm at relaxed for the day. Lately he has been very calm and relaxed but on his antsy days I just do a lot of ground work with him rather than hop in the saddle and risk getting thrown by a frisky horse.