Horse wont stop throwing her head
---
Hey guys, I'm back again.
My horse has a head tossing problem :( it only happens when the bit is in her mouth. she is quite young but she has been checked several times and there arent any problems in her teeth and the bit we use is a soft snaffle. how can i stop it its driving me mad :)

also im just looking for some tips to strengthen my outside leg.

thanks guys :)
Is it a single or double jointed snaffle (regular or French link, if you ride English)?

It could be that she doesn't like the bit you're using for any number of reasons. It may be too thick, too thin, too many joints, not enough...the list can go on. It could also be your hands.
Posted via Mobile Device
Yearling
Join Date: Oct 2012
Location: Brandon, Manitoba Canada
Posts: 1,045
• Horses:
4
are you maybe holding the reins too snug that you're on the mouth too much.....my mare used to toss her head (I ride bitless) and once someone pointed out that I wasn't riding with a loose rein then it stopped.....
---
My horses are the joy in my life.....
It's probably a combo of a bit she doesn't fare well with and too strong of hands. What do you mean by soft snaffle? Broken snaffles can be deceiving as they can have a nutcracker effect. maybe try a Myler or a french link? you may have to try out a few before you find the one that works best for her.

And, forgive me, I don't quite understand what you mean by strengthening your outside leg? You should be focusing on your inside leg.
---
We are not human beings having a spiritual experience. We are spiritual beings having a human experience. -Pierre Teilhard de Chardin
The bit could also be too high, too low, too wide or too small.
Posted via Mobile Device
my 3 year old tossed her head and fought the bit like crazy with a French link, but is fine in a single jointed full cheek.

try different bits, and watch your hands.
Quote:
the bit we use is a soft snaffle. how can i stop it its driving me mad :)

also im just looking for some tips to strengthen my outside leg.

Can you post an exact picture of what bit you are using? There's many variants to a snaffle.
What breed is your horse? (I ask because Arabians, for example, typically need smaller bit widths.)
How old is the horse?
Have you ever had her checked by a chiropractor?
---
∞•*˚ Βгįťţαňγ ˚*•∞
It is not enough to know how to ride; one must know how to fall.
A bit check is what I would do. What are you riding her in now?
I start most of mine in a rope halter, or a soft nose loping headstall- this one is from Craig Cameron. My computer won't let me upload any of mine, but they are mostly like these: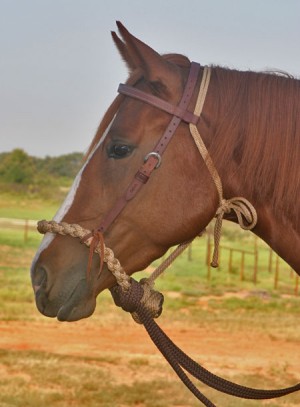 Then move then up to a broken copper-mouthed snaffle with 3 inch rings by Reinsman.
That usually works on most, but if I get one with a little different mouth, I put em in a dogbone snaffle, or something with a copper roller or keys in the middle- kinda like this one. This bit lays a little better in some hard bitting horses.
I have never had to much of a problem with head-tossers, but I ride very light-handed. The main times that I would have some head tossing is when they had a problem with their owner or past rider. With using the soft nosed bridle first, my colts are usually pretty good about coming around to the bit.
I would say check your hands and your bit- if its not either of those, then it is just a bad habit that needs fixing.
---
American by birth. Cowgirl by the grace of God. And I wouldn't have it any other way.