Folks, it's somewhat OT, but HOW do you tell is you have (or need) muscles on back? Frankly I never can really tell a difference (silly me
)...
Awesome thread! Last year I started doing the back-lift exercise with my generally laid-back mare, and she lifted her hind leg as though she was going to try to cow-kick me the first time! First timers beware: if you rake too strongly, your horse might have a strong reaction that is not the back-lift you were going for! Tried again a few days later and used much less pressure: no problems at all! Whoops. Start with VERYVERY light pressure and increase slowly until you start seeing a "lift" response.
I printed out this information yesterday and took it home. On our way out the the barn I was telling my mother about the back lifts and showed her the paper I had printed out. She says to me "oh, yeah, I did that with him the other night!" in kind of a caulky voice as if to say she already knew all about it. She then finished reading the page and started laughing. Apparently when she did it, she didn't use the light circular motions and basically cupped her hands and tapped his underside with all ten fingers repetedly. His reaction - caulked his head back at her and just stood there watching her as if to say "what is the crazy lady doing to me?!?", and did not flinch his back once. "No wonder he looked at me like that!" she said after reading the paper in her hand. It was pretty funny, and I just thought I would share and again say, thanks for posting this, otherwise I would be learning some very incorrect methods from my mother!! Ha-ha :)
---
"No hour of life is wasted that is spent in the saddle ~ Winston Churchill"
Thanks so much for reading everybody! I'm glad you found the information helpful :)
Kitten_Val: you can really tell just by looking- if you look closely at the before picture, the back looks 'gaunt', or hollow. Like its missing some flesh. Also, if your horse's back dips down slightly.
i.e, a well-muscled back (and superb conformation)
(google)
and a back in need of work:
(this is Mohegan again, she was bum-high to the extreme during this growth spurt!)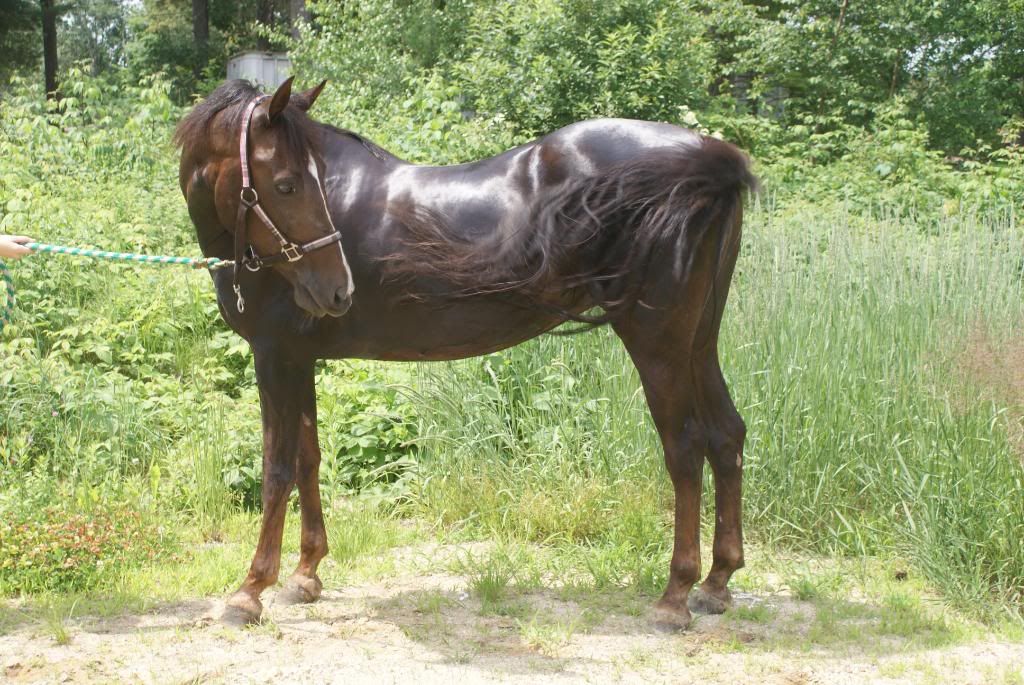 I hope this helps! Kpptt2001, I'm so glad you found the information helpful enough to bother sharing it! Thanks for your comment!
very helpfull we had a terrible accident where our barn fell onto our 3 horses and killed one of them due to 85mph winds and injured my 14 year old quarter horse so bad that we couldn't put a halter on him for about a month(not because he was afraid just because his face had huge gashes on it where it was bleeding and would probably scar eventually)but also gave him this huge dip in his back that may make it so i won't even be able to ride him ever again but i know these ground work exercises and especially the therapy will help my chances of being able to ride him again so thanks for the helpfull information!!!!
Thats great Shortpygmies! I sincerely hope this helps you- it CERTAINLY helped my mare, her back was so awful that people told me she should only do light trail riding and I should switch to driving- now she's excelling at eventing! I was told she would never be able to lift her back enough to comfortably support a rider, and she always stuck her neck straight up in the air from discomfort- now she has the most beautiful round back, and looves long and low exercises!
Crossing my fingers for your boy- what an awful accident, I'm so glad he's mending!
Just subscribing so I don't loose this thread again!

I am going to start trying the massage and back lifts with my guy.
Love this! :) I gotta try the long and low with Pipsqueak! :)
There are a few more exercises that you can do to also help build the back muscles as I posted on the thread mentioned:
Quote:
Hey Jemma- I was given some great tips by my Equine Chrio and my Equine Massage Therapist for Nelson - he's 21 and has had incurred a poor topline due to years of poor saddle fit.

His muscles are inverted instead of built, because the poor saddle fit *his previous owner had a saddler tell her to go wide with a wither relief pad* ended up compressing down on his muscles for those 6 years they were together, not permitting the muscles to obtain air while working, and they had no where to go....it has taken quite a long time to get these muscles somewhat back, but I wont have perfection because of his age.

I was given a lot of stretches to do with Nelson, while on the ground. I do these before I ride and after I ride.

Amongst all the carrot stretches, these 4 are helpful:


1) Butt Tucks. While standing behind your horse *if you feel comfortable doing so* take your finger nails on both hands, and scratch a particular area on your horses rump simutaniously, to make them tuck down. With Nelson, his spot is his dimples. He has dimples on his bootie, lol. I'll have to pull out the diagram I was given...or you can do trial and error yourself. You'll know it when you find it.

Your horse will roll his bottom under. When he does this, their back lifts and the muscles stretch.

2) Long and low carrot stretch: With a treat in your hand, have your horse stretch down low with their nose, almost touching the ground while trying to get that treat. Then, bring it between your horses front legs, so your horse streches down and under.

3) This one you may need someone to show you in person, and you do need someone who can watch for what you are striving for. While you have someone standing by your horse, have them watch his muscles behind the shoulders, and in that area on the back - while you, are behind your horse *again, if you feel comfortable* Have your horse stand square and strait.

Grab your horses tail, and lift it up making sure it is strait and in alignment with your horses spine. Now, pull slowly and quietly - not hard, not jerky what so ever. Just softly.

While you are pulling, the person you have watching, needs to tell you when they see your horses muscles tighten, even the slightest.
---