You can upload them to any typical photo uploading website - I use flickr.

That stinks to hear she did that. Ya, you should have gotten after her pretty seriously for that. Are you hurt?

She clearly needs some extensive ground work (all the stuff I explained in my last post). I'm glad to see you're getting help. :)

Good luck and remember you'll have more wonderful days than tough ones. :)
No, not hurt at all...just brusied (I think my ego is more bruised than anything....lol) hahaha
But I will survive. I really think she has been able to get away with a lot of stuff and knows it.....But I plan on keeping her, so shes going to have to break a lot of old habits. Just gonna take me time (and her time)
All horses have the instinct to be as high in the social dominance hierarchy as they can. They will try to dominate over you. If they are allowed to dominate, they become 100% evil. If you are at the top of their pecking order, they are totally happy with that too. Swapping places with her in that order is necessary.

You need a professional to help you before you 1. get hurt and 2. teach the horse more bad habits. She can get over this. It takes knowledge.

I think that you should trade her for a well trained horse. Then you can have a lot of fun riding.
---
Celeste
Carpe Diem!
Lol yes.
I'm about to say something I've never said before. But a horse who intentionally strikes out is a serious offense. I would carry a crop in my boot, practice teaching her the typical yielding skills without anything besides your halter. I prefer to teach my horses in a flat halter as they're going to live their life in a flat halter so they might as well learn to respect it right away.
I also strongly believe that a horse will respond to whatever it's trained to respond to no matter how mild or how strong. Rope halters are good to use when you're handling her until she's better trained, but I'd personally work on getting her respectful in a flat one.
So... practice teaching her to yield her everything to you. ANY acts of disrespect at all - if a single foot comes off the ground uninvited aimed in your direction should be met with a quick hard slap on the offending limb with the crop. She will probably be stunned and jump - but that's ok. If you were momma-mare in her herd and she just struck out at you she'd get her butt kicked worse than your crop can do. Her striking out at you when you ask her to move is simply her saying 'no i dun-wannnnaaaa' She's in charge. That needs to change fast and furious.

That being said I would go back to all that ground work I mentioned in my first post. All of those skills are what asserts you as 'in charge' in your relationship, the more you do that the more she'll see you as the 'big momma' of the herd. Belgians, whil I love them to death, are pretty fiesty for draft horses, don't give in :P Still happy to hear you're getting help :)
Quote:
ANY acts of disrespect at all - if a single foot comes off the ground uninvited aimed in your direction should be met with a quick hard slap on the offending limb with the crop.
A two minute fit of rage would be in order here. You don't want to really hurt the horse. Well not injure her anyway. You want her to think that you are going to. You do need to use the crop and use it well. Don't hit her on the head.
---
Celeste
Carpe Diem!
Oh!! of course not her face- I was thinking a leg, I find hitting the leg that struck at you works best. And yes I typically would never recommend using a stick for anything - but striking is unforgivable.
Uploading Photos....Hope these come thru. LOL Shes really a pretty girl (well, she will be a lot prettier once I can give her a **** bath) Her mane is soooooo thick, it lays over both sides. Anyways, here are a couple pics of her. **The last 2 are from the day she arrived, the first 2 are from the next day**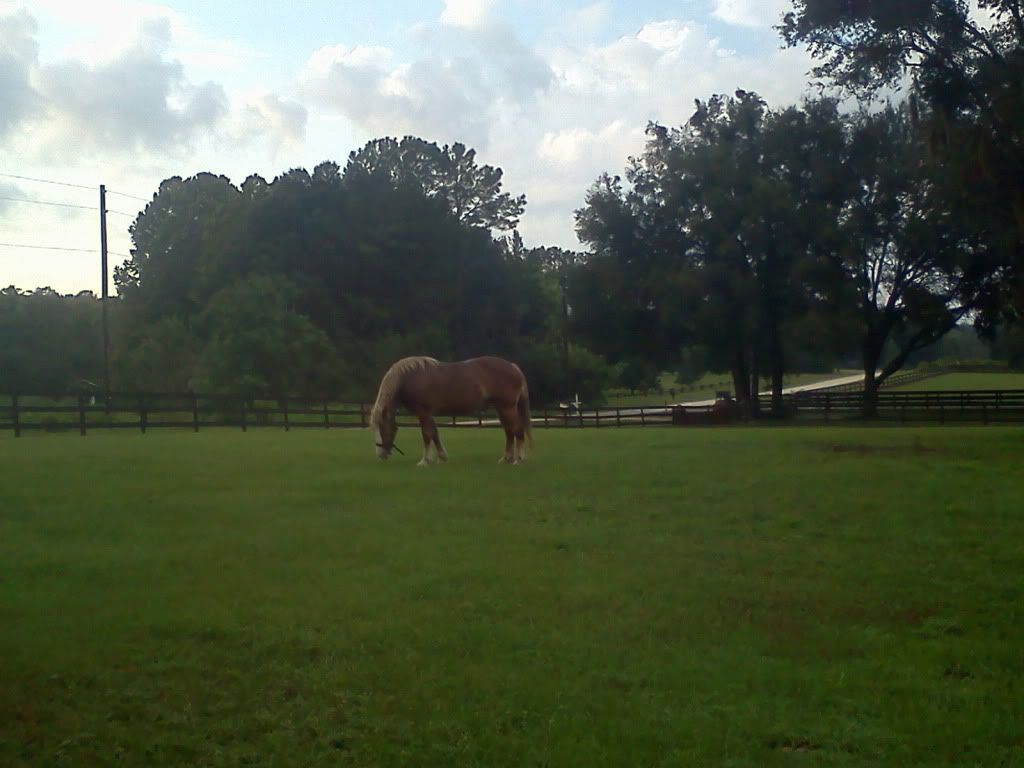 Wow! I can see why you want to invest the time in her. She is beautiful!
---
Celeste
Carpe Diem!
Well....I have some really good news today
Had someone come over and help me with Maggie today. It was an awesome session. Have a few things we can work on (just basic stuff)
Bad news...She did try to paw at me again (and almost nailed me again) Luckily she was still watching how I was working with her and told me to kick her. I didnt hurt her of course, but I did kick her and I really noticed a change on how she interacts with me now. Its almost like she gained a little bit of respect for me. We worked for a little bit more with her and then stopped on a good note. However, Im going to work her the same way for a few days and then we will see about adding other things into it and just how well she responds.
The pawing happened again when I asked her to back up (just like the other day) After she did it once and I kicked her back....lol she didnt try it again and I had her back up a lot more times too.....lol So I think she is going to be an AWESOME horse, she is just going to have to learn (and so am I)
That's awesome - she's magnificent!! You can always put her in a trailer and drop her off at my house :P No guarantees she'll ever find her way home though xD Just kidding
What sort of exercises did your trainer have you do with her? Backing up is great, and yes kicking works - by the looks of her I'd think you'd have to kick pretty darn hard to even make her notice. I do find kicking works more better than crops, not because it's nicer or anything, but because the translation is more obvious to horses. They figure out what it means faster IMO.
So glad you had a positive session