How about some RIDER training? (the benefit of bareback riding!)
---
What's the best way to learn to ride balanced and correct in your saddle? Ride without one!
It's amazing how good riding position really presents itself when you fall back on your instincts (if they are good ones anyway). With myself, I am constantly trying to ride "correct", even if I am just out on the trails conditioning my horse. In all honesty, I don't do a whole lots of bareback riding on my horse because he has a more narrow build and isn't all
that
smooth. I rely on my saddle to
make
my ride smooth by catching my own weight and body. Plus he is 16.1 hands off the ground; that's a little tall! However, I do love riding my mom's horse bareback as well as our Welsh/Nokota cross. They are much easier to ride bareback too being they both are more of a 50-gallon barrel build.
Those fat pockets on the shoulder are brilliantly comfortable!
I did have the pleasure of doing the Bareback Buck Race at a horse show this summer, and I was surprised (and impressed) by myself when I saw the pictures. How in all that is holy we took
4th place
out of about 16 entries, I will never know. But we did and I was very proud of him! (and myself for not falling off)
In this event, you went round and round the arena western-pleasure style at either the walk, trot, or canter. Everyone had a one dollar bill tucked under your leg, just sticking out enough that the judges could see it. The last one who still had their dollar under their leg wins! And it was a
very windy
day that day - no room for errors!
This is my favorite picture. I got my heel, hip, and ear all lined up! So proud of myself .... This also was earlier on in the event, obviously at the trot. (Just please don't mind my left hand clinging to his mane for dear life!)
Can't tell much if I am lined up heel-hip-ear, but I can see my heels are nicely down as they should be.
This one is not quite as good, but if I remember right they just called for a canter so I *think* I was trying to get him to speed up. I want to ask more gently because he is quite excitable (this is my barrel horse we are talking about!). How I still have my dollar here, I have no idea! I guess the placement is key!
And we are galloping wilding around the arena ...... but I still have my dollar! He's thinking: "Oooo! We get to go faster!"
I'm thinking: "Slow down you psycho! I'm gonna fall off or lose my dollar! Can't you gallop nice?"
We are nearing the end as most of the other riders have already lost their dollar (standing in the middle).
Well we've gone all the way around the arena, and he's settled down to a nice canter, finally! As far as I remember, this was just a few seconds before I did finally lose my dollar and take 4th place. They called for a trot and our transition down to it wasn't so smooth = dollar blew away in the wind!
Anyways, I guess seeing all these pictures made me feel better about my own riding since in most of them I feel like I am in a good position. Granted, I do consider myself a good rider but at the same time I know I can
always
improve something.
Very long story short --> bareback riding does wonderings for RIDER TRAINING! (Just as important as horse training.)
Anyone else have any comments/stories on the benefits of bareback riding?
---
∞•*˚ Βгįťţαňγ ˚*•∞
It is not enough to know how to ride; one must know how to fall.
And YES my inner thighs were shaking after that event!
And were sore the next day.
Guess that's what 10 to 15 minutes of intense bareback riding does!
---
∞•*˚ Βгįťţαňγ ˚*•∞
It is not enough to know how to ride; one must know how to fall.
I absolutely agree with you and I have living breathing proof in myself that riding bareback strengthens your core, your legs and your balance. In the summer of 2009 all I did at home on my Fjord was ride bareback. I did flat bareback, I jumped bareback and I trail rode bareback. I was always to lazy to throw on a saddle so I jumped on bareback. My balance was AMAZING! I always got positive feed back about my balance in lessons at the barn I ride at. People watching me ride were always shocked at the balance I had. Then I got greenbroke horses and didn't have much time for the Fjord. No more bareback for me. My balance actually in all honesty sucks right now. I got on bareback 3 weeks ago and could barely trot. Guess I know what I'm doing next summer. :)
I enjoyed reading your message and comments below the pictures
. It is indeed fun and very useful to ride bareback. It improves your balance and makes your horse "hear" you much clearer through the close contact between horse and rider. And what a fun contest!
I ride my horse bareback quite often and most times I do that I ride him in a halter with only a lead rope attached, not as two reins but the same way you would lead him from the ground. I neck rein him that way and just put a finger against his neck on the opposite side where I don't have a rein.
It also teaches you to cue the horse with your body and raises the awareness of how you move up there and how your horse reads and responds to your movements. For example, I move my body slightly to the left and my horse picks up that signal and starts to go to the left.
Riding bareback is in my opinion very valuable lessons and everybody ought to do it as often as possible. And it is so much fun too!
There were so many riders standing in the middle of the arena at the picture so you were really good riding bareback and holding on to your dollar
Way to go!
---
Don't fence me in
I do agree that riding bareback strengthens your legs, and gives you balance, but I don't think it does wonders for your position. Ride bareback for a while then ride in a saddle, you'll find that you aren't used to having your feet in stirrups, and the position your saddle puts you in is different than your position when riding bareback. I ride english, so it may be different if you ride in a Western saddle. Plus, that is only the case if you ride bareback more than riding with a saddle.

Anyway, congratulations on the 4th place. Bareback dollar is really fun. You look like you are having a blast in those pictures.
BeauBaby: Jumping bareback ... that's amazing! Nice work. I've only jumped on an English horse once and it twas not pretty. (Lost stirrups, weight went forward, didn't know when he was going to leap) But I guess I did it on an impulse by myself just for fun when I was house/horse sitting this summer. Maybe if I actually did it properly with some formal lessons, I might have some better results! But still, that's super for you! And it is quite amazing how once you stop using it, you can lose it.

Izz: I too like doing the same thing you do (with just riding in a halter). It feels liberating to have nothing much on the horse!! And thanks for the comments on the pics. Although it was intense, it was a lot of fun too!

Erickalynn: Quite true, I do agree that your feet will be in a different position in stirrups depending on the design of your saddle, than they are kind of free-hanging in bareback. However, I do think bareback riding does help your position too because you aren't going to stay on for very long when doing things faster than a walk if you are trying to wrap your whole leg around the horse, or if your heels aren't down, or if you are chair-seated, etc. I guess myself, I don't really let my legs "just hang". I am purposefully keeping my weight down in my heels, keeping contact with my thighs, and using my lower legs as balance based on where they are held. And of course, posting with my body instead of my feet since there are no stirrups there. Which all would be totally different if you were just sitting there at the walk and just letting everything hang with gravity and not actively working on your body positioning.
---
∞•*˚ Βгįťţαňγ ˚*•∞
It is not enough to know how to ride; one must know how to fall.
I absolutly love bareback because it greatly helps your balance. After my back surgery where I had a bar weighing 10 lbs put in my back I relearned how to balance on a horse by riding lots of bareback and stirrupless. Thats what my instructor prescribed anyway ;)

Trail riding helps with your balance as well if you are going up and down hills, rockier terrain, dips and dives. All of this helps you and your horse!

Congrats on your placing!
---
" Horses are a humans wings."
Yes! I actually find it easier to sit in a proper seat while bareback - probably because my saddle is a cheapo that puts me in a horrid position lol!

My old lesson barn used to do the "Ride-a-5-buck" (as we called it) at every schooling show! I actually won it just once, it was fantastic (and I got like $80) - such a fun class. Funny thing was, when I got off my coach says, "See how far he goes into the corners when you actually put your leg on?" LOL. I was at a dressage barn and corners were not my strong suit!
I actually taught my newest rescue mare mainly bareback :)
I find it really helps when teaching a horse to respond to seat aids. Also, by not having the cinch on her side, or stirrups to distract her, I was able to teach her to move away from leg pressure (in the three spots on either side) much easier, and much quicker. It was easier for her to distinguish between my leg up by her shoulder, or back behind the cinch, making her reaction much quicker.
And all because I was too lazy to put on a saddle ! LOL
I actually prefer to ride bareback. I find it more comfortable, easier to teach my horse.. and when you ride to burgerking or mcdonalds without a saddle, you get some funny looks ;)
I'm just glad she's only 14.1hh. I can just hop on from the ground!
Sunbathing..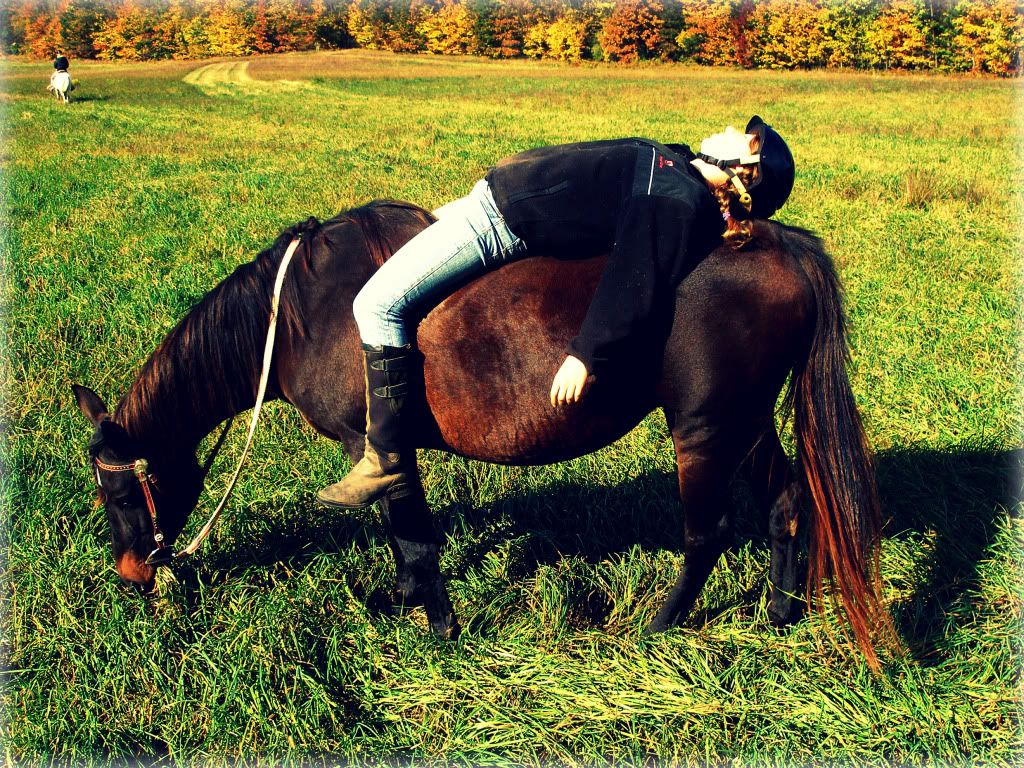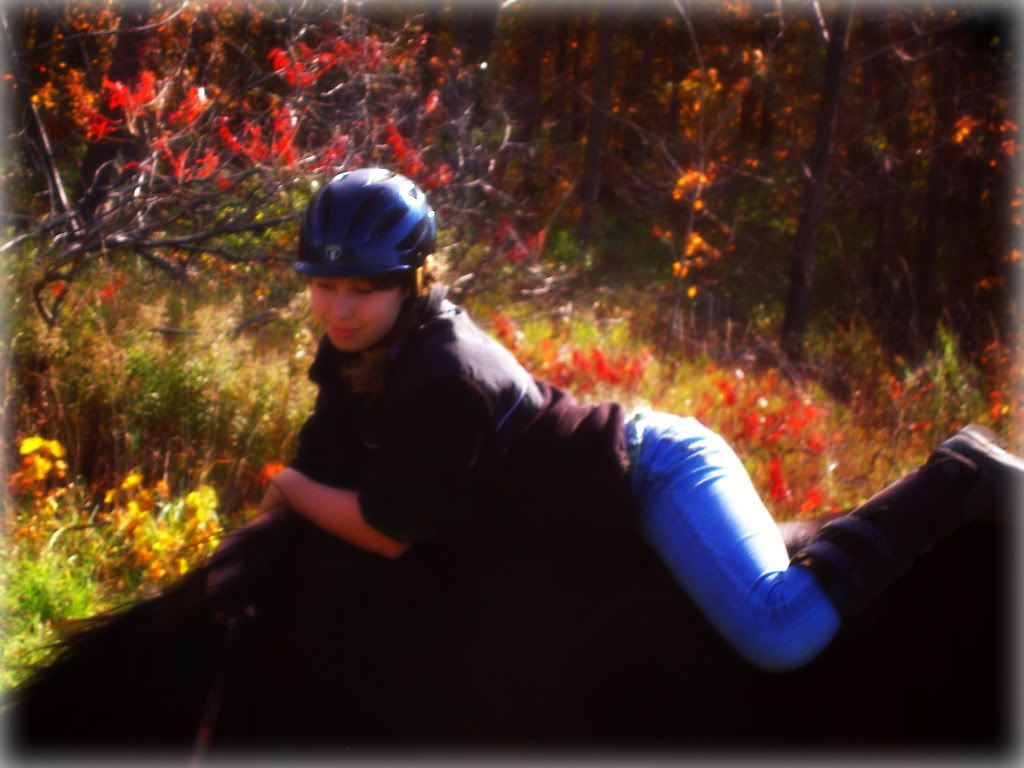 ---
---
Last edited by x Branded Heart x; 12-15-2010 at

02:55 PM

.
Beau159 - Congrats on your placement! LOVE the photos!

I learned on English and every moment not in a lesson, I was riding bareback. It's my personal preference - and I'll readily admit it's because I can't seem to ever get the saddle tight enough. I have never really liked riding western but am getting used to it.

When I "test-drove" Chili, I did so by getting on her bareback. According to her previous owners, it's the ONLY time she's ever bucked. I'd love to try again but am afraid of her reaction and with my broken foot - just can't afford to chance it. The moment I'm healed, I'm gonna test her out. And I might just test that $ bill "trick"!
---
Michele
"Not evil, dear. Wicked." - Once Upon A Time.