Hunter classes
---
What are they called? I know Hunter/Jumper is over fences, and I would like to train my horse for that, but he can't do flying lead changes and I don't know how to train them so I'm not getting into that. What are the hunter classes that are on the flat called? What kind of headset does your horse need? What does your horse need to know? Also, does my horse look like he could be a hunter horse?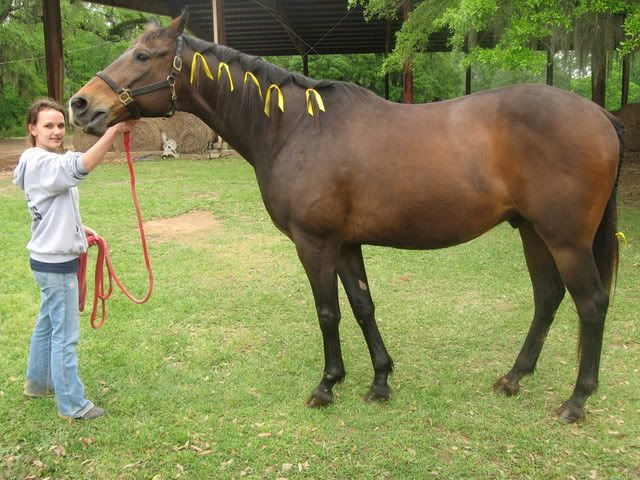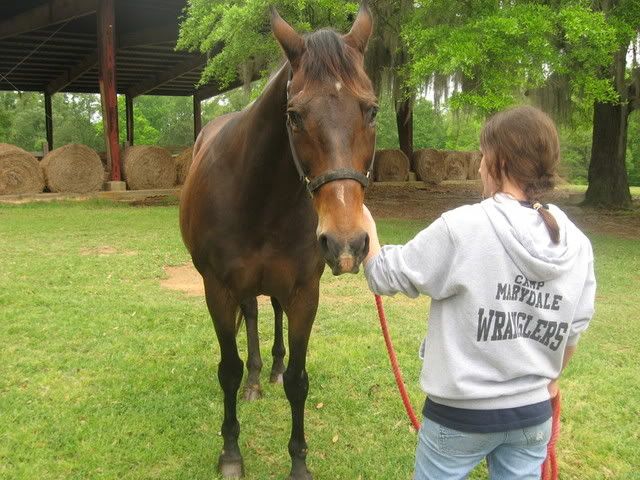 I am just trying to find showing possibilities! If you know any other English classes he might be good in, tell me!
The classes on the flat are called Hunter Under Saddle (horse;s movement and behavior is judged) and Hunt seat Equitation (your position and riding ability is judged). The HUS is shown on the rail at the walk, trot, and canter. Depending on the organization you are showing in, a Hunt Seat Equitation class can be only rail work with added in sitting trots and two-points. At other shows, you have to do a pattern in the center of the arena by yourself. (hint: if the show has western classes, you will probably have to do the pattern). The show may also have a class called Hunter Hack, where you jump two jumps on a line and then work as a group on the flat, like in a HUS class.

You can still do over fences classes even if you don't know how to do flying lead changes, especially if it's a smaller show you can do a simple lead change. You will be counted off, but you probably won't be the only one out there that can't do a flying. You can also try to learn how to ask for a lead over a jump - it's easier than a flying, and in my opinion is actually preferred over a flying.

Best of luck.

mods - I accidentally hit a button earlier on this thread - please ignore it for me
Thanks sandsarita! Is that your horse in your avatar? He's gorgeous! BTW, how do you ask for a lead over a jump? Same way you ask for a regular lead?
Ah, thank ya - that's my old show mare, who's been retired for 8 years now to the broodmare pasture. She is a doll, though.

I am not an expert on over fences by any means, but this is how I was taught to ask for leads over fences, and it works for me.

1 - if you want to stay on the same lead, drive your horse to the base of the fence. They are less likely to change leads. The opposite applies if you want them to change leads - let them leave a bit long.

2 - as you are going over the fence, weight your outside stirrup. If you want the left lead, put a little more weight in your right stirrup. If you want the right lead, put a little more weight in your left stirrup.

3 - this one works the best for me, especially if you're horse isn't that sensitive to weight cues. But, you have to have a completely independent seat and hands. As you are jumping, you can pick up on the inside rein. So if I want the left lead, I will take a light feel of my horses mouth with my left hand while in the air, and tip his nose slightly that way. Opposite for the right lead. It works best if you are using an automatic release, but it can still be done with a crest release if once again your seat is independent from your hands.

Best of luck, and you have a very cute boy. Let us know how the shows go, and your progress with him.

Oh, and in another thread on flying lead changes, it goes over some of the basic moves your horse needs to have to do a flying change. Even if you're not comfortable enought to try to teach him how to do it on your own (completely understandable), you might work on the prep work. It would help you with your flat work and control and balance between fences, and if you ever got somebody to help teach you and your horse, you would be ready for them!
oh sorry, SHE's beautiful! i love buckskins. thanks for the tips; i will try them! i'll let you know how it's going!