Quote:
I think that a part of her pissy look is fron her wanting to go where she wants to go and at her speed. And the gets frustrated when Im asking her to go where im telling her at the speed I want her at. Why do I think this? Because when im done w/t practice on barrels and go to ride a few big circles around my whole riding area, she wants to turn every barrel she gets close to because that is just what we were working on, so she pins her ears, swishes her tail, has a little mare fit until she finds out i just want her to walk in a straight line. I guess its just her own little way of dealing with frustration/"I dun wanna" syndrome.

As for the ors exercise, I do what Wares said almost every ride if I have time. It helps me determine what kind of day its gonna be lol. On a good day, she will give to both sides with no circling for one or two steps. On a bad day, she is distracted and circles several times before giving.
Can you post a video of her doing a barrel pattern? On a bad day though lol.
And have you tried giving her a task that will stimulate her mentally? Like say maybe even something like doing figure 8's or serpentines and stopping briefly in the middle occasionally
---
"It is the difficult horses that have the most to teach you" - Double Dan Horsemanship
Disregard the sorrel mare. She was sore, and shuts down SUPER hard indoors and I didn't have the necessary tools to make her work for me. LOL

It was Squiggys first time indoors, and the first time on the pattern in a few months, so she did really well.


---
---
Last edited by QHriderKE; 04-25-2013 at

04:09 PM

.
Alrighty, for those of you who still care, I did this awesome exercise yesterday: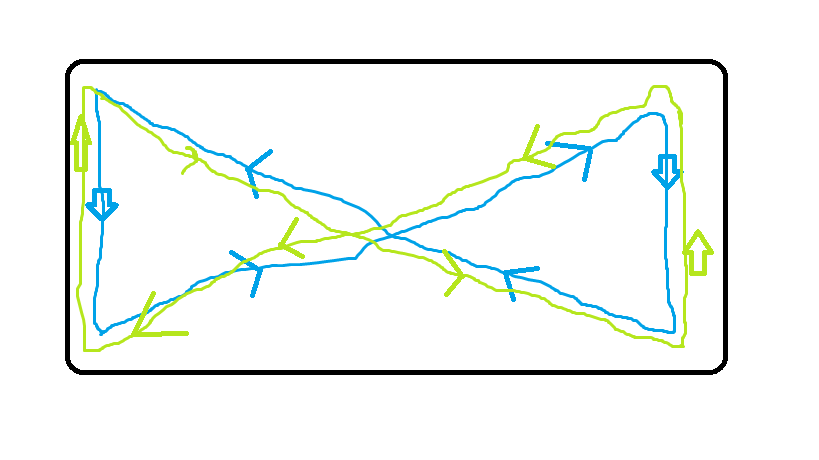 Now, let me explain. LOL. We will start with the blue, staying on the pattern keeping straight lines, I did up and downward transtions (w/t) and stopped, backed, or turned around and then ended up on the green. It is an amazing sort of pattern! Holy CRAPOLY. I think I am going to use it with all of my horses. It helps them relax because of the straight lines and I love it.
Vid:
English on Squiggy - April 25 - YouTube
---
Horses like jobs that make the training/exercises in the arena make sense :)
She looks happy and interested in what is going on :) Nice!
---
I DON'T LEAD 'EM AND FEED 'EM, I RIDE 'EM AND SLIDE 'EM.
She's a natural at roping and working cattle. I honestly hardly taught her anything. I was just fooling around tracking roping steers (heeling end) with her once at a roping practice and threw my rope and accidentally caught doubles and she just acted like she'd been at it a long time. I was slightly bewildered.

She's also much calmer around cattle... like, if I'm tracking a cow at a lope, she's watching the cow and doesnt have enough extra brain power to think about jacking around with her lope and being a turd.

Shes awesome to work any kind of cattle with. Its just when you get away from the cattle that problems show up...
---
Honestly, I think maybe you found her calling or at least something that could pacify her in between arena work.
If I had cattle like you guys do, and your folks don't mind, I would be doing as much outside work as possible. Maybe riding outside and tracking and moving cows around(at a walk) or doctoring calves outside. Maybe give her a break from the dry work for a while then come back to it or maybe incorporate more outside work in your weekly routine???
---
I DON'T LEAD 'EM AND FEED 'EM, I RIDE 'EM AND SLIDE 'EM.
I do a bit of that as we keep roping animals at our place year round and they are always nice to play with. Every now and then I will just go out and pick one critter out and play with it for a few minutes, I think my horses think its fun and kind of like a "funday friday" or something lol.
---
Cowchick has a point, dry work can get boring. Selena is the same way. If I do too much just plain work on my reining stuff or pattern classes she gets pissy, hot and stupid all around. Often times I have to get on the barrel pattern at least once or twice a week, trail ride, or find some cows if we're lucky enough and she stays calm as a saint.
---
Pssh.I didn't pick up the wrong lead
It's called a counter canter...
...A very advanced maneuver.
I think you are doing great. I dont have much to add other than that in your pics your curb strap looks a little too loose. You have to pull your shanks way too far to achieve curb pressure while applying excessive poll pressure. Maybe it would be helpful if you tightened it a bit to even out the pressure and give you an advantage with your cues. Just a little advice. Keep up the good work, and keep learning!

I know how it is to have no outside training available. I had to teach myself just like you are. I grew up with horsepeople who used "cowboy" methods that I disagreed with so I sought to learn as much as I could. It isnt easy and you will recieve a lot of criticism, but you will get there if you listen to your horse and never stop using your brain.
---
Ω Horses are a projection of peoples dreams Ω