She is gunna be big!! Good luck:)
You are doing amazing with her! I do have one question though. I thought you said you bought her, and than you refer to her owner. So is she your new horse or are you training her for someone else. Either way great job!!!!
---
There is just as much horse sense as ever, but the horses have most of it. ~Author Unknown
Quote:
You are doing amazing with her! I do have one question though. I thought you said you bought her, and than you refer to her owner. So is she your new horse or are you training her for someone else. Either way great job!!!!
i don't believe i ever said i bought her.
she belongs to a friend and i am training her. i like to pretend she is mine though, lol, because i really am falling in love with her. even though she is supposed to be a re-sale project.
second saddling today! Loki is a pro at it now, lol. it seriously feels like she's been saddled time and time again with how laid back and easy she is about it. i did find out this weekend that her previous owner had set a saddle on her back once, but never did girth it up. yet i don't think that one time wouldn't account for how good Loki has been about her tack so far.

after i got her saddled up i spent lots of time whacking my hands all over the saddle, flapping the flaps on her sides (sometimes rather violently!) and grabbing the saddle and tugged on it, shifted it, and generally just made as much fuss as i could with it. i think Loki moved one foot, once. lol.

we worked more on picking up feet today. she was great with the fronts and we got those cleaned out easily. the back feet are proving to be one of those things where she's great one day and not so great the next about them. what i did today was stand her in one of the tie/tacking stalls that line one fence in the yard at my barn, so she couldn't move forward when i went to go lift back feet. that's been a bit of a habit of hers, move forward and sideways some when i go to work with those back feet. today we started with a rope looped around her pastern and when she was being consistent with picking her foot off the ground with the rope we moved to picking it up normally. she caught on pretty quick that the human wasn't going to give up just because she kept being obstinate, hahaha.

after working with feet some more i took off her saddle and we went for a walk in the runway between the pastures. this was a new place for her, even though it is just on the other side of the fence from her pen. we worked on 'ground control' - backing, sidepassing, yielding haunches and shoulders, etc. and Loki was very good about her feet being picked up in a new area too.

when we got back i brought Loki into the round pen (finally the small lake is gone from in there!) and we started our round penning. she caught on super quick. mind you, i've done a good amount of round penning and i'm very confident in my body language to get them moving out, stopping, etc, so i knew i wouldn't have any issue there. she trotted when told, reversed direction when told, and slowed from a trot to a walk when told. Good girl Loki!

tomorrow is 'figure out the big bad winter blanket won't hurt me' day - i've found out from her prior owner that Loki was very apprehensive about another horse she was pastured with before, that was wearing a blanket. i have a hunch i'll be able to fully blanket her with no trouble at all.
Loki gave me yet another 'will this horse let me do anything?' sort of day :) that is, after she came right up to the gate when i called her name. yep, this horse catches me, not vice versa!
as i mentioned, her prior owner said that Loki was 'freaked out' about another horse wearing a blanket around her. i think after today she won't give a rat's patootie about any horse wearing a blanket, including her!
inspecting the wheelbarrow for food, lol. i had just run in to the tack shed to grab my phone and this is what i came back out to:
and this is silly mare checking out her 'new' threads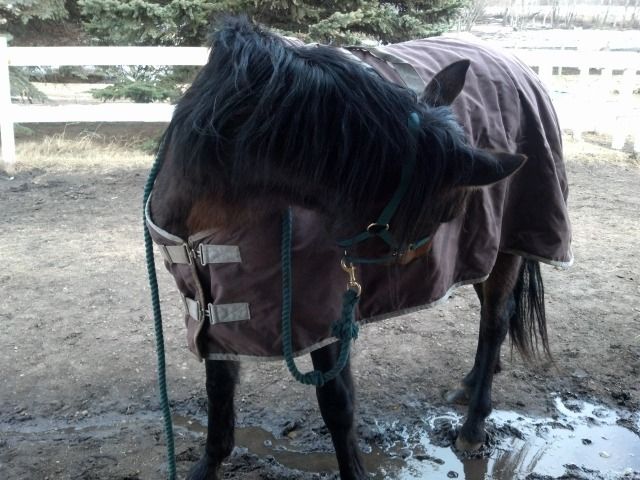 after our blanket fun, i took her into the arena to work more on standing by the mounting block, putting weight on her back, and giving her some more exposure to silly humans being above her. there was a moment where it would have been so easy to just slip onto her back, but i made myself not do it! wasn't wearing a helmet, and i know that Loki isn't quite ready yet for somebody to be on her.
got to enjoy a short barn hour this evening.

when i went to get Loki she was further out in the pasture area and not close up in the paddock. last year's dead brown grass is no longer buried by snow and it must be tasty? lol. i went about halfway across the paddock and called her. she came ambling right up from hundreds of feet away. yep, Loki sure likes to 'catch' her human :)

we didn't do much this evening. had my dad and my kiddo out with me to 'officially' meet Loki. previously it's been an 'over the fence, glance from the car window' sort of thing. also didn't want to have to make my dad sit and wait for me too long (he was my ride), he's done enough of that back when i was a teen at the barn, lol.

brought Loki into the yard and we practiced a little bit of our ground control. we are almost at the point where i can just walk backwards when standing at her shoulder and she'll follow me, backing up. then i asked my dad to hold her (we really need to work on tie training!) while i cleaned feet. we got all four feet cleaned out tonight after some coaxing over lifting those hind feet. the amount of stubbornness and moving about on her part is decreasing significantly. she's getting better, and has her first farrier appointment next saturday (was supposed to be tomorrow but farrier is ill).

this weekend Loki gets to find out all about bits and bridles. i've been haltering her over her ears for a while now, and she is just fine with her head and ears being manhandled, lol. doesn't give me too much mare glare when i stick my fingers on the bars in her mouth either. got a spare headstall all fitted up with a mullen happy mouth, i do hope she likes it. if not, there's a few snaffles to choose from. if i'm not too busy being amazed at this 'little' mare adapting so well to everything i'm doing with her, i'll get some pictures of her all tacked up!
yesterday Loki wore her bit and bridle for the first time, and her saddle for the third time. she was really good about it. been haltering her over her ears for the past week or so to prepare her for the bridle crown going on the same way. had the bit in her mouth and the bridle over her ears in less than a minute :) she was really 'chewy', but i expected that as she hasn't worn a bit at all before. we went for a walk around the arena and when she was concentrating on me the chewing stopped. today will be a repeat, just wearing the bit and getting used to it some more.

we also worked on tie training a bit. Loki so far has not given any inclination that she would 'set back' on that rope at all, but i would not call her tie trained yet.

went to get some photos of Loki mare all tacked up yesterday but my phone memory was full! :( dumped it last night and now i'm good to go, paparazzi style, lol.
Loki was once again just wonderful today :) second bridling, third (i think?) saddling, and i've tied her to the fence a time or two before today for a few minutes, but today she stood tied for longer, probably fifteen minutes or so. she did do a small pull back at one point but didn't go ballistic like you see some horses do, and calmly moved forward when i told her to 'step up' (a command i teach all horses, to walk towards me. translates really well to entering buildings and trailers too). i was able to walk away from her and go into the tack shed and she stood calmly. at one point she somehow got the lead rope over her ears and all she did was stand there and wait for me to 'rescue' her, lol.
after that we walked in the arena and worked on 'steering'. Loki is starting to learn about how reins make her head move, and in turn make her body move. we were able to turn to the left and right and back up a few steps too. Good girl Loki!
i just noticed her tacked up photo looks like she's about ready to fall asleep. that's how stressed out this horse is in her training with me, she snoozes. lol.

today was another 'Loki catches her human' day too. walked right up to me, leaving a fresh round bale she was munching on. so proud of this mare :)
today Loki meets the farrier. i do hope she is good! i'll update later.