The right way to relate to horses is the way they relate to each other: I like to remember to ask myself, "What would the alpha horse do in this situation?"

Of course, we humans present unnatural situations to the horse by asking them to be ridden, driven, etc., so it's an art to maintain the horse's wellbeing amid those demands.

The horse's wellbeing MUST be maintained, first & foremost. As soon as that is forgotten, in the equation of wanting to achieve some human goal with the horse, we've got trouble at the OK Corral.

The horse will tell you if your approach is wrong, more surely than any theory of training.
Quote:
The above definition of positive and negative reinforcement is a technical, scientific definition. This is how "reinforcement" is defined by B.F. Skinner of behavioral or learning theory psychology.

Disagreeing with it is like disagreeing with Galileo's definition of gravity. Well, may be not quite, but... :)
Well, I hate to tell you this, but the horses I have trained have not read this book.
If you watch a herd of horses interact with each other, what do you think positive and negative reinforcement are?
What 'reward' is a horse looking for?
What do YOU consider to be a reward for doing the right thing?
My observations tell me that any horse WANTS to be accepted and NOT be chastised and beaten away from the herd. A baby is usually NOT treated badly by the herd because they 'clack'. This is action when a baby or young horse repeatedly opens their mouth with their necks outstretched and their nose turned up. This chewing motion, called 'clacking' tells any older horse: "I am a baby. Don't hurt me. I am no threat to your position in the herd. I am not challenging you." All babies do this and many yearlings and even 2 year olds will do this when an older horses gives them an evil 'drop dead' threatening look.
Other than mutual grooming (mostly scratching each other's withers and shoulders), horses seldom tough each other. They want to be close, but I have observed that they seldom touch each other or want physical contact. Even when they are standing nose to tail to swat flies, they usually are not touching one another.
When I started out training horses in large number over 50 years ago, (I used to start over 50 horses a year back then) I started out using a lot of what I considered 'positive reinforcement' with a lot of petting and talking and praise. I also watched a lot of horses being ridden by very good trainers that were asking a LOT out of their horses. Some petted and praised their horses and others were just very business-like and did nothing that I could call a reward of any kind other than removing pressure.
I had already figured out that most learning came from the horse yielding to pressure and that when I released the pressure at the right time, the horse would repeatedly perform the task. So, as I trained more and more horses I started experimenting on how petting and praising a horse after it did something well worked compared to just leaving the horse alone and not touching it.
After training a LOT of horses with or without praise and patting, I came to the conclusion that the less I touched and messed with a horse, the more quickly it learned the lessons. I figured out that accepting nothing less than absolute obedience and respect did more to help a horse learn something than anything else I could do.
I have trained many horses that I never spoke to at all while I was riding them and never petted or interacted with them in any way other than to teach them, step by step, what I wanted to teach them.
As the years went by, I found myself talking less and less to horses and interacting with them using my hand, leg and seat aids to teach them what they were ready to learn.
The more I watched others train horses, the more I was convinced that a lot of petting and praise and interacting with the horse just confused the horse. I absolutely believe that the only reward a horse needs and truly understands is the 'release of all pressure'. In other words, it is 'acceptance' and nothing negative happening that they crave -- just like the herd member that wants nothing more than to be accepted by the herd, especially the herd leader.
I challenge people here on this board that have trained many (or at least several) horses, to pick one or two and be determined to not offer any praise, treats for rewards or anything else when the horse does the right thing. Train a horse for at least 30 days seriously and come back and tell us if the horse learned just as fast or faster than when they offered their 'usual' rewards and usual positive reinforcement.
I absolutely believe that if you remove all pressure, drop your head and back up a step or turn your back to reward the right thing on the ground, the horse learns more readily than for anything else you can do. I believe that releasing pressure and contact with your reins and legs is the only reward he understand under saddle.
I think horses can be conditioned to accept petting and hugging and messing with them, but I also think they would be happier if you just left them alone.
Horses adapt to humans like we adapt to them. So I talk to my horses because I like to do so, and they have become accustomed to it. I don't believe they learn faster or better from it. It might even slow things down. But after 5 years together, Mia would probably assume the absence of talking meant I had fallen asleep...or died.
Kind of like what I think when my wife stops talking...
---
"Make the right thing easy and the wrong thing...well, ignore it mostly."
petting horses is what WE like. it's for our benefit and keeps us happy. They pretty much put up with it.
talking to them is pretty much for our benefit, too.
I agree with Cherie.
I too hVe trained more horses than I can count.
Nothing to add to Cherie's posts except to say that I am coming across more ill mannered, pushy horses because owners only believe in positive reinforcement.
Cherie, I'm in your boat.

I don't have anything to add to this thread that you haven't brought up already.
---
Pssh.I didn't pick up the wrong lead
It's called a counter canter...
...A very advanced maneuver.
Quote:
petting horses is what WE like. it's for our benefit and keeps us happy. .
If petting includes scratching under her chin, my haffy would like to disagree.
Quote:

Other than mutual grooming (mostly scratching each other's withers and shoulders), horses seldom tough each other. They want to be close, but I have observed that they seldom touch each other or want physical contact. Even when they are standing nose to tail to swat flies, they usually are not touching one another.



.
I have to disagree with this completely, my herd of four do touch each other a great deal, my TB will rub her head into the others which I think is almost a dominanace thing, they all put up with it, and my haflingers and constantly touching each other - nose to rumps, heads to necks and I'm not talking about mutual grooming, my small pony is the only one who tries to keep himself to himself, but he puts up with the other mares.
Without looking too hard through my photos, here are my too haffies not grooming , but touching and they do the same in the winter (when there are no flies)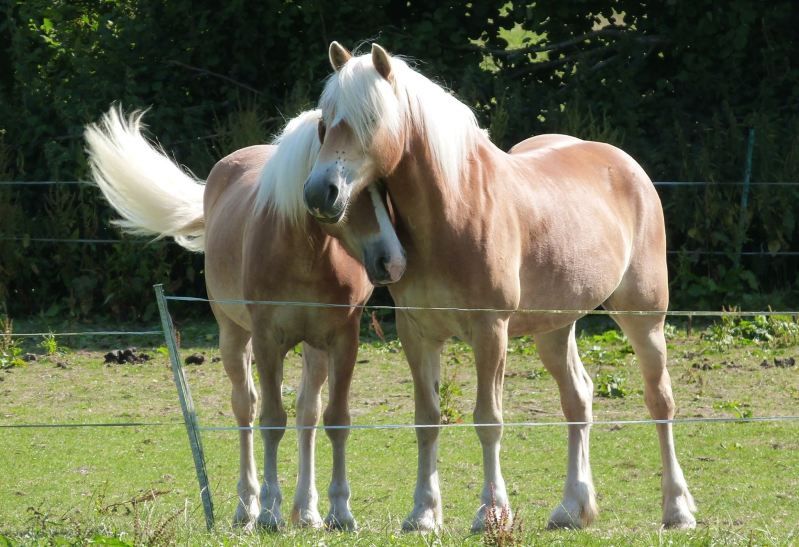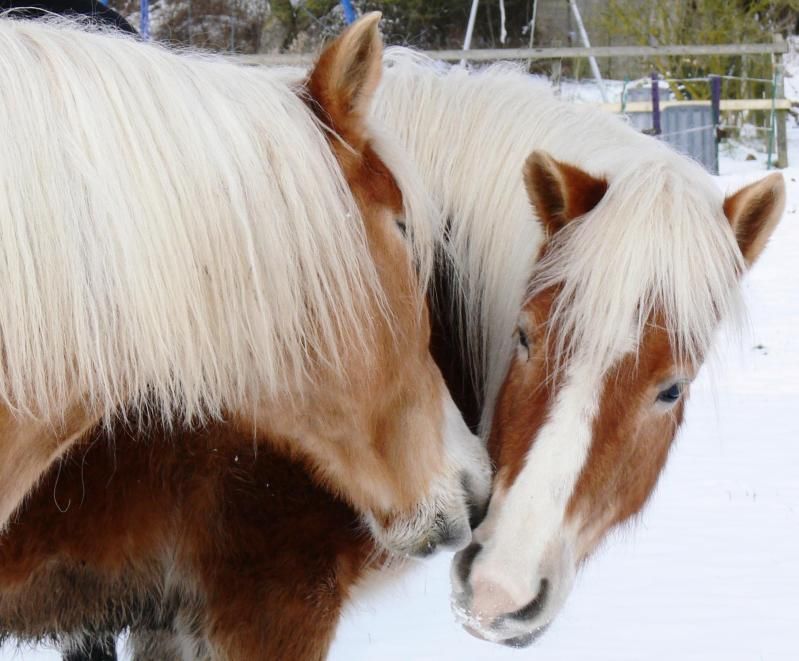 ---
Last edited by Clava; 10-12-2013 at

04:03 AM

.
I think that dropping the petting and baby talking act works with most animals.

As a dog walker, I let the dogs know that they were supposed to walk at a heel unless I told them to go potty. I transformed a lot of pulling, yapping monsters into well mannered walkers. I watched their owners take the well mannered walker that knew what it was supposed to do, and turn it back into a crazy yapping pulling mess because the "dog needs to run around and smell things and enjoy being outside".

I think the dogs liked the walks where they knew what to do better :P No petting or baby talking, just us going out and having work time. MUCH SAFER
I wanted to add that there is a play/love on time and a work time with just about any animal. I'm sure in the wild, when horses are doing something job like, like defending the herd or travelling, or whatever natural work horses do, they aren't all rubbing on each other and lovey dovey. But of course any animal does have love and play time, that is just different than work time.