Green Broke
Join Date: May 2009
Location: Winnipeg, Manitoba, Canada
Posts: 4,510
• Horses:
2
Jynx says NO, I say YES
---
So I had mucho fun with Jynxy today! Haha, it's actually funny, we went back to basics with the saddle today and I managed to get her tacked up without her stepping away from me even once. I petted her girth area unsaddled, she was fine. I grabbed the saddle blanket, let her sniff and tossed it on and then touched her barrel again - she tensed up, so I kept petting and playing until she relaxed. Saddle went on, exact same scenerio, play around until she's relaxed. I tightened it super extremely slow, touching her in the girth area and stroking her neck everytime I got it up one more degree with her calm and relaxed. So I'll definately keep this up, thanks for all the advice!
Riding today was a whole different story! Shay-la had tacked up Eve and was riding in the round pen, so I asked to join them (Eve is farther in her training then Jynx, and it helps Jynx to see and follow). I didn't round pen this time, since she's so laid back. I mounted up, she walked five steps and then does this little front leg bounce and then crowhop. Ok, what? Whatever, let's turn around and walk the other way. Two more steps, she does the same thing. Ok ok, my bad, I should have round penned you, it's been awhile since I was on your back.
So Shay-la and Eve vacated the round pen so I could school her a bit. And yep, she was full of herself!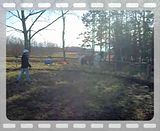 So after she calmed down, I mounted up again. Shay-la stayed out of the round pen to see how she'd act. Little cow decided she wasn't leaving the gate and Eve and I couldn't make her. Oh yeah? As you can see, I won the "move forward HORSE" battle
Unfortunately, I very seriously hurt my back yesterday and I'm not even SUPPOSED to be riding (but but but, it's November and it's like 10 degrees outside!!!!!) because I was looking forward to teaching her a lesson about doing thing my way and not hers. After her little blowup, as you can see she stopped at the gate again, and as much as I wanted to just ride it out of her, my mom will kill me if I come home unable to walk. So after this, Shay-la got into the round pen with me with the whip and magic of magic, Jynx remembered how to walk nicely!
Haha, so I think this helps serve the "It's You Or Me Horse, And I Like This **** Saddle" Club! I am very understanding to a youngster, last ride it took a lot of very blatant cues to help her understand, but that's fine. She's new to everything, taking it nice and slow is fine. However, throwing little snit fits because you don't FEEL like leaving the gate is not an option.
Also, after Shay-la helped work her from the ground, I asked her to leave the ring and proceeded to do three laps around without help. She knows how to walk, throwing a tantrum isn't going to get you anywhere horse!
Here's Jynxy's pint size tantrum: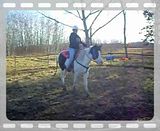 ---
Quote:
I hope God tells her to smash her computer with a sledgehammer.
Sounds like you had lots of fun !

dont you love it when they give little tantrums ? :hehe:
I dont :)