Jynxy...lunges? YAY!
---
I am not 100% sure where this magical turn around is coming from, but I am NOT complaining! I know the side reins help a lot, but I warm her up without them and she's still not pulling or leaning. She is as calm, and happy and relaxed as any horse I've ever seen on a lunge line which is a complete first. I swear I felt close to tears today with such progress - I asked for the canter and got a BEAUTIFUL, easy, calm canter. For anyone keeping track, cantering Jynx on the lunge line has been a "not a hope in hell" thing since I pretty much bought her. She CAREENS like a demon at the end of the line, drags me across the field, fights me tooth and nail and basically just acts like I'm trying to kill her or a ghost is on her heels.
I think we're all just SO much more relaxed and happy at the new barn, it's unbelievable. Enjoy some pics of Jynxy's progress!
Walking, doesn't she just LOOK so much happier?
So sweet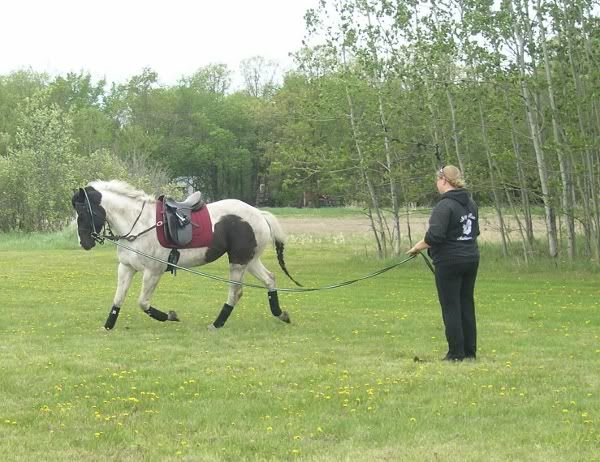 Trotting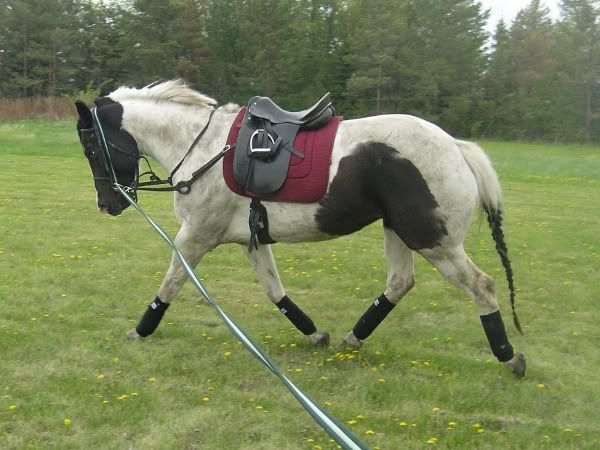 Trotting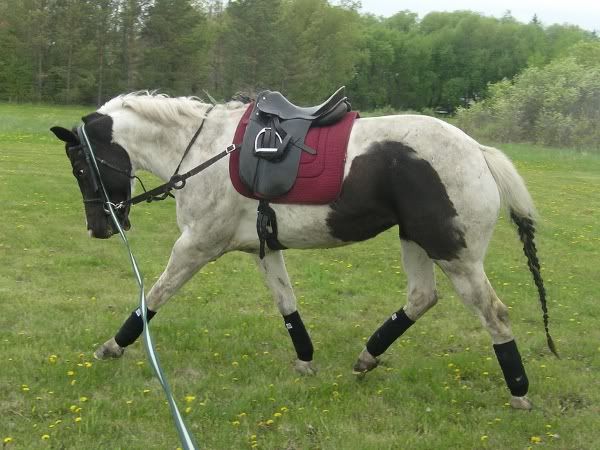 Nice streeeetch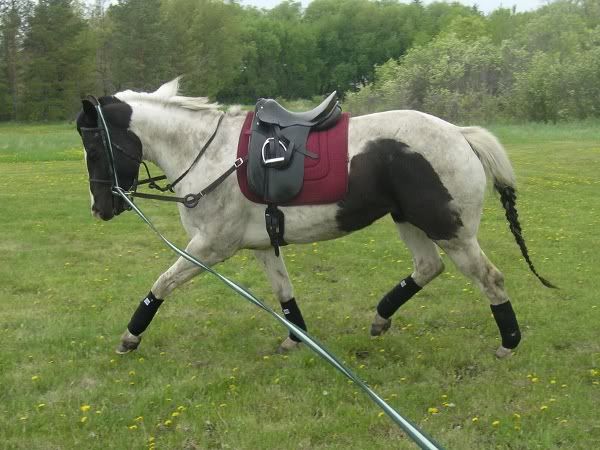 I like this shot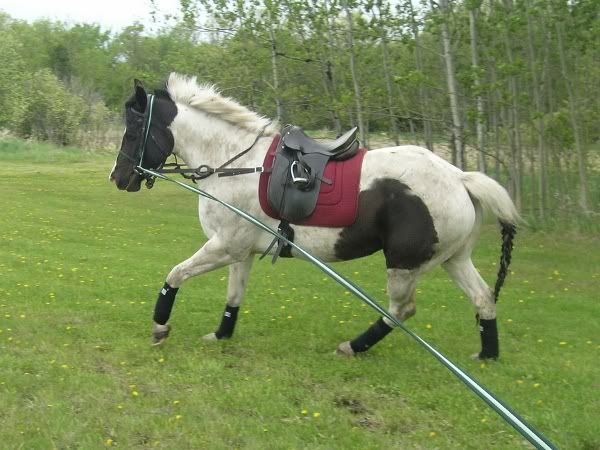 Canter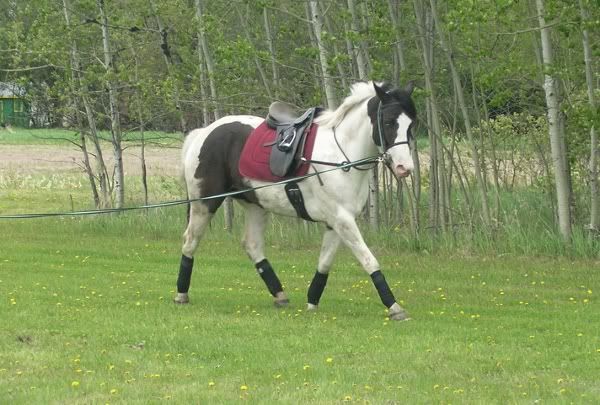 *giggles* Have to love that wacky mane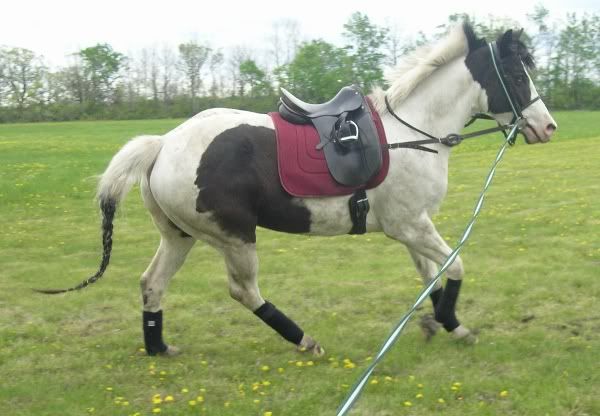 More canter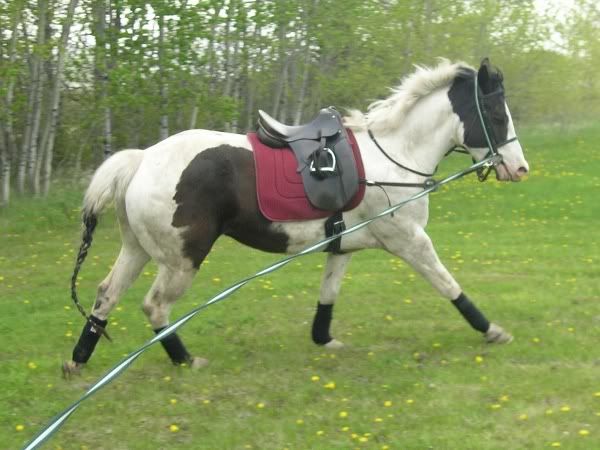 Can't get over how relaxed and easy she was, absolutely no bolting or racing, just happy!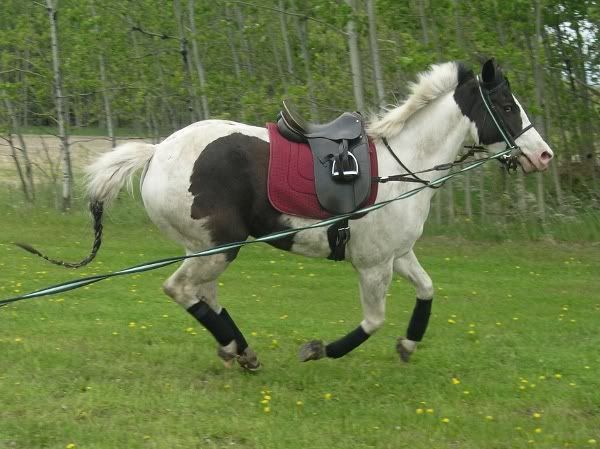 Hehe that eye always makes her look half crazed
Streeetch down!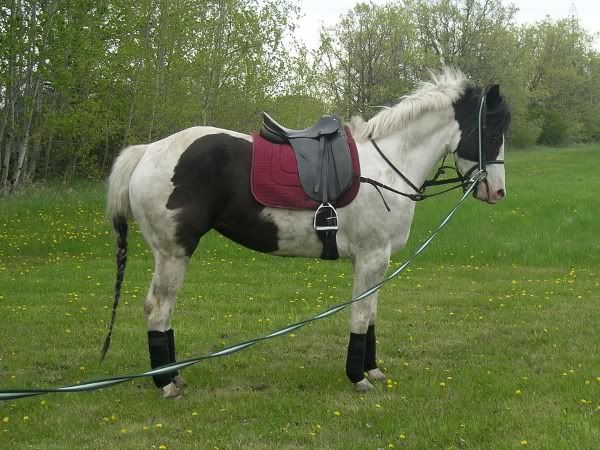 Square halt! She looks like a dorkus in this shot.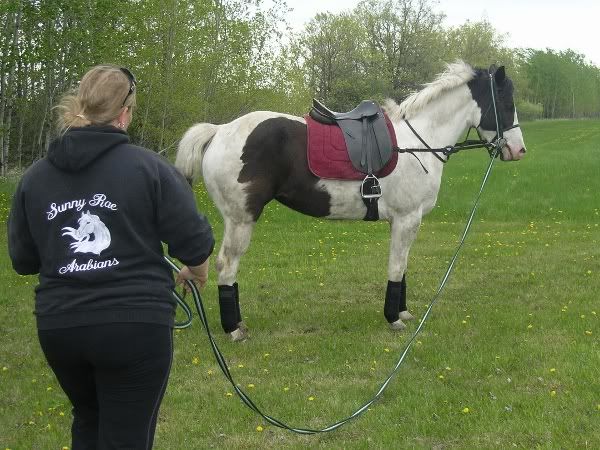 Standing so pretty!
---
Quote:
I hope God tells her to smash her computer with a sledgehammer.
Awesome!
---
So in lies the madness, the pursuit of the impossible in the face of the complete assurance that you will fail, and yet still you chase.
Green Broke
Join Date: Aug 2010
Location: Southwestern Ontario, Canada
Posts: 3,324
• Horses: 0
Maybe that dressage lesson helped more then you thought!
---
It is impossible for a man to learn what he thinks he already knows. --Epictetus

Squee!! I'm so happy for you and Jynx! I knew I loved that girl, she looks absolutely beautiful! Congrats, hopefully she continues on the path she's on. =D
Posted via Mobile Device
Haha, my trainer/coach says Jynx reminds her of a little sporthorse, she thinks she's built rather well for a Paint, likes her shoulder. I know she'll never be spectacular, but nice to know she has a build that isn't going to make her struggle doing some more athletic things!

The plan is to attend the same show that Jynxy debuted in last October, so we'll be able to put the tests side by side and see the progress of a year's time with 6 months work of training/lessons!

---
Quote:
I hope God tells her to smash her computer with a sledgehammer.
Way to go Jynx! I think she is just darling, MM, have to fight the urge to want to scratch that fabulous butt of hers! Sounds like you are making great progress. Congrats!
---
Life is like a camera. Focus on what's important, Capture the good times, Develop from the negatives and if things don't work out, Take another shot.
<3 These pics you have been posting of her! Happy for you on her progress, a happy day for you I'm sure!
Just for fun, THIS is what I dragged home 2 years ago!
I'm so glad I've documented this journey, it's fun to see how far she's come!
And now:
I'd say not a half bad investment of my time, money and energy!
---
Quote:
I hope God tells her to smash her computer with a sledgehammer.
Teehee. Alfred Hitchcock. =]
---
"Great spirits have always encountered violent opposition from mediocre minds."