Learn barrel racing.
---
Gday guys.

Im just wondering if anyone on here does barrel racing, i'd really like to train my young mare to do it, but just to have fun not be very competive cause i love barrel racing and its good fun.
Cheers.
---
Dakodi Rose - 5yr old QH x Appaloosa mare.
Cowgirl Up.
Ride it, like you stole it.
I do, also for fun because my pony wouldn't be able to take me to anything huge. I also think it is a lot of fun, just don't ever get the idea that it is just running full blast around 3 cans. I started working my pony on the pattern a little while ago and now all the english teeny-boppers are trying to as well but they have no idea what they are doing and lets just say its not pretty
I'm practicing since I got a good saddle in my hands now.
I'm able to take sharp turns without sliding.

I am doing figure eights as of now and going to have to condition Gidgit before we do any showing and I need to practice and need to get another,barrel or trash can...but for now we are working on turning corners and weaving through to make figure eights untill I get another trash can or barrel set up to actually try.


are the people who ride english fall off?
How is it not pretty?
Well....
My horses all knew how to run before I worked on their turns, but I think that's true with almost any horse.

I'm not sure I'll be much help but I'll give it a shot.

I'd start trotting the barrels. I'd start wit honly two and do a figure eight pattern, then build up to a lope and work on using your leg to drive her over while turning. Sit, lean, steer. Very important. Drive her as soon as she steps out of the turn.

I like to start practice by loping ten feet circles around the barrel and then tightening as we go, foot by foot inward. Make sure you tell the horse "Hey hey" when you're turning. Basic vocal command to dive in and turn sharp. Say "Ssh ssh" when you are starting to run and when the run past the barrel, without turning (For other gymkhana events, not so much in barrel racing.)

I like to have vocals commands as well, just to make my life a little easier.

But start slow and don't underestimate the power of circles. Lots of loping with the shoulder turned in, and work on using your legs. I rode a horse with no leg once, and I couldn't move her away from my leg so we knocked a barrel down.

Lots of circles. Lots of figure eights. Lots of leg.

That's basically what I do, and it hasn't failed me yet.
---
Pssh.I didn't pick up the wrong lead
It's called a counter canter...
...A very advanced maneuver.
I run barrels in the NBHA... and I also train barrel horses as well as cow horses. And one of the biggest things people do wrong is come in way to close to the barrel. You wnat a little distance coming in... nad you want to be right on top of it coming out. Another thing you do... teach your horse "pockets". I typically do them where the tracks would cross. Sit down and make them come to a complete stop here... thats gonna begin your turn.... this will save your horse from running through. That way when you have speed it takes the smallest bump to set them up for the turn. Here are a couple diagrams. Hope this helps. If you have any questions.. feel free to ask.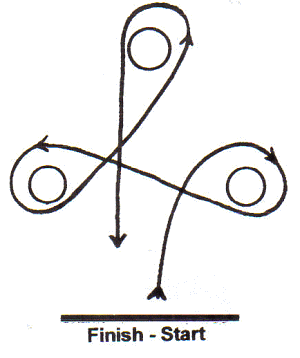 Another way to pick your pocket is to lay the barrel on its side, place a cone or pole or some sort of marker there, and then put the barrel back up exactly where it was. There's your pocket.

Also, always, always start slow. Get your pattern down pat before you add the speed, it ill be much easier.

Remember that a slower clean run is a million times better than a fast run with a knocked barrel.

:)
Green Broke
Join Date: May 2009
Location: Winnipeg, Manitoba, Canada
Posts: 4,510
• Horses:
2
I agree, the pocket is the single most important thing for a winning barrel run and so many people forget it. It's not just flying around barrels at breakneck speed - that's going to break both your neck and your horses neck. 99% of those barrel racing fall videos you see, is completely the riders fault. They hurl the horse at the barrel, hanging on for dear life and then drop him on his face at the turn going "Ok, figure it out."

A good barrel horse knows how to plant his feet and almost pivot his back end around that barrel. But in order to have the room for that turn, you MUST pocket the barrel. I agree with the poster above me, placing cones is a perfect way to learn not to anticipate your turns and place your horse where he needs to be for a good turn.

Barrels are fun to me because it's a fairly simplistic pattern and the horses learn pretty fast what you want. The biggest key is not getting your horse amped over it - I see to many people trotting a few times and then trying to run them right away and the horses start getting worked up in excitement for the run. In my opinion, barrels shouldn't mean run - you asking your horse to run means run. Obviously you want a good barrel horse to know his job and get excited when you're competeing, but you shouldn't sacrifice control because that's when it gets dangerous - a barrel horse that won't listen to your cues going into a turn because he's so amped up, his brain is clouded.

Good luck!
---
Quote:
I hope God tells her to smash her computer with a sledgehammer.
Hey guys thanks sooo much for the input!!
I shall give it a go!.
---
Dakodi Rose - 5yr old QH x Appaloosa mare.
Cowgirl Up.
Ride it, like you stole it.
I love barrel racing! me and my lease mare are Res. Champions in one of the local shows!
---
When God Made Horses, He Painted The Good Ones.
"All I pay my psychiatrist is the cost of feed and hay, and he'll listen to me any day."

Quote:


are the people who ride english fall off?
How is it not pretty?
One has, but she's not very smart. She has this huge draft who runs around uncollected and uncontrolled and her saddle slid one day when she was turning a barrel. The other kids just yank their horses mouths around the turns