Looking for trainer Oregon......Mustang Gelding 2yrs pics
---
Hi! So I am feeling slightly overwhelmed with my new baby. I am pretty new to horses, but purchased a Mustang gelding 3 weeks ago. He has a wonderful disposition and is really friendly! He tests me sometimes, but i do correct him. HE will officially be 2 in april and I was hoping to start him under saddle in the summer. I am having trouble finding a trainer that could work with both of us... I would really like to do a lot myself, but don't have the guidance on what to do or where to start. He halters very nicely, trailers, picks up his feet, the basics. I have not lounged him, and haven't done any groundwork, as I do not know what to do....but I could pick it up fast if told what to do. He was VERY underweight when we first got him and I considered him my little wee-nie baby because he was not so confident. He was easier to handle. Now that he is starting to fill out very nicely, I am feeling 'overpowered' almost. I live in Canby, OR and Thunder is staying in Colton, OR. I am wondering if there is anyone on this forum that train horses regularly, give lessons, ect. I would really like someone who knows a little about mustangs (even though he was captivity bred),and preferably closer to where we live (clackamas area). I am not looking for the "cowboy style" training...more so 'natural horsmanship' I guess is what it is called. Thank you and sorry this is so long!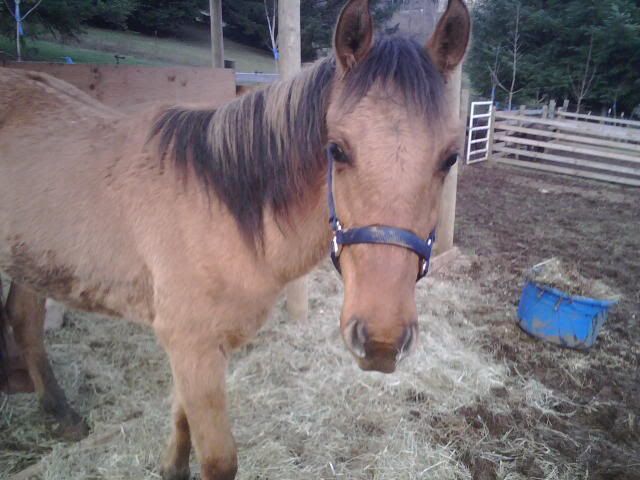 HI I JUST WANTED TO TELL YA YOUR BABY IS SOOOOO CUTE. WHAT A CUTIE
thanks! i love him so much and it's so great to see him change from skin and bones to a little round belly :)
aww, he looks just like my baby! except she has white stockings and a blaze. she will be 2 in june :)
ahhh! i l-o-v-e the dun color! babies are very overwhelming sometimes, but it is definately worth it!
Don't I know it! haha But I've loved every minute of it. I was very blessed when I got her..she is sooo easy going, very smart and gets things RIGHT away.
Lunging is very useful, I don't see why you couldn't try that sometime soon. I've also done alot of ground work with my baby...teaching her to back up on command, bend her head, move on the forehand and her hindhend, to stand. and alot of desensitizing her to different objects.
If you ever have any little questions, I could try to answer them since we're pretty much in the same boat! :)