Looking for varied opinions on the correct age to start young horses. . .
---
I am looking for different views on what people think is a good age to start a young horse. I am not looking to begin a debate of any kind, so please be kind and professional of everyone's opinions, but I am curious and would like to see your explanation. I will post my opinion on the matter here in a bit.
P.S. By "starting" I specifically mean under saddle, be it with or without a rider. Opinions on ages for groundwork and lunging etc. would be interesting as well, please elaborate on whatever you feel is correct and incorrect (height, weight, confirmation, build, breeding etc).
If you are wondering, I am a trainer myself with a young filly being raised up at home, as well as many "young" horses under my belt of trainees...I want to see what the community thinks is right and wrong in the world of correctly starting and finishing horses :)
Oh, and as a little challenge, please feel free to guess the age and breed of both horses below (they are the exact same age/breed, both local and similar breeding), I will post all their information after a few guesses: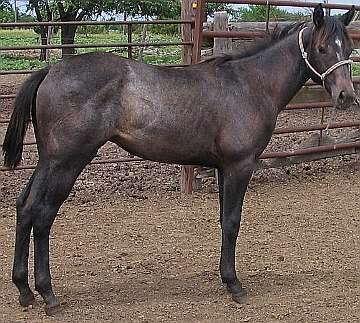 ---
" Life is a rodeo, take it as you get it "
Southern Colorado Natural Horsemanship


In my opinion, it really depends on the horse itself. Some horses are ready earlier than others. I always look at not only the size of the horse, but also their mental state. I personally don't start riding until the horse is at least 2 1/2, and that would only be a few times a week at most until they are 3 and only at a walk. We had a horse once that was ready physically at 3, but was mentally very immature until 4, so we waited until then to start backing.
The way I see it, backing a horse too early can lead to more problems than its worth. If you want to have a nice, sound, healthy horse into its 20's, then why rush. Take the time to let the animal mature before you start working it hard.
I understand there are many opinions and views on this subject. I have always wondered as well what other peoples views are on starting horses under saddle.
I am working with two yearlings myself. My Arabian, Jazmine went to my trainer when she was a little over three. I bought her when she was 4 months and we began to master the basics. I'd introduce her to new things whenever the opportunity allowed, barking dogs, trains roaring next to us, planes flying right over our heads all sorts of new stuff. She had a training snaffle bit in her month when she was 2 years old. I'd saddle her and lead her around. I'd ground drive her. I did longe her at a walk only the round pen at the stables was small. The trainer I picked is a small man came from generations of horse trainers. He knows his stuff. I told him not to rush her cause I'll own her forever. She is 9 years old now. I am training Jazmine's daughter and a mustang colt I adopted from the BLM. My yearlings are 2 months apart and the colt has some catching up growth wise. It's amazing how the right care from birth affects their growth rate. It is funny they are both equines but there is a difference in the domestic home grown baby and the BLM baby. The training cycle continues, but no more youngsters after these two are trained. Me and my horses will be hitting more trails and meeting more equine friends instead.
Showing
Join Date: Jun 2011
Location: Cariboo, British Columbia
Posts: 11,951
• Horses:
3
Depends on the horse, warmbloods are slow maturing so I would start a typical wb at about 4 or 5, most others, usually 3, but I would start the fall of it's 2 yr old year under saddle (no rider). The first horse looks to me under a year, 2nd horse looks mature so I am guessing over 5 & under 25, no way I can tell for sure with the small picture posted.
If they can stand up to the weight I usually set a saddle on their back a few times at about a year or so and let the stirrups dangle as long as they go so they can get used to the feeling. I start cinching them up probably about 6 months after that. Longing I don't usually start till about a year old just because it is hard on the joints and even then I don't allow them to move faster than a trot. I don't usually start riding till about 2 1/2 depending on the horse's level of maturity at that time.


The first one looks to be about 4 to 6 month old
the second 3 to 5 year old
and both quarter horse
---
♪♥♫ A horse which stops dead just before a jump and thus propels its rider into a graceful arc provides a splendid excuse for general merriment.
~Duke of Endinburgh ♪♥♫
I agree with gothicangel: it really depends on the horse. My Aires was 15.1hh at two-years-old, very mature for his age, and well-boned. Because of this, my BO (who I bought Aires from and who broke Aires for me) had absolutely not problems starting him at just over two-years-old. I don't get Aires going faster than a trot (and not for very long) and we do mostly arena riding. Conversely, there is another two-year-old gelding at our barn whose owner asked the BO to help break him. This little gelding is a maybe 14hh QH and is still very much a baby in mentality. But, the owner had him broke anyway. The little gelding hasn't been ridden very much because the owner had to go back to Minnesota for a couple of months, but when he was here, he did nothing but two to four hour trail rides.

As far as the two horses you have pictured...are they both QH yearlings?
---
Do not tell me I can't...because I will
show
you that I can.
I train mostly stock breeds, so mine is based on that. Training for me starts at day 1. Weanlings are expected to handle on the ground like a showmanship horse, tie, clip, bathe, trailer load, behave for the farrier, etc. As long yearlings they are sacked out, exposed to a light saddle, lightly lunged, bitted and some ground driving.

I start riding mine as long 2's and go lightly through that fall & winter, mainly walking & nailing the foundation and some light trot work. By the spring of their 3 yo year, they already neck rein, sidepass, know what whoa means and that it means now, move hips & shoulders independently, etc. Makes it very easy to add in the lope & progress to lead changes and more advanced maneuvers.
---
Life is like a camera. Focus on what's important, Capture the good times, Develop from the negatives and if things don't work out, Take another shot.
I think there are many factors- breed, height, weight, maturity and use.

Being from a cowboy background and have worked for show trainers I have started colts very young and by some standards -old.

On the ranch some of the colts hadn't barely seen a human let alone touched,halter broke and rode until 4 and 5 year olds. If you don't have the facilities and the know how this is dangerous and I wouldn't recommend it. We would gather by horseback put them in a large round pen. My husband roped them by horseback, choked them down, I would jump on their heads rub them all over, eventually he could snub them to his horse sneek a halter on them, give them a quick lesson in giving to the pressure of a halter, lead to the fence, tied up, flagged, saddled and eventually rode. This was all done within a couple of weeks, depending on the horse. This very dangerous to horse and human. But we made good ranch horses this way. This may seem cruel, but it's not at all, it's the best way to deal with a horse of this nature.

On the other hand I have worked a trainer or two that handles and trains them from birth. They are gentle however I find that they get very cranky, pushy and sick of their job if you don't do anything else with them.

I worked for some trainers were we get 2 year olds barely halter broke and hardly touched. These are my favorite! They aren't completely terrified but have respect and haven't learned any pushy behaviors- they know they are horses NOT people companions. They train easily because you don't have to correct pushy behavior- as a rule- I am generalizing here.

However there were horses that I started that I think were better off starting later. But because of a futurity deadline were started anyhow. But if you have a good trainer they can see that once you start them they may not be suited for a futurity. Some horses may not be a good futurity horse but ends up making an excellent derby horse and goes onto to have a successful show career. Don't base everything off of a futurity!

In conclusion, I think, there are many factors and situations you need to consider before starting your baby. They will "tell" you, if you know how to listen, what speed they can handle.