Lucas = expletive.
---
So I've had Lucas for two years. He was the most easy going, lazy horse I have owned. I love him to death, but I was seriously wondering if he had enough pep for me.

To at least attempt to keep a long story short, I could never collect him. The few moments we would achieve it, he'd be like a freight train in my hands. My instructor insisted I needed to force him, was being too soft etc. I moved out of her place after a disagreement similar to this.

I moved barns at the end of July, and decided to go against my trainers thinking and instead wonder if there is something wrong with Lucas preventing him from collecting, as he was so very willing with everything other than collection.

I thought he needed a chiro, but as they are mucho $$ and it was just a hunch I started with a massage therapist. She immediately said he needed a chiro. (Shoot!)

Chiro came out, she is also a vet. She fixed quite a bit initially, the list of things wrong.

Atlas Axis
Spine 3 & 6
Rib on left side
Right shoulder
Left pelvis.

We had three sessions, everything is fixed except for the pelvis which still needs some work. My income has reduced by 50% (I am a foster parent, paid per kid and two went home/moved out) so at the moment I don't have the income for another session. I've had to cut back on all spending rather drastically.

His pelvis is MUCH better than it was though, he gained some weight (always very skinny)- but he has become a total jerk too.
On the ground, he is usually still a good boy. Under saddle he is a new horse, hot, prancing snorting, sweating.

I made a mistake and thought I'd try to get it out of his system and I let him gallop on the trail. Now he has reared a few times on me since because he wants to go when we are out on the trail. They are only about 45o rears, so it's ok, I can keep my seat, I am not concerned about that, more trying to demonstrate how much he has changed. My legs used to get more of a work out than his did before the chiro work.

So I am working him on straightness, we seem to have that down, or at least I think we do - when he is not straight under me, I can correct him and he becomes straight. I have not tried to collect him yet, I need to work on bending first right?

I am not a believer in lunging out hotness, I think you create a fitter horse that needs lunging for longer and longer. The hottness doesn't worry me massively, though, that's not the end of the world to me, but I can't let him gallop if he will rear in expectation of it. So what's your thoughts on that?

Also am I right to work on bending and suppleness next before trying to collect again?
He grinds his teeth (teeth fine, vet checked by two vets and an equine dentist) when I take contact.
I believe he is predicting pain as my old trainer told me to force him for so long.

Please share your thoughts. And thanks in advance.
Just to clarify, when I say the rears don't bother me - I mean they are not going to unseat me. However I am unhappy about them and don't tolerate a horse that pulls that nonsense. However the trail is narrow, so I am kind of limited in what I can do about it. It's about 2 horses riding side by side wide.

Much of the time on the trail we are in a canter pace but at a walking speed, because I am not letting him go and he wants to.
It sounds to me like you are right that he is anticipating pain. That could very well be what has him so edgy and hot feeling. I agree about not lunging out hot, but perhaps you can do some lunge work in side reins to give him a chance to realize that contact does not have to mean pain.

If he has gained weight since the adjustments, it is a very good possibility that he was in pain a lot of the time and was stressing himself because of it.

I would keep rides relatively light and low key while he figures out how to use himself again. The bending and suppleness are great things to do, especially since they will give him a chance to feel and process the changes in his body. Lateral work and transitions would be my next step from there.
I completely agree with you about lunging, it's not for removing hotness. Although I have done it and once and awhile its a sound idea to work the horse correctly on the line....I'm rambling haha

Recently I rode a horse who was lazy as heck at home and unmotivated but as soon as we got to drill practice all sorts of athletic ability and energy came about! I'm a firm believer that, much like young kids at school, horses greatly benefit from "recess" time in the form of turn out. Most of the time I don't even chase horses I turn out. Instead, I'll be in the ring for supervision and a few encouraging kisses. I've found with a couple horses that this chance to get their sillies out an not have to constantly behave their best, like we expect under saddle, can greatly help their focus and performance for us.

So glad he's obviously feeling better though! Wish you the best of luck in harnessing that into something productive :)
Posted via Mobile Device
Before you work on collection you want to work him on going long and low. This will allow him to find out that he can swing through his back. Collection comes as the back strengthens.
Yes I believe he was in a good amount of pain for a while, I feel like an a$$ about that. This sounds crap but there's nothing I can do other than move forward. I get it though, I know.
Thank you.
Long way of saying, he has access to a stall, it's only used in the worst of weather. He also has a dry lot paddock that he will be locked into when the pasture is too wet to preserve the grass. That's only happened two nights since I moved to this barn in July, but will likely happen quite a bit in Spring. I am ok with that, as I want to preserve the grass.
Here's a pic, the opening you can see is the over hang in front of the stalls. They always have access to the dry lot and the over hang but the stalls are closed.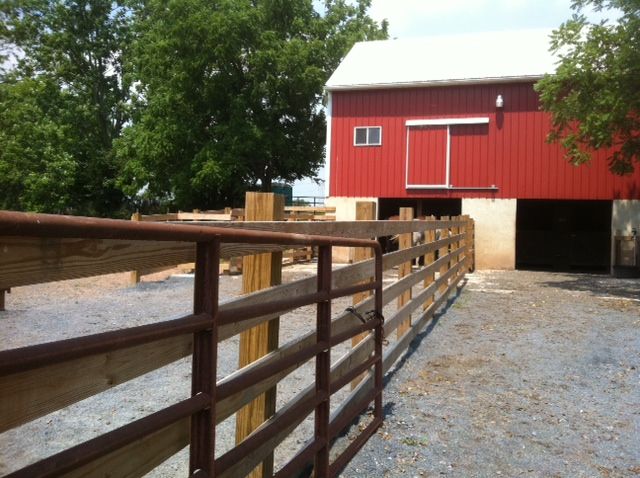 Pasture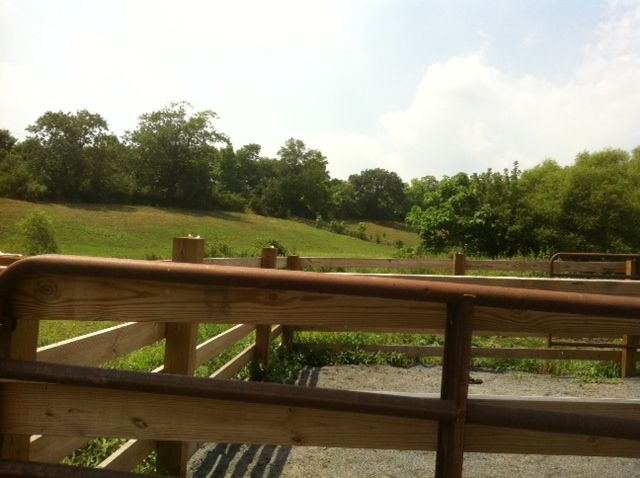 Here's a pic of me riding (hate showing pics of me riding) where I have little contact, you can see slack in the reins.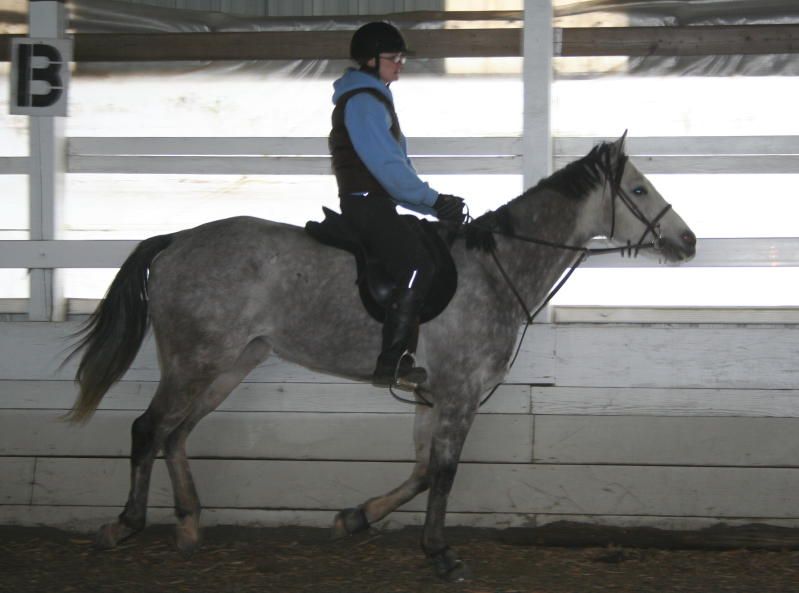 That is pre chiro work though. I ride alone, so I cannot easily get a photo now.
Quote:
Originally Posted by
MysterySparrow
View Post

I would keep rides relatively light and low key while he figures out how to use himself again. The bending and suppleness are great things to do, especially since they will give him a chance to feel and process the changes in his body. Lateral work and transitions would be my next step from there.
I didn't answer this part.
I am totally keeping riding low key. Before this issue I was 100% an arena rider, since his chiro work and teeth grinding I take him on the trail every ride, it's only short. Lucas loves it, and hence the rearing issue because I let him gallop on it.
I am using very little contact, hardly at all, and he has been pleasing me with the smallest movement to get him to move over, mainly seat based.
I've been working him on straightness and just chilling out in general. Rides should be fun and since I realized how not fun they were since moving barns, I am trying to reinforce that.
However, we have been at this new barn since July, and taking it easy. My goal is to have a jumper. I didn't jump at first as he was only 5, and he couldn't collect. He's now 7 - I'd really like to be jumping. I pop over the odd 2' fence, seriously about 10 in 2 years as I can't jump him and sleep at night until he is collecting. That's just wrong to me. But I'd love to be progressing here.
You're right to be working on suppleness and bend before thinking about collection - though, you will notice that as the bend and suppleness improves, collection will come, and the suppleness and bend will improve as the collection improves- all a big cycle ;) The more the horse is on its hind legs, the easier it finds bending and being supple through this jaw and body, but it can't sit on it's hind legs unless it has a degree of suppleness and understanding of bend. Confused yet?

I don't agree entirely with the long and low suggestion. True long and low, that is of any value to the horse's back, requires the horse to be holding an excellent rhythm, be willing to move forward into the bridle, and remain over their hind legs. This is REALLY difficult for a green horse that doesn't have a concept of remaining over the hind legs, and doesn't have the balance or strength necessary to hold this position for more than a stride or two at most.
I much prefer to work a green horse with the neck long from the wither, but the head no lower than wither height, preferably with poll at the highest point unless a horse that needs some work being a little deep for a while.
In this position, the horse is most able to engage the hind legs, build strength, swing the back and THEN over time, lower the head and neck for a few strides at a time. You absolutely do not want the horse to fall flat on it's forehand when you give the reins out.
I've been working with my gelding since April this year, he is training elementary/medium, and I still don't feel that he has the balance and strength to carry himself through more than a single 20m trot circle in long and low.
Realizingthe photo is b4 chiro work, I can tell you this horse is traveling with a hollow and stiff back and his head is cocked to one side. Clearly uncomfortable. Hope the chiro sessions "stick."

Honestly, I would get off his back and start over with an abbvreviated retrain from the ground up. Proper lunging with a proper cavesson or set up. Teaching him how to move with NO weight on his back and retraining his muscles is going to take time. Just like a person coming off an injury.. Rome was not built in a day and so forth.

If you DO ride, get him out and trotting up long hills on a loose rein. This will allow him to stretch his back muscles and gain strength in his abominal muscles and begin retraining his "ring" to be effective.

A supple horse must have a relaxed back. To have a relaxed back he must be able to support his back with his abdominal muscles allow his back to lengthen and (eventually) be able to raise the root of his neck as he lighten his forehand and works off his hind quarters.

Traveling like that photo for a long time means a long time overcoming the issues.

Think of it this way.. he is used to traveling like a Standarbred race horse. Neck stiff, nose poking out and back like a board. Now he needs to completely reverse that frame to a tight abdomine, long and supple back and a realxed neck.

This is going to take time. BTW he looks worth it.

BTW I have a Google Ad window that is obliterating half of this post and it is very annoying. Google.. Go away. I do not click on your ads and this is annoying.
---
There is something about the outside of a horse that is good for the inside of a man.
~Winston Churchill
(or woman!!!!
) Dinosaur Horse Trainer
---
Last edited by Elana; 10-07-2012 at

09:12 AM

.
Do you ever do cavaletti work? Or as westerners often refer to them as ground poles. Cavaletti are adjustable and teach the horse to lower his head, elevate the back and mind where he's putting his feet.
Similar Threads
Thread
Thread Starter
Forum
Replies
Last Post
Meet Lucas!!

Amba1027

Horse Pictures

9

09-03-2010

04:23 PM