Now I see the difference! I was taught that long and low is simply any position from withers level down, dependent on the horses level of balance and strength. When I am asking a horse to reach into the bridle and stretch, I am unconcerned with how high or low they put their head so long as they are reaching forward. I was misunderstanding your use of neutral position, which I tend to think of as a horses natural level when not being influenced. Many time that is far above withers level and does not accommodate them reaching forward into my hand.
I seriously doubt that it matters whether this horse has his head low, high, or in between. He is being galloped out on trails and he has not been trained as a trail horse. He is bound to go psycho. Head position can only be achieved when the horse has his mind on his work instead of on racing imaginary goblins and fairies on the trail.
---
Celeste
Carpe Diem!
Quote:
Foxhunter, I still can't agree with the long and low sorry mate!
Biomechanically, it is SO much easier for a horse to engage the hind legs and carry the back, in a neutral head and neck position, than high in a collected position or low in a long and low position.
By putting the horse's head on the ground, you are effectively loading the shoulders (forehand) making it even harder for the horse to engage the hind legs and lift its back.
Kayty
Disagree!
You get down on all fours keeping your arms under your shoulders and reach down with your head and neck without bending your arms and your back will arch.Bring your head up and in, the back hollows.
Someone in put up a really good video of a horse working long and low, it really showed the difference in it using its back.
Admittedly it does not need to go right down - but when a horse has not been using its back lower gets the idea through to them and very few will actually be inches from the ground.
I have a horse here that was ridden constantly in draw reins, it has taken him a long time to learn long and low - to stretch down in an over exaggerated position but, now he knows how to 'swing' the rest is easy.
Super Moderator
Join Date: May 2012
Location: CT USA an English transplant
Posts: 24,594
• Horses:
3
So I'm confused here (not hard for me)
Pre the Chiro work you had a lazy, happy, easy going horse
Enter Chiro - and
Now you have a tense, fractious, unhappy horse
If I was going to say that one of these horses was in pain then I'd be saying its the one you have now.
How can he be anticipating pain if prior to treatment he was relaxed and pain free
I have used (qualified) people to do massage on competition horses where muscles etc have become stiff and sore with good results
I however - understanding the anatomy of the horse and the sheer bulk and strength of it have never been able to accept that a mere human can have an impact on its bone structure without resorting to a pretty heft mallet. All the vets I have ever known are pretty much in agreement with this
If someone 'moved' one of my ribs it would be broken. they aren't designed to move. You can dislocate joints - major problem in a horse, ligaments can get strained, sections of the spine can affected by these sort of things and nerves can get trapped that is not the same thing as moving whole sections of the skeleton about.
I think your vet/chiro has caused your horse to be in some sort of discomfort and maybe you might look at finding a good horse physio to sort him out before asking too much of him by way of school work
Quote:
the anatomy of the horse and the sheer bulk and strength of it have never been able to accept that a mere human can have an impact on its bone structure without resorting to a pretty heft mallet.
The physics just doesn't work, does it? His muscles are too strong to allow you to move his bones around.
---
Celeste
Carpe Diem!
Based on human chiro experiences I'm going to say that while he may have been in some degree of pain and unable to collect, he was in the chronic phase and had learned to deal with his discomfort. It sounds like now he's been adjusted, then he's fractious on the trail where he's never been, maybe he's feeling better but not trained to trail riding. Sorry, haven't read all the other answers, if I duplicate anything.

I would A/ go back to ground work, side reins, lunging and cavaletti work. B/ Re-introduce him to a DIFFERENT, not harsher, bit and teach him to seek his own relief from the bit. C/ Take him out on trail as often as you can but not just for short ride, go miles and miles until he is tired out. Walk only, nothing faster. Once he's nice and tired, then trot a little. Keep this up until he is even more tired. Keep riding him like this and once he has gotten a bunch of miles on him and learned to deal with all the trail obstacles and surprises, then you can start letting him out a little bit at a time.
---
Showing
Join Date: Jun 2011
Location: Cariboo, British Columbia
Posts: 11,775
• Horses:
3
Based on what the chiro said & what she had to adjust and the pic you posted, I bet you he has something going on his hocks. Your next adjustment for him will probably be the same things, he is compensating for something but since he looks so willing, he just hollows his back & carries on. Yes, keep suppling him, but I would try him on some anti-flamatories (such as previcox, not as harsh as bute) just to see how he reacts & goes. Ask your vet about it.
I thought for quite a while about starting this thread, I should probably have considered it for longer and not done so. It is rather stupid to me that users cannot start a conversation looking for training advise without things getting twisted.
My chiro is a vet, and a well recommended and respected one. I have no reason to question her at all. Any questions that you have are probably related to my wording of it rather than her lack of skills. I will certainly take her qualified advise over that provided here as it would seem the entire chiro profession is being questioned, and that's just ridiculous.
The trail is a tractor path along side the fields, it's open and in the area I galloped it's flat. I walked it several times before galloping to check for any possible animal holes or dangers. The only other area available for riding to me is the arena or the roads. I believe it is good for horses to once in rare while gallop. I've had the horse for two years, and I have let him gallop exactly twice. Once through the fields at my former barn, and once at my current barn.
In the photo I posted, it was the same month I bought the horse, he was off the track that year and was very racing fit. If I did not have my knee out slightly I would have been unable to make contact with his side as he was so slender. I literally had to wrap my leg underneath me, bending it quite severely to touch his side. He just simply did not have enough weight for me to be able to touch his side with my leg resting in a normal riding position.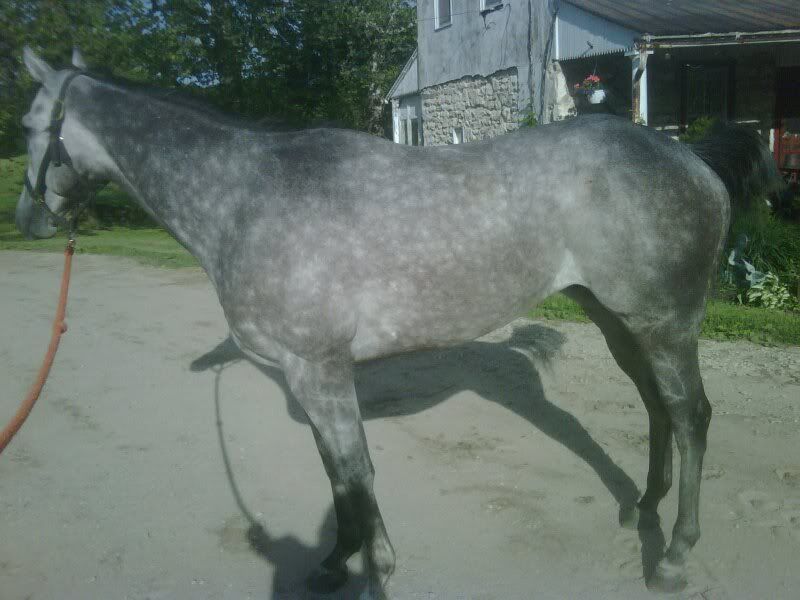 Dreamcatcher, there are not miles of trails available to me, it takes about 10 mins to ride the trail, I can do it and turn around and go back and forth though.
He's not fearful while he is out at all, we have a good relationship and he does what is asked of him. I believe he is just raring to go rather than being afraid.


Let's see if I can answer some of the other questions. He's ridden in a snaffle, I did put him in a French link for a while and saw zero difference, so went back to the snaffle.

He is fed Sentinel Performance, at the old barn he was on McAuleys it was actually a breeding blend because he is so skinny and I have been trying to get weight on him.
Showing
Join Date: Jun 2011
Location: Cariboo, British Columbia
Posts: 11,775
• Horses:
3
Alex, has he had a flexion text done?
Similar Threads
Thread
Thread Starter
Forum
Replies
Last Post
Meet Lucas!!

Amba1027

Horse Pictures

9

09-03-2010

04:23 PM