Magic's progress journal
---
Sooo I've been lazy about keeping up HF since I got Magic on Saturday... but I'll copy-paste what I wrote on another forum so you're all up to date.
29 July 2012
Where to start? Um. I went looking for a youngster to bring on, and this little big girl turned up. She's a long yearling, 15.3hh+ already (full brother is 17.1), and was a freebie. I of course wondered why, and contacted the owner's agent to find out. I was told it was because her sire hadn't thrown anything that was any good on the track, and her owner usually shoots the horses that aren't going to perform, but she was too nice to shoot.
Got there to see her, dealt with the owner's agent again. Magic was very timid, but seemed calm enough. Just wary. I thought, ok, fair enough. Young TB, fairly minimal handling, to be expected. Said I would take her, and was going to organise a time to borrow a car and trailer to pick her up.
Went back a few days later to pick her up. Owner was there, and had run her into a small yard and haltered her. She was sweaty and terribly stressed. Turned the car around, and owner swapped halters to one of mine and brought her out to try to load her.
Of course, being a baby TB, she didn't go straight on, so he tried to force her on. WELL. She reared up and went at him. Got his agent on the shoulder with a front leg, but thankfully nobody was hurt. Mum stepped in and took over, owner was not impressed with that! Long story short, owner left, and about 30 minutes later, Magic was on the trailer with no further drama.
Got her home. INCREDIBLY stressed young horse. She was spooking at her own shadow, and walking almost on top of me. Let her go in the round pen, figuring it was the best place for her because if I let her go in a paddock I would never catch her again. Was I right or what. Couldn't get close to her, and if I tried she was just about climbing the round yard fence to get away from me.
A day and a half, and several sessions later, I was rewarded with this: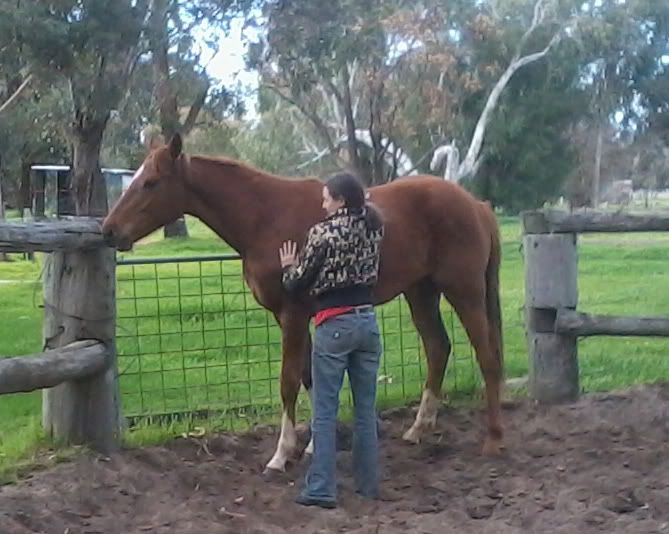 Which progressed to this: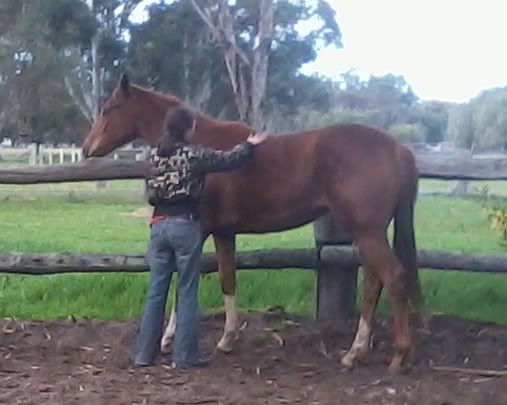 And we eventually got this: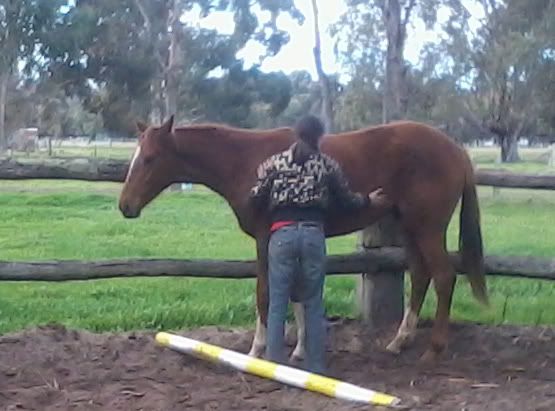 I can't touch her belly at all, or she panics. I have to be very gentle and unthreatening or I can't get close to her at all, and it's very difficult to get near her with a rope in my hands. But, to go from untouchable to that in a day and a half, well, I'm very impressed with this young lady.
Baby steps. Next goal is to have her accept my approach and touch without trying to move away at all, or me having to change anything about how I'm moving. Forget halters and handling, and forget calm, I just want her to stand at this stage. Calm will come. So will halters, grooming, tying etc.
30 July 2012
Got a halter on her today, after some persistence. She was very worried about it touching her, so I set about touching her with it for an instant and taking it away before she could react. Eventually I could rub her all over with it, and then managed to get the headpiece around her neck without her trying to get away. It was harder to get the nose part on, she is quite head shy around the muzzle/cheek area, but again gentle persistence paid off and I got it on.
Took her out of the round pen so she could enjoy some of the grass (as you can see in above photos, there's nothing in the round pen) and let her chill out for a while. She decided something in the shed was terrifying, so I asked her to move close to that to show her that it wasn't going to eat her. Went back to eating quite happily, and then after a while I put her back in the round pen and took the halter off. As I walked away... SHE FOLLOWED. That's a huge step forward, I nearly cried.
Later on my grandmother came over, totally non-horsey but wanted to meet my new girl regardless. Magic came straight up to the round pen fence and stood for Grandma to touch her on the muzzle while I leaned over the fence and scratched her on the withers. She enjoyed that for a good few minutes and called to us when we turned and left again.
I can't believe how quickly she's coming to trust me, considering how terrified she was when I first started with her. TWO DAYS BABY!
No photos, phone is flat and I don't have a camera.
31 July 2012
Weather was a bit blah today, so she was more wary than usual, and I admit I really don't think I can work with her without help. I've asked my mum to get her to the point where she's easy to halter, and to teach her to accept a bridle.. I will mouth her myself, but the last horse I taught to accept a bridle was a lot smaller and couldn't evade it no matter how high she lifted her head. And the haltering isn't a problem as such, I just don't feel like I have enough knowledge and patience to have to creep up to her with it every day for however long it takes. I want to just walk up and put the bloody thing on already!
1 August 2012
Mum didn't want to take over completely so I played with her again this morning. She's gotten very brave... brave enough to start taking the mickey. She showed no signs of fear at all, but tried to get away with running away from me anyway. I got close, got the halter on but not done up, and then she pulled away from me and started bolting around the round pen. So I made her change direction, and change direction, and change direction, until she decided she'd had enough of that. Still couldn't get a halter on her, no fear just red TB mare attitude. Got frustrated, got Mum to help.
This afternoon, I went back to the round pen. Walked up to her, she tried to walk away so I followed her. She stopped, and let me rub her shoulder. I grabbed her feed bucket, went and made her some dinner, and then left the feed outside the round pen. Grabbed the halter and lead off the fence, walked straight up to her, rubbed her on the shoulder and put the halter on. Led her out and offered her the dinner I had left outside, which she wasn't interested in, so we chilled out for a minute.
Mum saw an injury and went and had a look, came back, I handed the lead rope over and also went to check it out. Magic has minor abrasions from stifle to fetlock on the inside of her nearside hind, and a very small laceration mid-gaskin. It's nothing serious, not even bad enough to bother with dressing it, so I didn't call the vet, but I have asked the previous owner if she's had her tetanus shots to find out whether I need to stab her with a needle or not. She'll be swollen and sore for the next few days, but should be fine - I'm just being paranoid.
I grabbed Magic's tail and pulled it to the side to see if she would accept that. She did. I thought her tail was badly matted before I did that... my god... there is a MASSIVE (softball-sized) mat in it, probably half her tail is caught up in the one enormous knot. I'll work on getting that out soon.
Took her back into the round pen, asked her to back up (not easy), got one step so I took the halter off. Asked her to stand with me for a moment, then released her (I have a "release" aid) and left. She called out as I went.
I am amazed how much of a shift in her attitude there has been since yesterday! From fearful to bold and trying it on, what a change!
I will try to update regularly, at least weekly, with photos... and in theory video as well, but that's to be seen.
---
REGAL PRINCESS
LOOK! I was able to just walk up to her and halter her today! She's out of the round pen now, in a pasture with one of our other horses.


EDIT; also got the mat out of her tail, she was amazing and just stood there.
---
REGAL PRINCESS
---
Last edited by blue eyed pony; 08-02-2012 at

04:36 AM

.
Magic is gorgeous, what a beauiful girl! You are doing so well with her, she seems to be coming along nicely for you. Just needs time and patience. I love your video. Congrats!
Thank youuu
god she's so quiet, I put her mane in training braids today to keep it under control (as it's soooooooo long!!) and she just stood there and went to sleep. Started on desensitising her to ropes, and put a bit in her mouth for the first time... took her a while to stop playing with the bit, but she'll get there sooner rather than later on that one as well I think
She is SO smart... also started teaching her about yielding her hindquarters on the ground, and within 5 minutes she had it. I suppose I'll probably have to start from the start again tomorrow with that, but she picks things up so fast.
---
REGAL PRINCESS
Pics from today :) last one is of where she took the most skin off, there are a few smaller scrapes lower down including one on her cannon.
---
REGAL PRINCESS
Subbing, you've been doing really well with her it seems!
She seems like a really good horse! Good luck with her!
---
Horses are my life, if theyre wasnt such a thing life would suck!
subbing so I can learn from this as well:P
---
http://www.horseforum.com/member-journals/sunnys-thread-160521/ << read about Sunny and I. Our journey
Thanks guys :) she is amazing, I honestly can't take any credit as I don't have a CLUE what I'm doing with her and just going off instinct and then if what I try doesn't work trying something else.

I lie, she's at the point NOW that I know what I'm doing as I have done it with our other 2yo, but before now I've been completely playing it by ear.
---
REGAL PRINCESS
what did she do to her leg? sorry I couldn't read the whole thing:) I wanted to see pictures lol
---
http://www.horseforum.com/member-journals/sunnys-thread-160521/ << read about Sunny and I. Our journey