My mare pins her ears and walks with her head lowered even when I am feeding. She can pull all the faces she wants as long as that's all she does. She always does what she's told even if she doesn't look happy about it. :)
Posted via Mobile Device
I have found that mare take things personally, for lack of a better way to say it. They are women, some are ladies, some are princesses and some are hags. I have never met a gelding or a stallion who is so quick to do something that makes me hear that "ehhhhh" sound in my head. You know, the one you make when you are being told to get up and you really don't want to go to work today.
Guess I'm lucky. My mare used to pin her ears at the start of a trot, but that was because I wasn't a good rider and she knew it meant her back was going to be bounced on. Other than that, she's never pinned her ears at me. If she did, we'd have a religious revival, complete with an altar call...
---
"Make the right thing easy and the wrong thing...well, ignore it mostly."
Quote:
Other than that, she's never pinned her ears at me. If she did, we'd have a religious revival, complete with an altar call...
Hah! Laughed so hard I snorted on this one, I got SUCH a visual!
---
Pinning: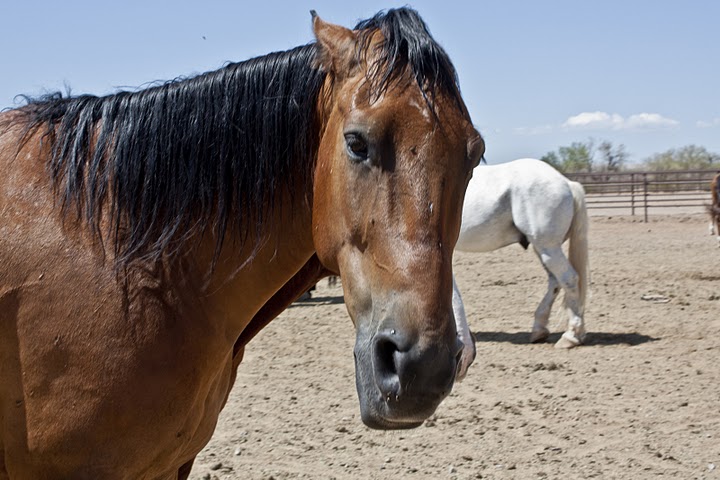 Listening:
I've always had geldings. I just recently adopted my first mare. Let me tell you what LoL she is a pain in the butt! She never pins her ears but she is pushy and has no respect. Our main goal right now is lots and lots of ground work and yielding from pressure. She has improved a lot just in a few sessions. I don't think it is a mare thing though. She is also boarded with an appy who does pin her ears all the time. A lot of people are scared of her and walk off when she does this. It's a bluff. She learned early on that she could pin her ears and humans would go away. If you continue what your doing or even just sternly saying her name, she perks her ears back up like it never happened. It's not because she is a mare either. Horse's have personality quirks just like we do. I can not tell you why your mare does what she does but it's not because she is mare IMHO. I hated mares until I realized they aren't all that bad after all.
good luck figuring it out
this pic is enought to give nightmares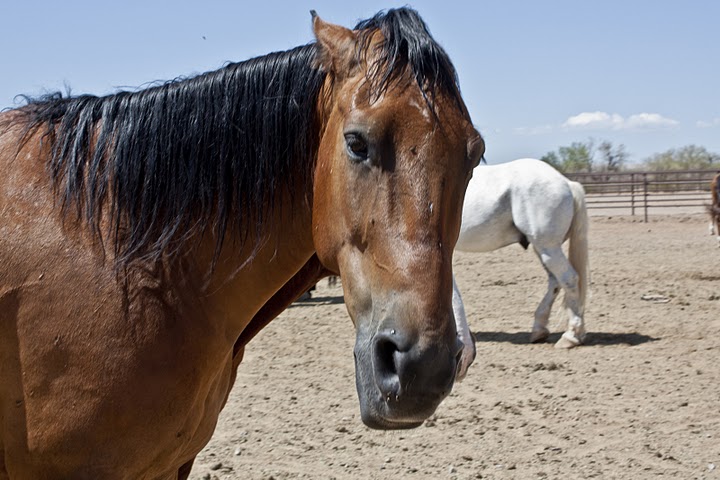 texasgal- I know she isn't just listening to me. She is pinning her ears, but not with so much force that she adds in those "teeth bares" or "tail swishes". She just pins them back.

If I even say the word "trot" in a conversation, the ears go back. o:
I think she knows this verbal cue better than "woah"! LOL


I'll work with the "shhht" or shake of the rope and see if it works any. Maybe she's just one of those mares a few of you are talking about: just has the look to intimidate.
---
It's where I learned about working hard
And having a little was just enough
Could it be ears come back and she's listening to you, or is it pinned ears such that her eyes get that "I hate this" look too?

In dressage you want the ears to come back - it means the horse is listening to you. (as long as the ears are not pinned - that could indicate discomfort on her part, or even confusion).

Perhaps asking a bit more lightly for the trot - light squeeze with the calves - no kicking, etc....
---
Dressage is for Trainers!
I posted a picture on the previous page I found that looked similar to what she looks like. I can't really tell what face she was pulling (if I'm riding), but on the ground it looks like she's grudgingly trying to resist the lead rope (she puts her neck out and has her nose pointed a bit up) when I first ask. She goes back to a normal head position once she gets trotting, but her ears stay back.
---
It's where I learned about working hard
And having a little was just enough