Moody Mare.. or something else?? :( LONG
---
Well .. im not sure where to start...
Maybe the saddle lol
Well were having some saddle fitting problems.... right now im using a Wintec 500 AP .. I had a Wide Gullet in it.. which was way to low.. and the sweat marks.. were horrible..lots of dry spots... So I tried my medium gullet... and the shoulder area looked much better nice even sweat marks.. but NOTHING along the back... same with today when I put the medium wide in.. *SIGH* so to much pressure on teh shoulders... and nothing in the back?? Ill put up pictures of all teh sweat marks. It seems to sit nicely on her whole back though..
Now for a few riding bumps we have reached, lately for the past months we were able to w.t.c ... lately well today and the day before .. the canter was... erm... interesting, going ot the right was nice we were able to go in a 20 mete circle then down along side the area .. almost galloping but no attitude so I took it. We did that about 3 times then I wanted to work her left side as well.. I asked and she gave em the BIGGEST buck ever!! I pulled her head to the side till she stopped and relaxed then trotted on and asked again, she threatened then decided to canter and I stopped her after about 4 strides then trotted a little and ended the ride there. I really want to say the bucking and stuff is all dominance and not wanting to work, she was amazing working on ground w.t.c very forward and willing with everything. Now a few people are saying give her a good phase 4 [parelli] which im sure most of u can figure out what that means. But If it IS the saddle I dont want to stop her from telling/showing me whats going on.. but again I also dont want to get hurt. Im not afraid of what shes doing Im actually kinda having fun. But shes doing A LOT of ear pinning, when I first ask her to trot she till pin then put them forward then pin speed up then put them forward and slow down [WHAT?!] yeah.. then for the canter she will pin then put them forward.. so IDK!
here are sweat marks from the medium and medium wide gullet...
MEDIUM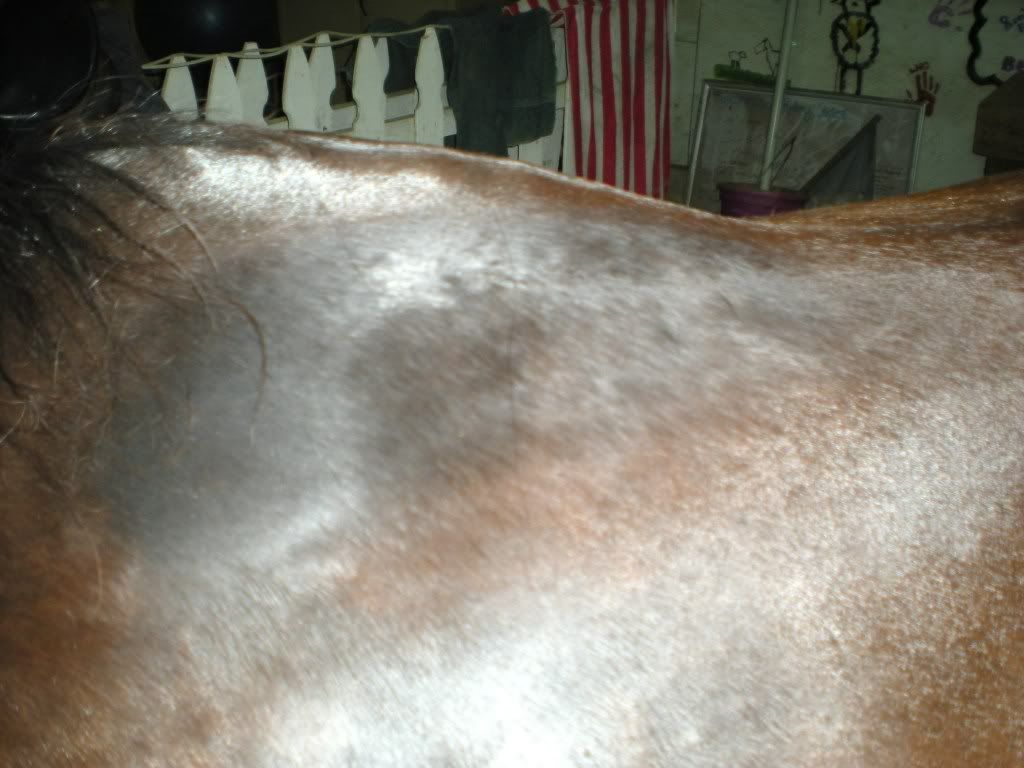 MEDIUM WIDE:
Hope SOMEONE can help.
I still think you are putting the saddle too far forward on her shoulders. However unless you get a theraflex pad, you won't be able to shim it properly for her, and she does need shimming in her shoulders and back.

It definitely sounds like the tack is bothering her. I wouldn't give her a phase 4 at this point....you need to fix the tack issue first, and once you know for sure it's not the problem, then address the behavior. The inconsistant tempo is a sign of impulsiveness, which isn't surprising for her since she is so sensitive.
I agree...get the saddle fit figured out, first, then address the behavioral aspect (if it really is behavioral).
---
"The ideal horseman has the courage of a lion, the patience of a saint, and the hands of a woman..."
Well if I put it 2 far back is hollows out and gets short strides. Even Kelly mentioned that she needs it further up. But now looking at it, it should have gone at least 2inches further back. I'll keep that in mind tomorrow.

and I dont have a theraflex, nor can I afford it. But a wintec front lifter pad. I can try that?? I was thinking of getting the mattes correction pad eventually.
---
Last edited by HorsesAreForever; 09-07-2009 at

02:28 PM

.
You can try the lifter pad, but I don't know if it will lift your saddle high enough off her shoulders to be comfortable since she does need shimming. And it won't help the shimming she needs in her back area. I'm sure she did get hollow when you moved it back before, because it wasn't shimmed and was sitting very downhill on her, pinching her withers and sending all of your weight onto her forehand.

If you want a mattes correction pad (which are expensive) why not just save a little more and get the theraflex? It's pricey but WORTH EVERY STINKIN PENNY! lol. I couldn't ride without mine.
its the medium I have on her in the video I sent you idk if you could tell much from that. Is it possible to use Shims by them selves???
Got an idea....take a video of the medium on her, no pad, and show me how easily you can fit your hand between the saddle and her shoulders, along with all the other appropriate angles. Then show me the wide.

You can use the shims by themselves, however you run the risk of them shifting. Plus you don't have the air cells to be an interface between the saddle and the horse's back. I made home-made shims before I had the theraflex pad and it was a pain in the butt.
Well ill show u with the medium and medium wide xDD the wide isnt in my saddle anymore im using 2 saddles atm.

well I need to start saving for the shims first then go for the pad. lol
---
Last edited by HorsesAreForever; 09-07-2009 at

10:47 PM

.