Quote:
Another person here that won't 'yell' at you. Accidents happen, unfortunately horses are extremely unpredictable creatures and also seem to be very accident prone. You can always do things to reduce the chances of an accident, but often you can't entirely prevent it.
With an ottb as well, they do have a tendency to get a bee in their bonnet, and once they panic, you can't do a hell of a lot other than stand in the middle or sit quietly in the saddle and wait for their brain to come back down from space.


As SJ said above, if you have a roundyard available, I would strongly suggest that you use it for a while to get some control of him on the lunge before lunging in the open. Were you lunging in a bridle or halter? If a halter, try putting him in a bridle and either run your lunge line through the inside bit ring, over his poll and clip onto the outside bit ring /OR/ Run the lunge line through the inside bit ring and clip to the roller/girth points.
Both of these methods of attaching a lunge rein will give you more control. If a horse goes to bolt on the lunge and you can pull its head around to the inside, you will have a very good chance of stopping the bolt. The second method, with the lunge rein connected to the girth or roller, I have found to be the most effective on horses that act up on the lunge. You can't hit them in the mouth, only bring their nose to the inside. When they're more advanced I will attached an outside side rein, and keep the running inside rein so that you still have a good degree of control if you need it, but then you start working on an outside rein contact as well. Two birds with one stone ;)

I hope Mustard heals quickly so you can get back to letting him know that that behaviour is not on!!
Kayty, i am trying to visualize this. The girth, do you mean between his forelegs? or do you mean on the side of the girth, to the inside of the lunging circle, then unclip and change it to the other side when changing directions? I guess I could clip it to the buckles of the girth . or the D ring of the saddle (where the bucking strap would clip on) but that is pretty high. do you want somethign that is mid height on the hrose,?
Yep Tiny, to the inside of the girth, not between the front legs.
So if the horse bolts and you keep the contact, it is just going to pull it's on head around to its girth.

You don't want it up high, I never attach high unless I'm long reining a more advanced horse. Just clip to the girth buckle, so that the rein is attached at about level with the horse's chest.
nawww that doesnt sound nice at all - It soundslike hes going to be okay though - was most of his cuts superficial... stuff like this happens- have you got someone that can help you through the lunging...? perhaps ask the neighbour if you can hire out the round pen - after they have seen what happened I would think you will probably find they will hirse it to you

good luck :) and let us know how your horse is after the tetanus
Hey guys thankyou for all your support, advice, tips and help. It's muchly appreciate.
Update:
I just went down and checked on him today. 3 out of 4 legs are sollen, hes very sore and very sad looking today. He's been put in a smaller paddock and his paddock companion that revvs him up has been put in a paddock further away by himself which im practically dancing over as he is the reason for alot of bad manners from Muss at times when trying to catch him. It took a while to get muss to walk up to where we had all our spray and put some yellow lotion all over him. Hes not enjoying the stinging of it but is too sore to put up much of a hassle. Was happily munching on grass when I left and ate an apple and 3 carrots in about .2 seconds.
His legs are very puffy and a few people have agreed they will be for a few days but that at this point in time he doesnt need a vet as none of the cuts miraculously need stitching. Hes very lucky it wasnt worse and he didnt break a leg when he went down.
I may ask the neighbour to borrow his round yard, its just tthe issue because the paddocks dont really have gate to his paddock and the round yard is actually very small that I probably wouldnt canter in there anyway. We are considering moving him to my riding club if they will let us aggist him there as I'd have options of a small arena, a large arena, a small mounting yard and a round yard but atm we are just going to work on getting him better first.
Also my friend owns to 20+ year old ponies and has offered to let me come over in 2 days time and lunge with her and she said shed show me some ways and because they are easy to do it would boost my confidence.
Heres some photos today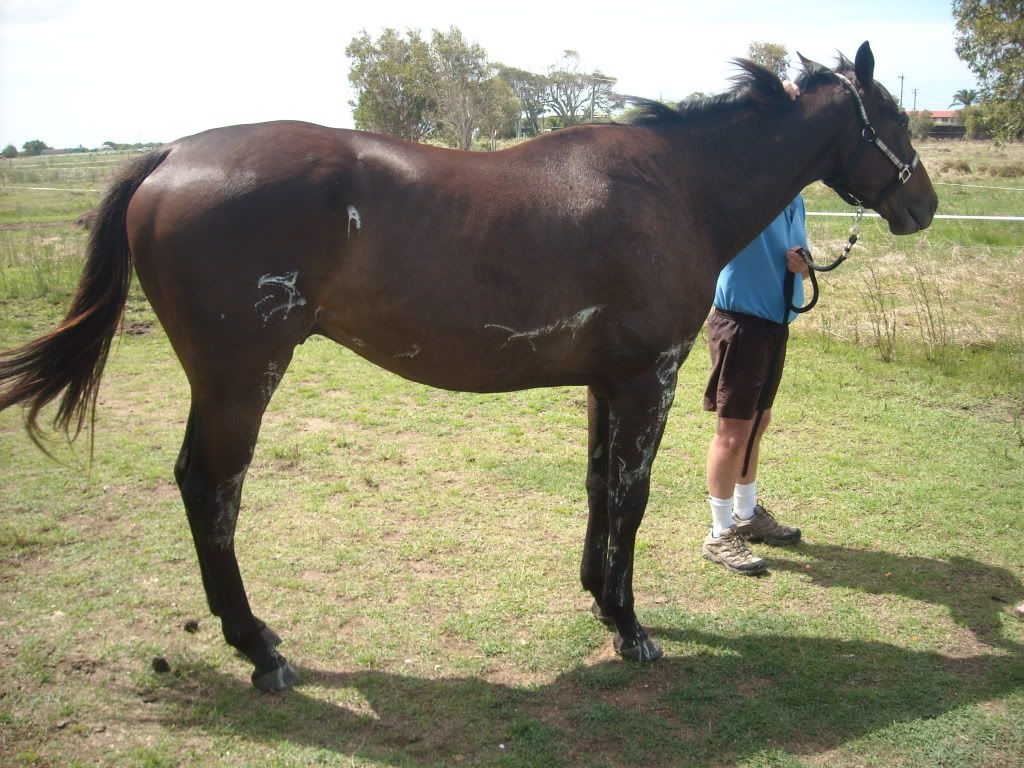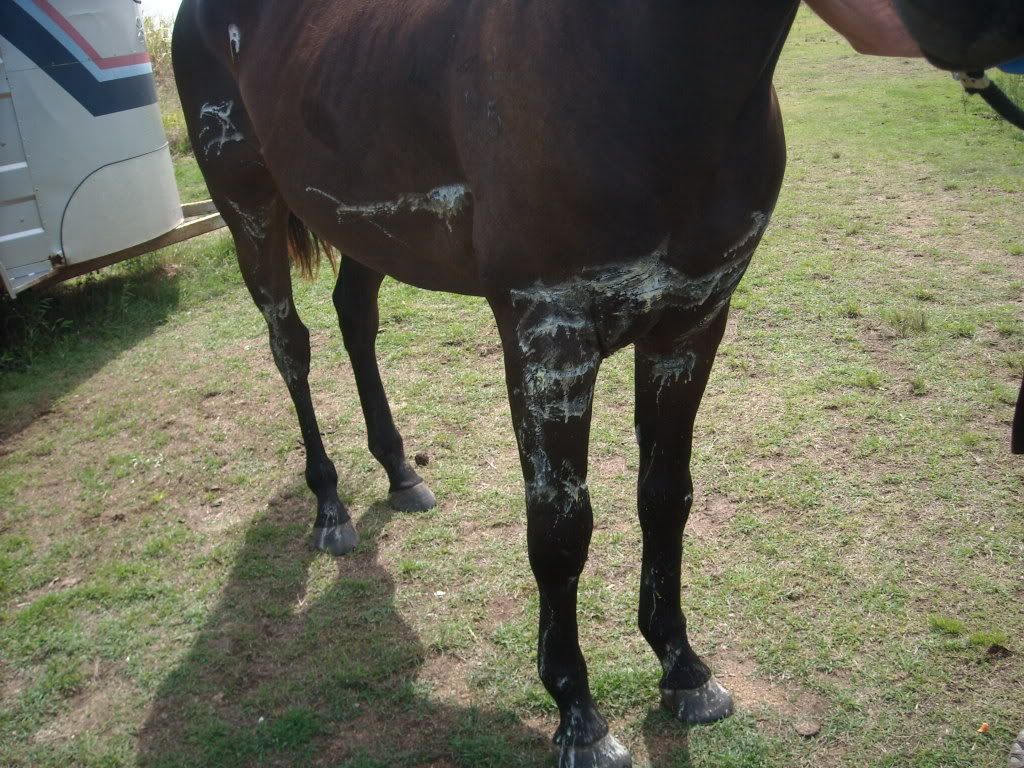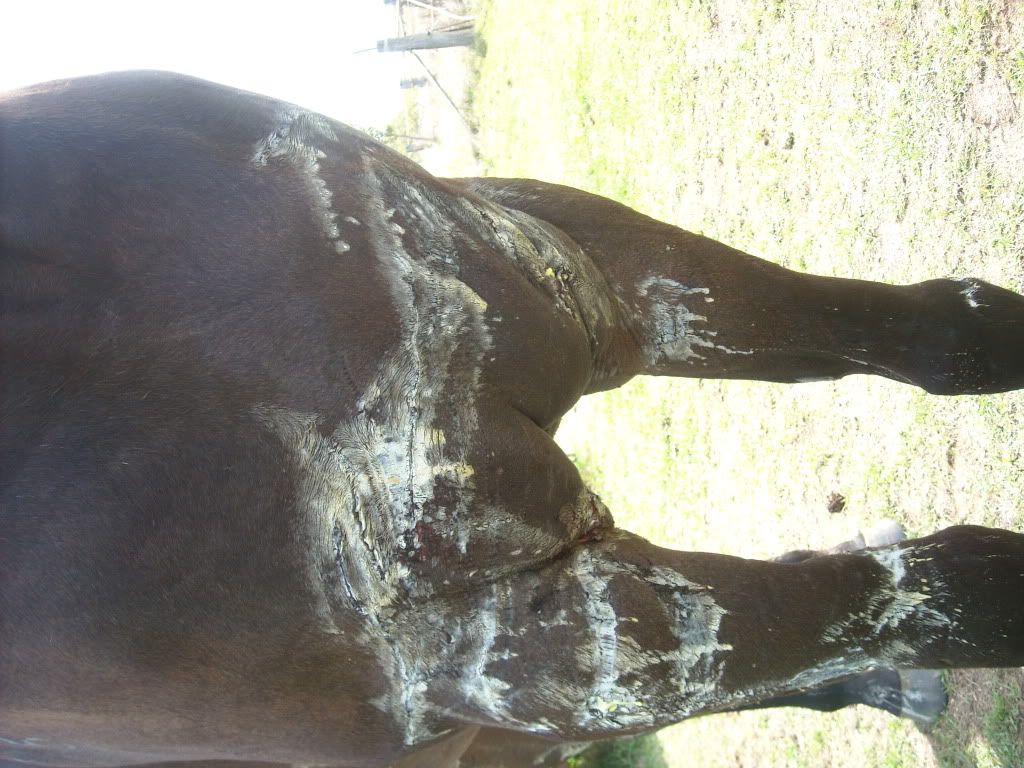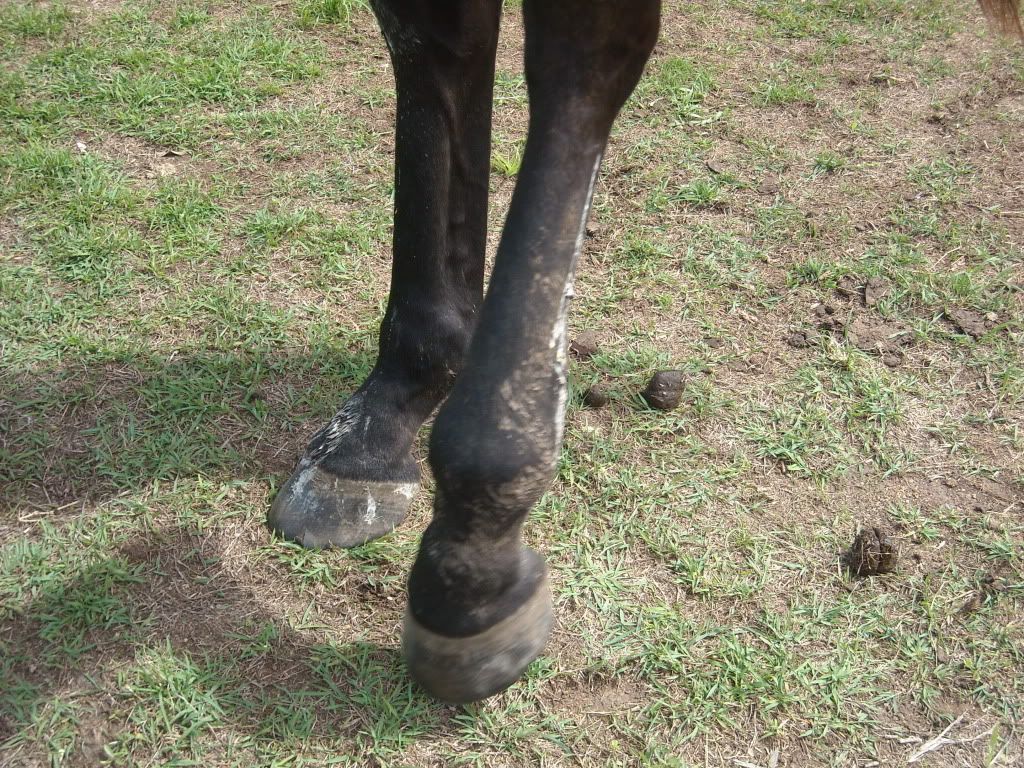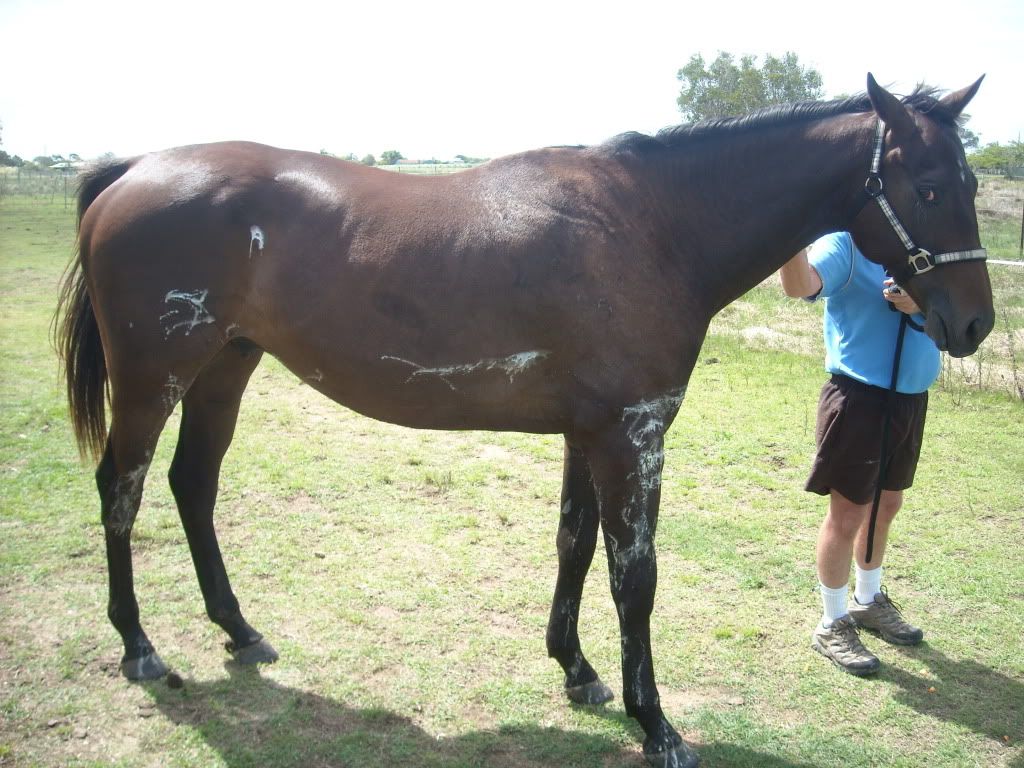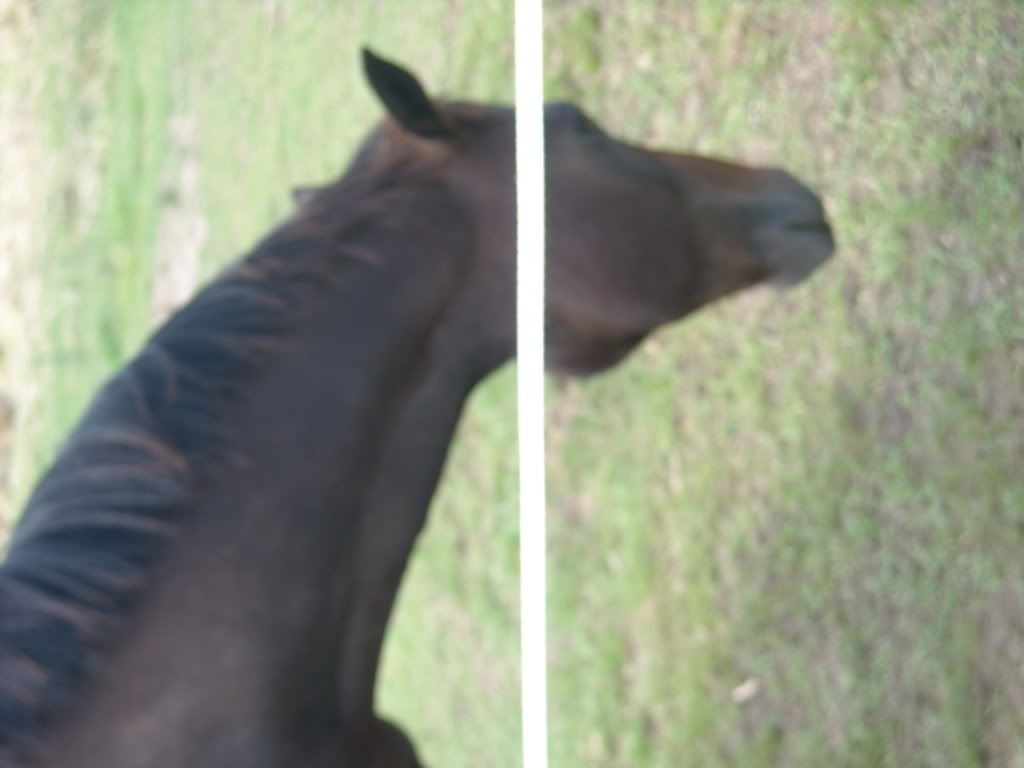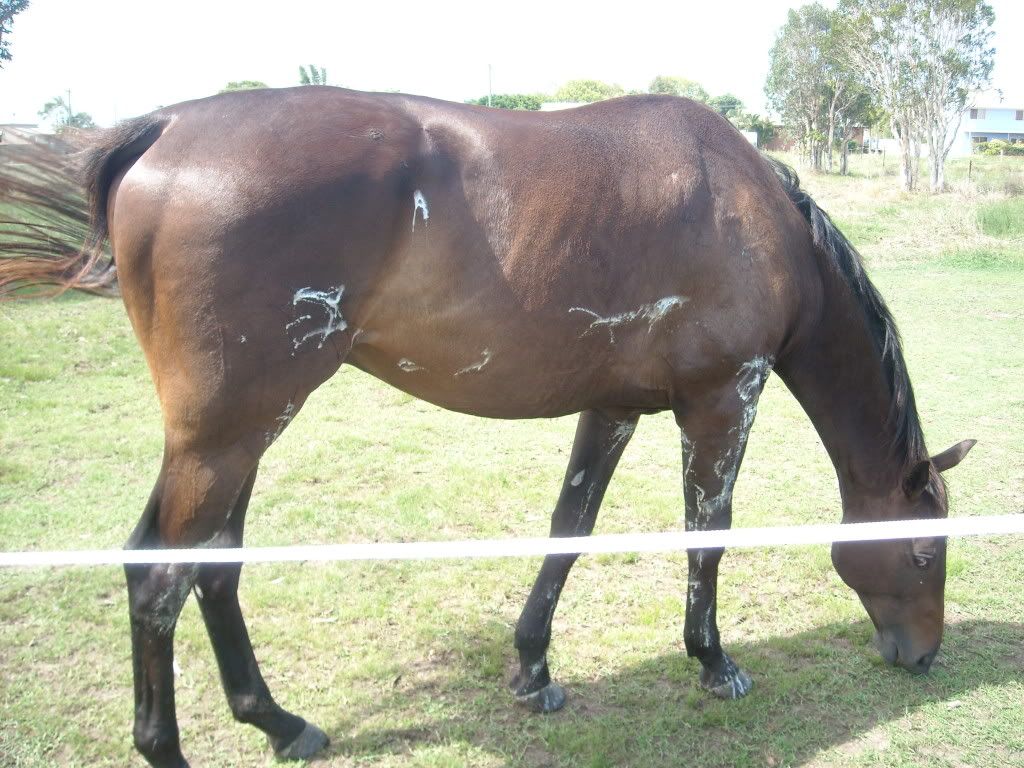 ---
Horseriding- The art of keeping a horse between you and the ground.
gosh you are so lucky arent you - looks like they will all heal nicely!!

great you friends gonna help out....
He was a very lucky horse getting away with such minor injuries. A few years ago my 3 year old mare got spooked by a kangaroo going through her yard, ran straight through an electrified post and rail fence, through a wire ringlock fence, then through a barbed wire fence and hedge to get away from it.
She didn't fare as well as your boy, had chunks of her face hanging off, her chest muscles were ripped open, legs slashed.... she looked like I'd put her through a blender!
wow Kayty, that would have been awful! were u able to fix her? I really am lucky, honestly it looked alot worse yesterday when he had blood everywhere. Im so lucky he didnt get hurt anyworse, especiallly since he went through 3 electric fences and got taken down by a barbed
---
Horseriding- The art of keeping a horse between you and the ground.
She was ok, just very sore and sorry for herself. I ended up practically giving her away for $500 to a lady that wanted to do 'natural horsemanship' with her. The mare was psychotic, had no regarding for herself let alone whoever was on her back. Another ottb no less. Once she got a bee in her bonnet, she would absolutely spin out and go into a blind panic, you could lean back and brace your weight against her head and she would still just run, didn't matter what you did, she wouldn't even register that you were on her. Very scary horse to ride, and I was going to have her pts, but this lady wanted to just do ground work and not ride, so she took her off my hands.
Tayz, I am so very glad things aren't as bad as they sounded at first. You must have a good guardian angel. He's a handsome boy and the future looks bright!
Green Broke
Join Date: Oct 2010
Location: Some times Llanelian - North wales, sometimes Hull in East Yorkshire (UK)
Posts: 3,679
• Horses:
5
I'm amazed she got off so lightly. I too have seen horrific injuries from barbed wire, one resulting in the death of the horse.

I'm deffinatly not going to shout at you for letting go. You have no other option when 500kg of horse is pulling way. My young lads default reaction is to bolt and he has done it several times on the lunge if ssomething scared him. Mot recent reaction was to a shadow when I was lunging in the school under floodlights. Now It is terrifying enough when I have to let go in a nice safe enclosed sand and rubber school, there are still things he could hurt himself on in a school and still fences (post and rail) that he could run through! (he's done it in the past)

I always lunge him from his bridle and I always pass the lunge line around my back so that I'm holding the lunge line as normal with the correct hand but also have the very end of it in the hand where I have my lunge whip. It is a trick that was taught to me by my trainer for horses prone to bolt, it gives you a bit more leverage to haul them round if it is just a minor spook, however you need to be able to let go with both hands (instinct is to hold on with at least one hand) if it is a major spook a you cannot hold it and you don't want to get dragged!
---
RIDE your horse FORWARDS and keep him STRAIGHT