My new "fun" horses
---
Hey everyone!
About two months ago, my husband and I bought two quarter horses. A mare and a gelding. We were told the mare was used for cattle/barrel racing and the gelding was used for pleasure riding. Little did we know - the horses hadn't been ridden in two years and have had little human contact. So, we find ourselves starting from scratch and finding out new things weekly about these two beautiful horses.
Lacy, the chestnut mare, is very friendly but has a bad attitude problem when it comes to any type of tack. She will approach me when I have treats or when I pet her, but as soon as she sees a halter or lead rope she rears, bucks and BOOKS IT to the fields. So, we have discovered leading her into her stall is our best option to getting her halter on, which is a WHOLE different ballgame. On a good day, it takes about 10-15 minutes. On a bad day it could take up to 30-45. Don't even get me started on the saddle pad and saddle...She turns her back in her stall and will kick, kick, kick. Or, turn in circles around you.
As for Skip, the palomino gelding, he is just as friendly, but a little more lenient. He'll let me put the halter on him, let me groom him and saddle him. I've rode him once but he reared, so I hopped off and I havent been on him since. I've been working on his ground manners. He is VERY attached to his sister and tends to "freak out" when he is away from her in his stall. She does the same thing, too.
I dont want to let Lacy win with her attitude game, but I dont want to get hurt either. Can anyone give me some ideas? Thanks.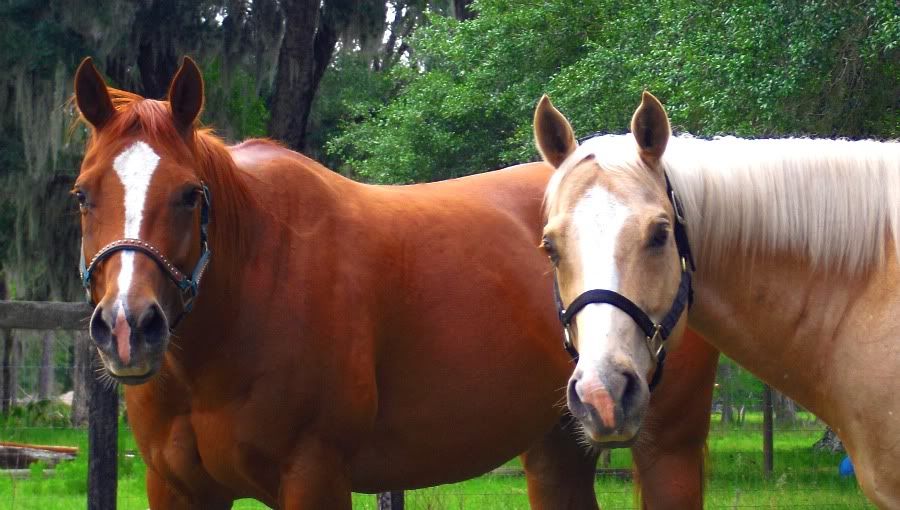 Sounds like you have a lot on your plate, all of a sudden. I really think this is one of those times where you will want to get a professional trainer to help you get these two back to being good riding horses. The mare kicking, rearing, being hard to catch and all; these can be really tough things to change and if you dont get it changed, then the more you try it unsuccessfully, the more it becomes "normal" behavior for the horse.
Please look for a good trainer and be sure that they work with YOU, too, so that you can carry what they teach you back home.

Good luck. They look like lovely hroses, they just need to relearn their place.
I agree with Tinyliny, it sounds like you have your hands full. If you are new to horses,i would definatly seek out help from a professional. however if you've been around horses, you might be able tohandle it. one problem at a time. the main thing is you have to get the horses to respect you. meaning lots of groundwork, moving hindquarters,forequarters, backingup ect. you can do this on a lunge line or in a round pen. please what ever you do.dont just run them in circles till they get tired. this doesnt really accomplish anything beside just getting them in good shape, and making it tougher for you to handle them.
I would certainly echo the "find a professional trainer" to help.....


However since you asked for suggestions and in the mean time, it wouldn't happen here but in your situation I'd suggest leaving the mares halter on. Daily, take a second halter and slip it up over her nose, then off. Slip up over her nose, then off. Then up over her eyes, then off, then up over her ears all the way on to her head, then off. Do a lot of 'good girl' in between. Given you stated that once she is technically caught and in her stall it still takes a while to get a halter on her, and you said shes friendly, I'm assuming this isn't so much of a she doesn't want to be caught.... Most horses with that type of a haltering issue are more worried about the halter coming at and going over the eyes. With that line of thinking I introduce what I said above as well as rub your hands gently over her eyes. One eye at a time, just lightly rub your hand over her eye and all over her face. To make this all less traumatic on both you and the horse, leave a halter on.

For the mare again, I'd forget the saddle all together right now. She should learn to be caught, haltered and lead first. Once thats settled start sacking her out. Start with a washcloth! Take the washcloth and rub everywhere, her belly, udders, legs, hocks, butt, back, chest, head, let it drop next to her and behind her. Move on to a bigger towel. Then a cotton lead rope. Then a hard rope. When you're to the point of a rope she should accept a light tapping on her back/butt/belly and allow the cotton rope between and around her legs. When she accepts this, introduce a saddle pad. Saddle pad on, off, on, off, on, off, slide it up her neck, down her butt and slide it off the other side of her body letting it fall. When she accepts this introduce a saddle. With a horse like you're describing I'd think the halter over the eyes and wash cloth light sacking out would be a good week worth of things for you to work it, don't rush anything.

If shes all together afraid of a saddle set a saddle on a stand in her paddock and let her live with it. Take time to observe how SHE needs to deal with it, how does she come up to it? What are her reactions? What makes her feel comfortable.

Lastly with the mare as you've described her it is less of a she has to respect you issue and more of "she just doesn't know much about people" so I don't suggest starting with circles/backing/leading etc. Although she will need to do this, from what you've said I feel that would make her less likely to come up to you. Especially if she does feel uncomfortable about a halter coming at her eyes or over her ears and need a good general desensitizing.

As for the gelding and his separation anxiety take him for walks! Get him into a rhythm. Every day at noon take him with the same halter and lead, down the same path, at the same speed. Then home again. Make sure he is walking behind you on a loose lead (spin you "tail" aka rope in front of his nose if he gets to speedy) ask him to follow you so he can get the sense that people offer rhythm like other horses do. Horses follow the same herd leader to the same pile of hay at the same time everyday. Ask him to come with you even ten feet farther each day. Day one, walk 20' out of the barn and back, put him away. Day two, walk 35' out of the barn and then back, etc... Next month he should be following you down the drive way and down the road then back because "thats what we do every day at noon". With him, sacking out can't hurt either even though he accepts the tack. In addition focus on any space issues or ground manner issues he may have. I have a feeling his rearing had to do with being buddy sour and all of the "move you hind quarters" in the world will not fix this :)
---
Last edited by New_image; 05-02-2011 at

09:36 PM

.
Having a trainer work with you and the horses for a few sessions at the least will greatly improve your understanding of why they react like they do and what to do when they pull stunts. With regard to the halter, if you're going to leave it on full time, use a breakaway halter so it reduces the risk of injury in the pasture. They're both gorgeous; I'd love to see more pictures of them!
I wholeheartedly agree with the others...you need to find someone to work with you one on one with these two; they will likely come around quite quickly if someone who knows exactly what they are doing can put some time into them.
---
"The ideal horseman has the courage of a lion, the patience of a saint, and the hands of a woman..."