My students had their REVENGE!!
---
Who said you can't teach an old dog new tricks?
Today was cool and beautiful here in NC. In between my lessons, My mother/daughter students decided to practice their "other" riding. My MOM student has her 9 year old daughter in a vaulting program. I am not her vaulting coach, just her riding coach. In between times with her vaulting coach, mom lunges and helps her out. She is the smaller girl, at a competition where she won her division.
Well, they had Prince (a percheron/TB vaulting horse) tacked up and they dared me to try it. Oh, dear.........
No shoes allowed!!
So I get on and off we go at the walk. This is my first time so be kind!! LOL!
You want me to do WHAT??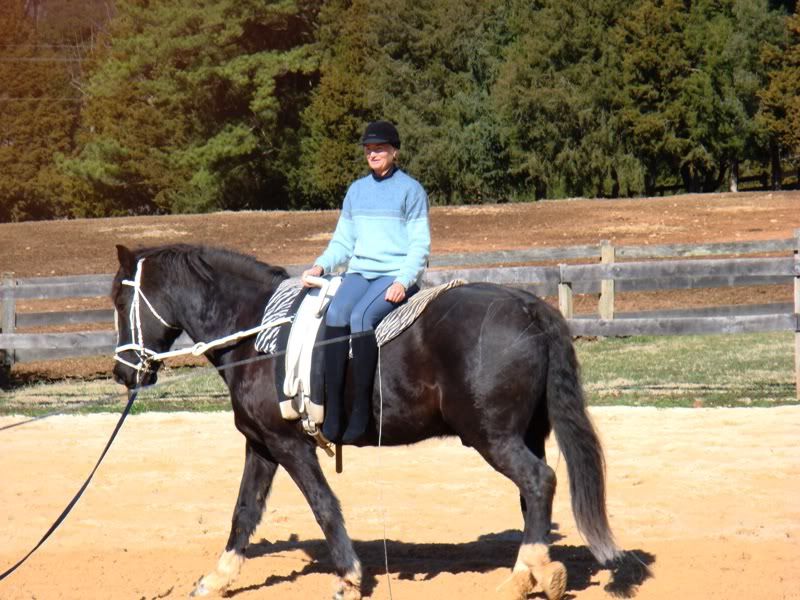 Swinging up and tapping my feet together....oh, those abs!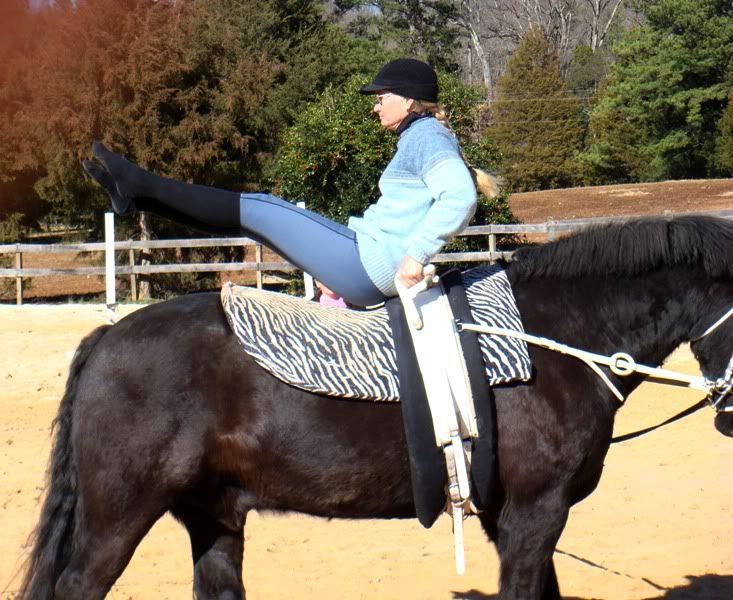 Stand? Are you kidding me?
Uh....uh.....YIKES!
So prince is asked to trot!! When he goes too slow,
I
get tapped on the BUTT with the lunge whip. SURE, I know you meant to get the horse....Just you wait until your next lesson....
Doing this at the trot was a LOT harder than I thought it would be.
NOPE, I am not going to stand up on this bouncy guy!
SO, they finally decide they have laughed at me enough. My other students on the sidelines who were snickering will have no stirrup work in their near future...
I can't believe how sore I am. I rediscovered some muscles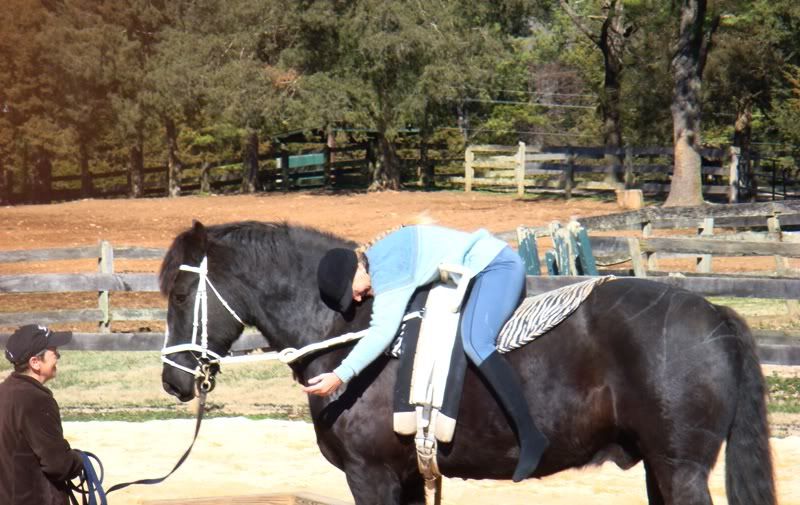 A less than perfect dismount.
Uh oh....Ima gonna suffer tomorrow!!
When you get a chance to do this, give it a try. We all had a fantastic time and I had no idea how much fun it was. Thanks, Prince, for not dumping my butt!!!
Showing
Join Date: Jun 2011
Location: Cariboo, British Columbia
Posts: 11,952
• Horses:
3
I am so jealous, I have always wanted to try that. Did you find it very difficult, fun? Would you do it again?
Wow, that looks like so much fun! It makes me want to try it! So glad you had fun, Allison <3
---
Pssh.I didn't pick up the wrong lead
It's called a counter canter...
...A very advanced maneuver.
...oh brother. NOPE. Hahahaha! I can honestly say that that looks TERRIFYING. ;) It would be interesting to see what muscles having to balance like that works out -- all of them, I bet, hah. You poor thing. You did look like you had fun, though! So, awesome. ;)
Quote:
I am so jealous, I have always wanted to try that. Did you find it very difficult, fun? Would you do it again?
It was harder than I thought, but I found I could do it easily enough. My legs and abs are screaming at me, though.
And YES, I plan to do it again. One thing, I was in socks....they are very slippery!! I was told to bring some water shoes next time.
No kidding about the slippery socks! You did better than it looks, due to the socks! Fun photo sequence, AF, & bravo for trying! Someday, when I'm feeling at the top of my game, I'd like to try, too!
I am soooo proud of you! I had a painfully wide grin on my face while seeing this! Bully for you.
The first thing that got me is the width of Prince's back. YIKES, I felt like I was doing a split. Nice and wide to step on, though. He was such a nice horse. A big teddy bear.
I have tried that
we had a demostration at PC once and everyone got to try, it was good fun, although we got to try on barrels to start off with so you got the idea.
I would deffinatly do it again
---
http://www.horseforum.com/member-jou...-story-257826/
Check out my blog on here
My student says she is willing to give beginner lessons, if any of you are near-by. She has several kids who are coming. She is hoping to start a local Chapel Hill vaulting team. The beginner competitions are pretty easy.