I have a 16-1/2 yr old TWH that has been with me since he was 2-1/2. You could be talking about my Fella.
He quit doing all that stuff once I accidentally discovered he is oat/corn/soy intolerant.
I say accidentally because I my senior TWH was diagnosed with Equine Metabolic Syndrome 4+ years ago. I took all my horses off grain and vit/mins with soy in them to make my feeding life simple and it wouldn't hurt anyone to eat like the Type II diabetic guy.
Imagine my surprise when the guy with Snarky disposition mellowed so much that even my non-horse husband noticed the difference. Also, when I removed oats, corn & soy, it became the first time ever that I didn't need the riding crop in the bath bucket
This horse is also prone do dust/mold/pollen allergies. All Tri-Hist did was amp him up and make him a nut case. I now keep him on an herbal allergy blend during the warm months and he's fine.
He is so food sensitive that even adding TWO soaked alfalfa cubes to his supplements twice daily can make him a little testy.
He is also Generator-bred which, the older line of Generator TWH's were known to have a bit of a snotty disposition because they were bred for the show ring and way over-produced. My guy even inherited a less-than-Grade 1 club hoof from The Old Man, as he is referred to in my area
While Rusty is still not 100% in the personality department, he's improved by 90% to where I am ok with adults that are horse savvy walking around him.
However, he will always naturally be a horse who will take the Proverbial mile if you give him an inch. An intermediate rider wearing a "no-fear t-shirt could easily ride him, but a 20 year "experienced" rider that is really timid wouldn't stand a snowball's chance after the first 60 seconds.
I have no regrets hanging onto him all these years to keep him alive because even his mother would have sent him packing when he was at his food allergy worst. He's a fantastic trail horse and literally saved my husband from disaster on the trail once.
I said all that because I'm not saying your guy won't always need some "reminders" because that's who he is, but it may help to change his diet.
As soon as you said your horse doesn't like to be brushed, I thought he's probably got food allergies just like Rusty did.
I always used to say Rusty was uncomfortable in his own skin but I wasn't smart enough to figure it out on my own --- the other horse becoming EMS saved Rusty. Even his facial expression is a lot softer since I took him off grain.
Wow! I never considered a food allergy or the like. Walkinthewalk, you may have broken this case wide open. My big guy, Nick, is also from the Generator line. And I realize that those offspring can be a bit grumpy by nature. But his behavior is beyond grumpy. I noted that you "accidentally" discovered Rusty's food intolerances and his other allergies (dust, mold, and pollen). How did those discoveries occur? Do you know if a vet test for such things (food intollerances and allergies) or do you have to discover this via some sort of trial & error process? I will definitely investigate this possible cause of Nick's behavior issues. Thanks for the tip!!
1. Yes, vets can check for food allergies and also dust/mold/pollen allergies.
2. The dust/mold/pollen allergies were discovered a couple years prior to the food allergies. Rusty didn't have them until we moved to the Tennessee Valley, a/k/a Allergy Purgatory, according to my vet - lol And to top it all off, the vet said I am lucky enough to live on the worst end of the county for them.
I didn't have to have Rusty tested. Once the weathermen started talking about pollen count, Rusty's eyes and nose started watering and he was sneezing and coughing. The vet took one look at him, said "welcome to the Tennessee Valley" and put him on TriHist
Rusty was on Tri-Hist seasonally but I hated how it amped him up and even made his face look ugly. When I started buying herbs from Equine Science for my other horse's metabolic issues, I mentioned Rusty's airborne allergies.
He sent me a sample of his Herbal Allergy Blend for Rusty. I noticed a difference in 24 hours and within 72 hours his "sneezing/coughing/hacking" had completely disappeared and he was even a lot more calm.
Discovering the food allergies calmed him even more --- he is so close to a "normal" in-your-pocket TWH personality that it's scary
3. I discovered the food allergies thru my other horse that has metabolic issues. I had to take the metabolic horse completely off grain and any products with soy in them.
It was easier on me to feed all my horses the same as the metabolic horse, plus I knew it would be a healthy diet for everyone in that it was a low starch/non-soy diet.
That's how I found out about the food allergies and was kicking myself for being so stupid all those years with Rusty. That poor guy could have avoided a lot of whuppins if only I'd realized what was wrong.
I wish I had pictures of Rusty when he was being Mr. Evil Face because the softness in his eyes now is a completely different horse. He now enjoys being brushed (and I used a hard bristled plastic brush, plus the Furminator) and he loves to be vacuumed; neither of which appealed to him before food allergies were discovered.
I sure hope that's all it is with your Fella because it's an easy fix. He will probably still need some discipline from time-to-time.
Rusty has become a horse who can be 25' in front of me, going thru the stall gate into the main aisle and all I have to say is "Rusty whoa, step back; step back for a cookie" and Lord Love Him, he does exactly that. He could easily go right down aisle and out the other end of the barn, like the Arab does when he knows I can't reach him - lollol
EDITED TO ADD: Is the horse in your avatar the Fella we're talking about? He looks quite a bit like my Big Guy. This was Rusty's first ride in well over a year but he stood perfect at the trailer and went down the road like we'd been going every day. That is his "oh s**t, she really is going to make me work" look - lollol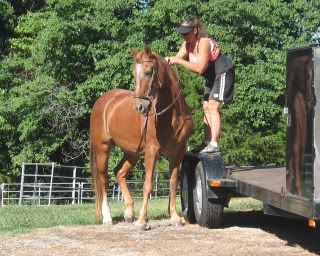 ---
Last edited by walkinthewalk; 10-30-2011 at

06:44 PM

.
Quote:
EDITED TO ADD: Is the horse in your avatar the Fella we're talking about? He looks quite a bit like my Big Guy. This was Rusty's first ride in well over a year but he stood perfect at the trailer and went down the road like we'd been going every day. That is his "oh s**t, she really is going to make me work" look - lollol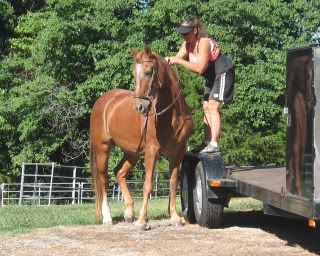 Those photos are of Nick alright. He is 16.2 hands of brutish Tennessee Walker. He looks remarkably similar to your big fella. Again, thanks for all of this great information. I am considering taking Nick to the Rood & Riddle Equine Clinic in Lexington, KY. I hear some remarkable things about that place. I think it will be worth taking him there for a full work up and evaluation. I aleady have invested loads of time and money in that horse and I feel that it will be money well spent to get some solid answers about his troublesome behavioral issues. Thanks!