View Poll Results

: Horse's name -- keep it or change it?

Keep his name, "Dan"
3
21.43%
Change his name to "Digby"
5
35.71%
Change his name to "D'Artagnan"
4
28.57%
Change his name to "_____________" (suggest a name for me!)
2
14.29%
Voters: 14. You may not vote on this poll
New Horse's Name - keep it or change it? (training related)
---
My 3 yr old black grade Percheron gelding came with the name "Dan". I'm not sure I like it. When I'm talking about him to friends and acquaintances, they think I'm referring to a boyfriend or someone else. It gets rather awkward when I talk about "harnessing Dan" and they think I mean a person! LOL
I'd like to change his name, but he does seem to know it and responds somewhat to it during training. So, I'm thinking of names that start with "D" at least, or that sound like "Dan". Digby came to my mind yesterday and seems to suit him. "D'Artagnan" may be a bit too noble for him - LOL!
Here are a couple of pictures to help you out: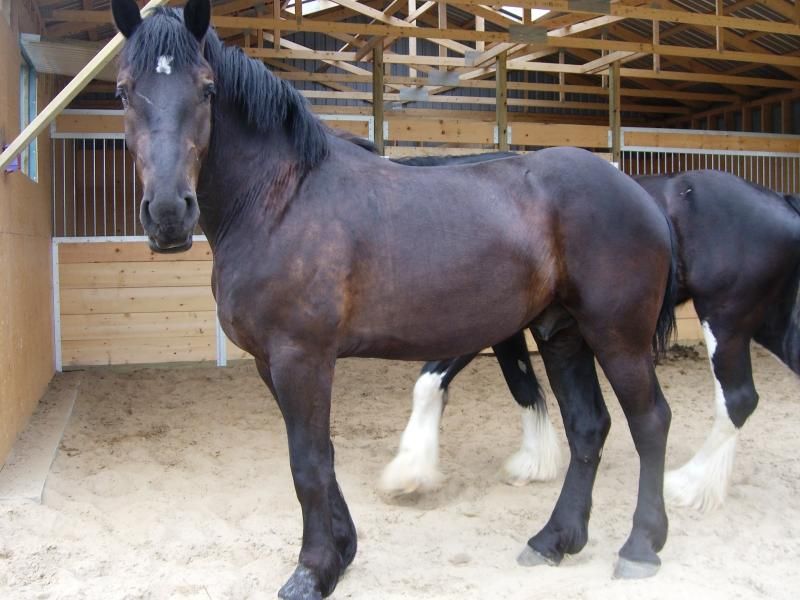 Personality-wise, he is skittish and worried about new things (he wasn't handled hardly at all prior to going for harness training in April/May for a month -- I bought him while he was in training), but he has a great mind and is coming along with the work I'm doing with him. He now longes, can be tacked up & harnessed, drives single and in a team (I've only ground driven him so far, but the trainer had him hooked to a wagon many times), and yesterday he had his first successful trim with a farrier (I have no idea if or when he was done prior to me buying him).
Thanks for any suggestions you might have!
I can't say I know the system in terms of horses, but in dogs, the first letter sound is less important than the long vowel sounds and the number of syllables. For example, rather than changing Dan to Digby, which is a completely different sound, you could change Dan to Zan or Van, or Chance, or Brant, something like that. However, if you are wanting to change to a completely different sound he WILL eventually learn his new name, it just sometimes takes a little longer. When I got my horses, I changed my gelding from "Ranger" to "Claymore", that was close enough he learned it promptly, but my mare went from "Dreamer" to "Freyja", which isn't close at all, however she didn't seem to particularly know her name or come when she was called, and it didn't take her much longer than Claymore to learn her new name. That was probably my fault though, I call her "Mama" as often as I call her by name - she responds to both now.

Personally, I'd change from Dan too, I'm not super fond of "people names" on horses, and since Dan is my ex's name I'm not loving it *lol* Your horse is lovely!
I don't think it's a problem to change his name, especially at 3. Just repeat his new name and use it often when doing anything with him, he'll catch on.
I will clarify that I'm not concerned about him relearning a new name. I know he can & will if that's what I decide to do. I'm more looking for suggestions about his name ... keep it? change it? to what?
I personnally like 'Dan', to me he looks like a 'Dan'. I know a Dan and he's a big dude, so to have a perch. named 'Dan' seems fitting...lol.
Just my opinion of course.
I'd change it. If he were mine, I'd probably name him Perseus. But I like weird names like that. :)
I agree that you should change it. Digby is a very interesting name and he looks much more like a Digby than a Dan. I also have this strange thing against common human names for horses. It's just odd to me. I like interesting names.
I agree that he will eventually learn it. When I changed Cinny's name (previous owner called him Dee short for Dakota) I started calling him Dee Cinny first then gradually got rid of the Dee...now he's just Cinny. Dee sounds like a girly name and I didn't like the name Dakota because I don't think he looks like a Dakota and....pretty much EVERY stable I have ever been to has had at least one horse named Dakota sometimes two. Besides, I like using part of the registered name and well...I just don't see where they got Dakota from Smokies Cinch Bet. Smoky was also too popular for my liking. My daughter actually came up with the Cinny...she said he's black like cinders and....it goes well with the "cinch" part of his name :)
There is no name that could be too noble for that gorgeous beast! If you want to change it, then change it. He will learn the new name quicker the more you use it.
Green Broke
Join Date: May 2009
Location: Winnipeg, Manitoba, Canada
Posts: 4,510
• Horses:
2
It's funny, but you got me thinking and I really don't think my horses know their names anyway - it's not like I use them often, and they come just as easily is I say "girl", "idiot", "Zierra", or just kiss. I never say "ZIERRA, SMARTEN UP", I just yell "SMARTEN UP".

I changed Jynx's name when I bought her at 2 years old, her name was Panda. I don't, honestly, believe horses know their own names. They respond to the sound of your voice, and if I ever have a horse that "comes when I call", they come regardless what I holler - my grandpa used to bring his stud in screaming "PECKER HEAD!" (Don't ask).

Anyway, I agree, Dan seems like a silly name. To be honest, Digby is even worse though - maybe for a pony or something. I DO love "D'Artagnon" - it may be spelled fancy, but it's a solid name and it obviously always makes you think of a big royal black horse!


---
Quote:
I hope God tells her to smash her computer with a sledgehammer.