New to training, not new to riding.
---
Hey all!!! Looking for some helps, hints, and techniques on training up a 16 month old gelding I recently purchased. I've been riding for close to 15 years now, nothing fancy just basic pleasure riding. This is my 3rd horse, yet is the first that I've had to train. My other 2 are both 16 year olds, one QH (trail horse) and one TN Walker (barrel racer). My daughter has expressed an interest in english riding and jumping, which brings me to my recent purchase (Arabian). So while she learns english riding, we'll be training this one up for her to use.

His previous owner hasn't done any training other than introducing the halter, leading, farrier, and trailering. So I'm almost pretty much starting from scratch. With the help of a couple very good friends, I'll be doing most of the training myself, and then handing off the horse to a trainer for jumps. So I'll also be picking the minds of all of you to help as well =)
More riding and less training would probably make for a less-stressed horse especially in the beginning. Reminds me of this old Tom Dorrance quote: A lot of people get along pretty well with their horses, until they go to training on those horses.
At 16 months old, he should know how to mind his manners around humans, tie well, lead well, and stand for all basic care... Then in my honest opinion, let him be with the herd to learn how to be a horse!
I think we need photos ;)
Posted via Mobile Device
Quote:
Originally Posted by
JustDressageIt
View Post
At 16 months old, he should know how to mind his manners around humans, tie well, lead well, and stand for all basic care... Then in my honest opinion, let him be with the herd to learn how to be a horse!
I think we need photos ;)
Posted via Mobile Device
Woohoo! We're ahead of the game then ;) He wasn't pushy at all with me today when I went to go check him out, let me rub all over him, pick up his feet, scratch all over his head, and followed me great without any puling on the lead rope! I'm bringing him home at the end of the month after we finish up all the paperwork and then get the fun of introducing him to my older 2. That part should... hopefully.... go well. *crosses fingers*
PICTURES!!! (I'm learning my way around the new mac so bare with me)
My new baby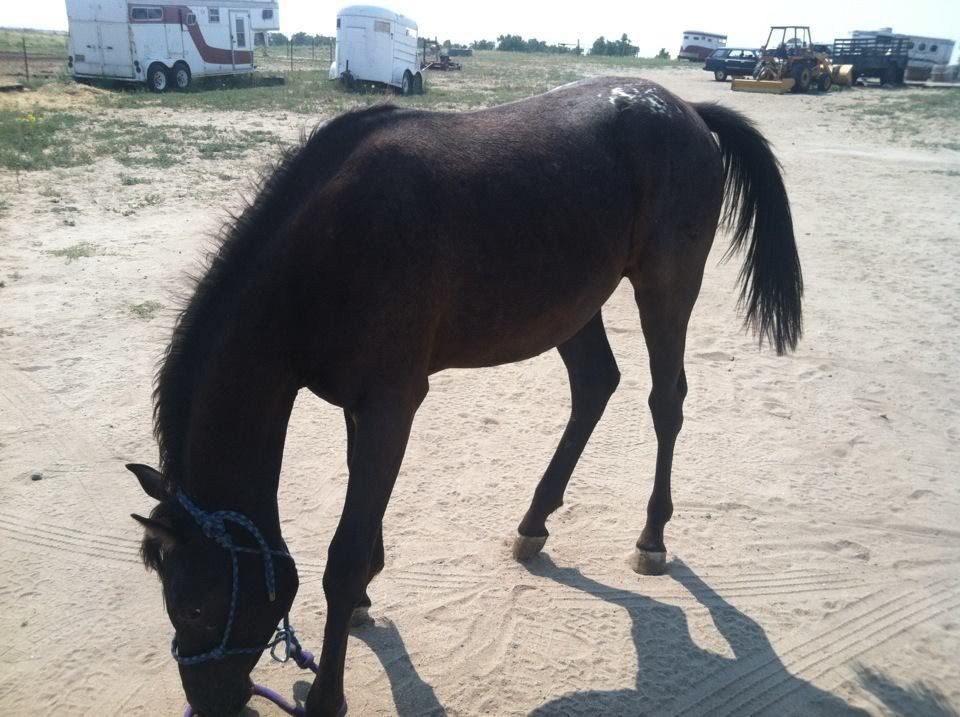 Diesel (QH) and one of my dogs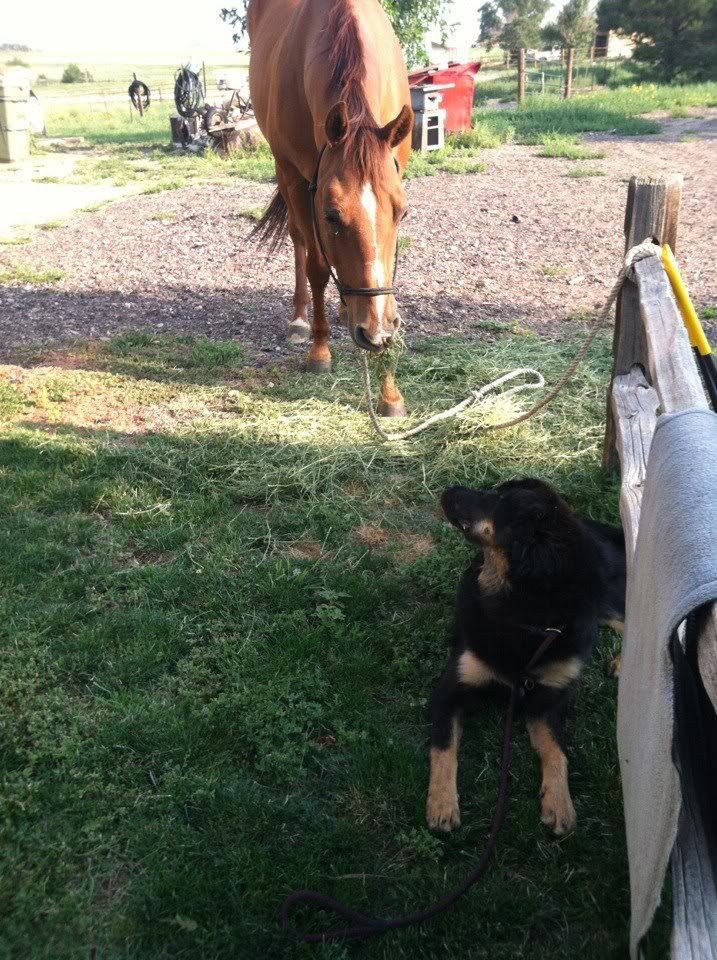 Diesel again
Poncho (TN Walker)
---
Last edited by Displaced Alaskan; 08-17-2012 at

07:38 PM

. Reason: fix the photos
Haha love the last pic - boing!
It's very easy to overstimulate babies. Keep teaching stuff to under 20 mins - any longer than that and you can run the risk of blowing their minds. It's really hard to limit yourself when you have a good-minded baby, so be very aware.
Between 18 months and 2 years, I like to desensitize to lots of stuff such as tarps, poles etc and introduce the surcingle and a bit. Between 2 and 3 years, I introduce long-lining and get them ready to wear a saddle - or even accepting a lightweight English saddle.
I don't start a horse till 3, and I prefer to put 60 ish days under saddle on at 3 then turf them back out with the herd for the rest of the year and bring them back for training as a 4 year old.
Babies primarily need to learn respect for humans and how to be horses. If you don't do a thing with them besides basic care and manners till they're 3, that is a-ok!
Just, please don't start riding till at least 3 :) I don't mind sitting on a 2+ year old for a few moments IF they're mature enough, but no real riding till 3.
Posted via Mobile Device
No real riding! My only plans in the 2 to 3 year span was to do ponying on light trails with him and the other 2 and using him as a light weight pack horse (nothing too heavy... like a tent and sleeping bag) in addition to training. The other 2 are great horses and very easy going and well mannered.... pus Poncho is a BLAST to ride, so holding out won't be *that* hard ;) . It took me almost a good year to get used to taking turns on him. I ended up on the ground A LOT, but he's also the first ex barrel racing horse I've been on so he turns on a dime and it took a lot of getting used to it. lol
Quote:
More riding and less training would probably
The horse is only 16 months old Ian, so that's a couple of years away yet!
I think I'm of a different mindset to JustDressage(except that I think it's very important to allow horses lots of time to be horses, regardless of their age), in that I think the more you can teach/do with a horse when very young the better **Obviously within reason, eg. no weightbearing or high impact exercises & I think it's the *way* a horse is trained, not their age that governs whether anything's 'too much' for them. So very basically, I'd be doing anything & everything with him, that wasn't physically damaging(inc tying firm) and focussing on teaching him in a positive, non confrontational manner.

While I don't see a prob at all with introducing a light saddle or other stuff on his back, I would not be asking him to really bear weight much at all under about 4yo & would only be doing light rides under about 6yo, when he's starting to become physically mature. I would include packing, as dead weights can be harder on a horse & even light loads on immature spines for any period of time can be potentially damaging.
---
Last edited by loosie; 08-17-2012 at

09:30 PM

.
I agree that he needs to be allowed to grow and become a horse. Basic manners is all he needs to know at the moment.

Without being mean or nasty, you have a terrific amount to lean, not only about training but general horse keeping. The chestnut horse is tied way, way to long if you do that wiht the youngster it could well be an accident waiting to happen.
Have to agree with Foxhunter on the general horse knowledge, as the rope on the ground in the first picture which appears to be wrapped around foot, at the very least it is on the ground where horse can step on it, and the horse with dog, has rope tied too low, and too long not to mention that fencing, if horse decides to come unglued? Will be a major accident waiting to happen, and could injure any human within range too.

Halter also looks small, and at least needs to be let down a notch, as metal is hitting bony area of face.

If you have never trained a horse before? I would not consider this at all if I were you. Reading, watching DVD's and asking questions on a forum will not give you the skills you need. If you haven't worked around a trainer starting young stock, it is very easy to do things that are hard to undo.
---
Horses make me a better person.