Quote:
Youve rode this (OPs) horse before?
No, I rode a different mare. Sorry if that wasn't clear. I was making comparisons between that experience and how she's describing this horse.
When I mean "don't like" I mean I don't want to get hurt. When she "dose not like" something (ex the kimberwick) she will start rearing and bucking and stuff I can't sit. I CAN ride her in the smooth snaffle, but suddenly she will decide to do something stupid and I can't stop her (throws her head up grabs the bit and runs like the devil himself is behind her). And the braced riding I have only done the past 2 rides (the last was the vid) I have a bad knee and sitting like that kills. I will take another vid next week of the english saddle that fits better. As for the boring ride I know lol. I don't do arena riding normally. I find she works better on the 'trails' close to where I board. Its something different and new things to work with. In the arena there is not a lot to do (that I know). And its a small arena so not a lot of room ether. Next vid i do ill ride in the snaffle and the english saddle.
So you're saying the saddlefit and her back has been checked and found okay, yet the English saddle " fits better".... hmm...
You don't have a bit problem, you have a back problem, no matter how much you don't want to hear it....
Any western saddle looks big on her lol. The english dose not look like a huge thing on her. Also its an adjustable tree so its bound to fit better then a arab western saddle. She is calm in an western saddle and a nut in an english, hence why I like the western (The only times I have come off this horse where when she did something stupid in the english saddle).
Here is the english (note I do not have the lifting pad or the nice irons as they where borrowed)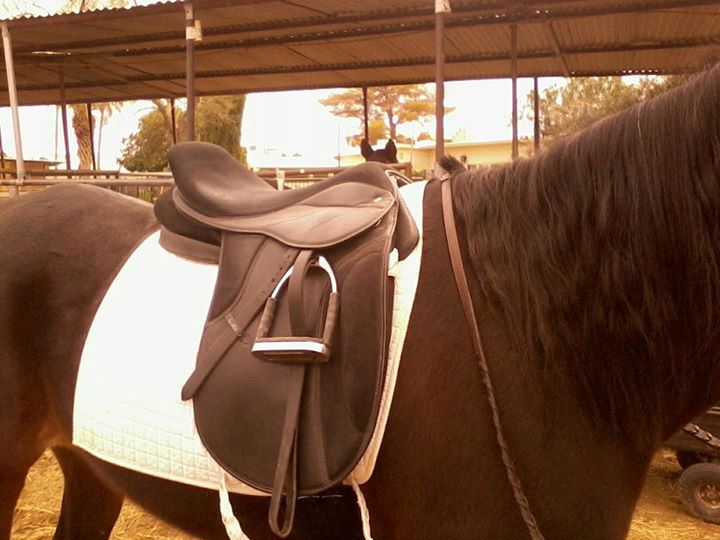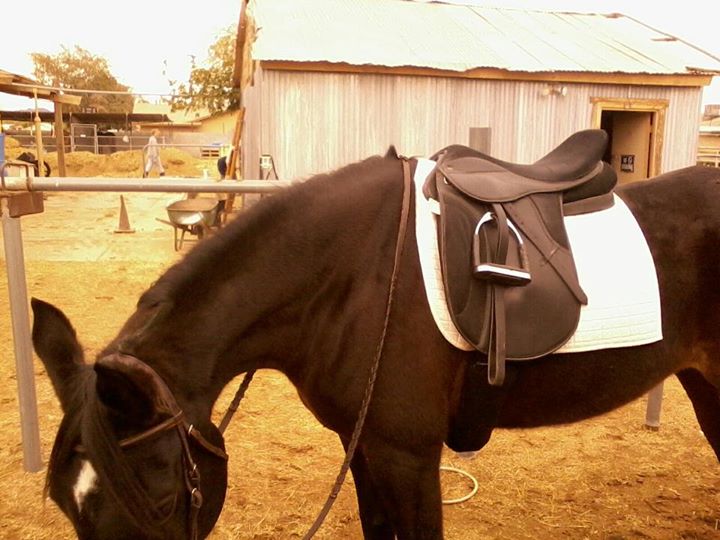 Ill try the english again. Hopefully cutting out 90% of her alfalfa should make her less likely to 'ass out' in the english.
And again...lifting pad with the English saddle.
I am convinced that, unless you'll have well fitting gear for her, you will run into trouble. Example: western saddle too long, plus you bracing= pressure above the kidneys, which horse tries to escape by running. Pinching because to narrow a tree= backpain which horse tries to escape from by running. Too wide a tree = pressure on the withers which the horse tries to escape from by running away. Running away from something also means nose up in the air and upside down neck.
So, no matter how you turn it....you know the deal....alfalfa or not...
The western is not causing her pain. I don't need the lifting pad on the english, it was just to see how it worked (was not going to argue as I was buying the saddle from her for a steal, if she wanted me to do a hand stand I would have lol). And I don't have money to run around trying to find the elusive perfect saddle. She is fine with this one, she has had her back looked at numerous times and she is not sore. And again I DON'T NORMALLY RIDE LIKE THAT! Sorry but I have stated this, I have ridden braced 2 times and the vid being one of them. And she acts no different regardless what saddle im in (except for being more of a nut under english) and how I ride her, or who rides her. my friend who rides hunter jumpers, refuses to stop, my friend who rides cow horses, same thing, my bf who is a little big for her still wont stop. She is consistent in her lack of wanting to stop. She acts the same even if I'm bareback. I had a saddle that WAS causing her pain and she still did not act up out of the ordinary (don't use that saddle anymore). I don't think it is saddle related.

This was taken a while ago on the saddle that was giving her white spots (again don't use it anymore)


I am aware of the bouncing, found she did not like it and it made her stop.
---
Last edited by KigerQueen; 07-10-2013 at

02:25 PM

.
Im not going to sell me horse. She would be on a Frenchman's plate within a month. I already saved her from being dog food. She may lack brakes but she is a good horse. I can trust her on trails regardless how far and rugged. She will swim in the lake, jump a ditch, run up a mountian and not freak out at anything (well as long as its not a evil garbage bag lol). The only times she has gotten me hurt are with the english saddle. I stopped using it, no more issue. Its just her brakes are crap. When I got her there were NO brakes. Im here asking for ways to take her brakes from crap to good. Im not asking for a reining horse stop, just nice stop.
The arena is where you belong for now.. and you need to make it interesting. Training her there is how you get that stop anywhere.
---
There is something about the outside of a horse that is good for the inside of a man.
~Winston Churchill
(or woman!!!!
) Dinosaur Horse Trainer
How do I make it interesting?