Oliver got a very big gold star today! Very proud!
---
It was one of the those days where my horse impressed me 100% and more today!
I moved him "home" a family friends barn Thursday, let me settle in Thursday and friday, only lunged him in his halter in the arena and groomed him so he could see more of the property.
Today after cleaning paddocks I took him out and worked him.
He was so good, no spooking, not lazy, not rushy just right. I had lunged him with side reins and was getting right on Que. to walk/trot transitions to get his hind end under him and he was so responsive and forward and streamed into them was behind the bit or a giraffe! That was enough to make my day but he needed to be riding so i got on and we walked for a bit flexing both way. His trot for me today was fabulous! Couldn't have been any better! Was right in-between my aids, soft and supple, I was able to stop thinking about where his head was (huge issue of mine, just to stare down at him) and that makes me shoulders roll forward and then my lower arms get tense and it's the one thing after another to make my riding worse
But I looked up, I kept looking up and riding forward, I focused on taking deep breaths, stetting down my heels, breathing and hands up, not fidgeting with his face, I truly rode with my inside leg to out side rein and guess what, I was still looking up! I could just keep going through my mental checklist, arms, heels, breath, relax, look up, chest up, look around your corners, ride into the corners, hold the outside reins and squeeze him with my inside leg into the outside rein and I could feel it all going together so smoothly!!! I was so happy! Oliver was too, he was stretching into the contact, bending around each corner just right, stayed very focused but relaxed with me! I had him going across the diagonals and he would really use his hind end and go into the new corner with a relaxed frame and his hind end didn't peter out through the corner but was able to stay balanced and kept the same rhythm! Then with our figure eights I made to sizes of them and he went with it, changed his bend with the change of circle, didn't bulge either shoulder and go all giraffe like on me in the change of bends! He stretched, snorted and chewed!! I could have sworn we were just working as one. Nothing in this ride was tense, I continued to say looking up, kept my arms relaxed and up, was truly riding through my seat and him through his hind end! I was so proud, so impressed, so amazed by this ride I kept it at the trot. He was so happy with himself too! Then my friend tacked up her mare, Mya....oliver's new girlfriend, and we headed out on our very first trail ride.....and guess what... You would have thought Ollie had been only a trail horse all his life, we came across our other friend, my old 4h leader on the trails and she had her two dogs with her...that was littler nerve racking but he handled it like a champ... Didn't shy away didn't kick out was very aware they where there but he kept his brain in his head! We moved on and he took the lead...I was shocked and he was such a good leader! Handled himself well on the small hills (wanted to trot up the hill but we walked lol) came across a scary pasture of sheep and there babies, must of been 200 sheep! We walked by as if to day hey, sheep how you today, la - dee -da! We had a girl on a bike behind us at one point and told her she needed to either get off and walk or turn around, she turned around. He wasn't even phased while Mya had to make sure everyone Jew something was a ways back behind us lol
To get to the trail we had to go on the road for a couple mi urea and cars, trucks?....ha we just kept on tucking through on the side of the road as if he's done it a billion times!
I'm so happy, so proud, so amazed he just kept pulling out all the oohs and awhs cause he was so great!
I didn't get any pictures of the trail ride, now wish I did but did t want to jinx the day and do something dumb like pull out my phone for a silly picture on our first trail ride! Next time maybe!
Had to spill and share with you guys my great day, really great weekend!
He hauled wonderfully, settled in great the too make me just glow with happiness gave me a awesome day today with our ride and trail outing!
This summer is going to be great for us!
Here is a picture from this afternoon after our ride!
Oh and to add o to the greatness he gave me this weekend, he got his feet trimmed with my old farrier who I love, just the best iv come across, know him for years helped me with many horses...so he met Ollie today and he loved him, told him how I got him and our plans, he trimmed him up, loved his feet and gave him a bug carrot for standing like a pro for a new person to work on his feet in a new place!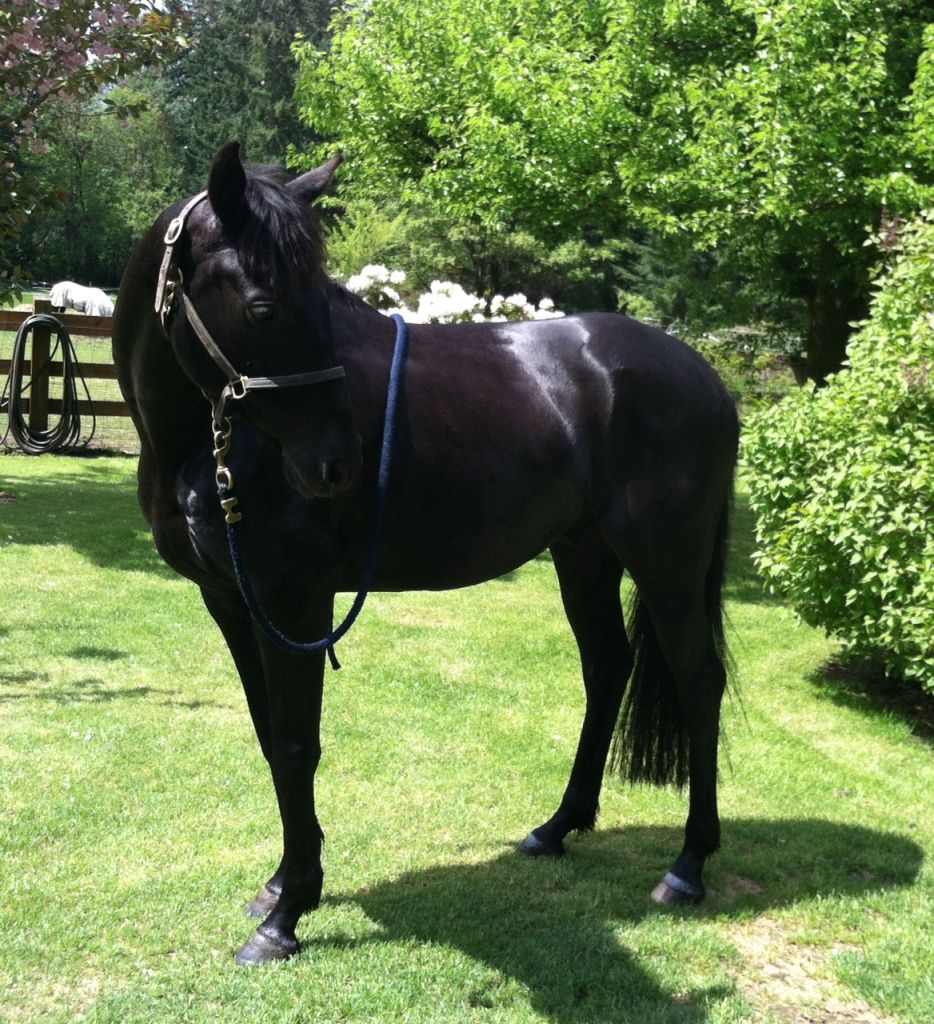 He's looking so great!! Much much healthier :) I'm so glad he's feeling better!!
---
"Strength is the ability to use a muscle without tension"

I could tell after today with how good he was that he was telling me this was the right choice by moving him here! More room to move, very low key and laid back, no stalling, ourpt door arena so he can see everything go on, I'm there more! Just a great weekend! Dont you love it whe your horse tells you your right on and they are happy with you!
Quote:
Originally Posted by
Klassic Superstar
View Post
Dont you love it whe your horse tells you your right on and they are happy with you!
Oh I do.. all these great tales of Oliver make me miss Sky so much lol.
I'm happy that he's feeling great and you can get to him more!!
---
"Strength is the ability to use a muscle without tension"

I wouldn't have guessed I'd have such a great ride after just moving him!
Just wish someone else was there to watch how good we where together today!
Hopefully next weekend! Goi g to hope for half as good of a ride for Tuesday and throw in the canter hopefully!
That is just wonderful. you were really blessed and Oliver looks so happy and healthy. Maybe he'll stay "at home" for while and just be a horse.
Tiny- he is there for good! No reason to take him any where else! We have all we need and more right here and will grow together so much this summer and into next year! I'm just so happy!
---
Here is a cute butt shot of my little man taking the lead on his very first trail ride! So proud!
Ah horse forum went to the wrong page...weird!
He looks very happy and healthy! Gosh, look at that coat. What is your secret to keeping him so black?