Oh I absolutely agree on the more transitions, etc. I've just been tossing around the idea wondering where I was going wrong. She's such a lovely responsive girl with a soft mouth I don't want to mess her up. I guess I was just expecting her to be more of a handful under saddle and the lack of oomph is almost unsettling ha!

Thanks everyone!
I had the same problem with my guy, he's also an OTTB and he was very sluggish. I started carrying a crop just to start correcting him, and his "oomph" like tripled. I think that was when he figured out what I was doing up there on him, lol.
LOL ok I have a crop I just rarely use it. Of course that would be the smartest step.
My OTTB is also a bit unresponsive to moving more forward and I use a dressage whip to re enforce when I am not getting the response I want.That way it is only used when needed and she is given the chance to respond to just my legs.
---
~Destiny is not a matter of chance... It is a matter of choice.~
~Bask Midnight Shadow 12 yr Arab cross~
~RIP -Hiway Three Twenty 6 yr OTTB~
Quote:
Originally Posted by
SuperStarsSugar
View Post
This is true. Forward is a indeed a cue that can be refined, but the problem is that since the majority of what we do while riding is forward motion, it's easy to overuse spurs, which eventually leads to a horse that won't listen to leg. That's not really refining, is it? It seems like a better plan all around to do activities with your horse that will contribute to a horse with more impulsion, instead of just adding gadgets.
I disagree.
I school my horses with and without spurs to keep them in tune with correct cues. I NEED my horses at the top of their skill when we are in the arena working cattle. As Kevin said - forward is a cue. Working cattle - that refinement from the spur can make or break the team.
Spurs are a tool that when used correctly--refinement--can be helpful for sure. I've had some horses look at my feet to see if I have them on--once they know I do I never have to use them but if I don't well---. They are never a replacement for good training--NEVER!!
I use them on my four year old OTTB, although we are slowly phasing them out. He used to be dead sided and we tried transitions, ask, tell, demand, and other methods, but nothing really worked. I use 1/4" blunt spurs, just enough to make him listen if he ignore my leg. He now is much more reactive to just my leg, so now I will use them for part of the ride, then drop them
Really? That's interesting!! I like that idea.
Spurs won't hurt. I always ride in them, but I never use them unless Ricci isn't responding like she knows she should be. She knows to respond to my seat and thighs when asking for a change in gait or in direction. If she doesn't respond to my seat or thighs, I use my calves, and if I still don't get anything, she gets a swift kick with my spurs.
There's nothing wrong with a dressage whip either, assuming your horse can be calm with one. Ricci gets kind of goofy when I used mine, and while I get more forward and energetic movement, she kind of loses her head and I can't get much collection or flexion, so it's kind of pointless.
I use these because my heels very rarely touch her sides. --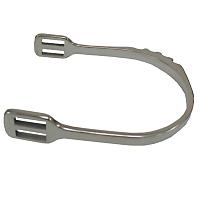 If you tend to keep your heels on your horse, or use more lower leg, you don't want to keep aiding accidentally, so I would suggest something like this, where you actually have to turn your toes out to aid with spurs. --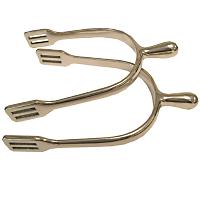 ---
"Great spirits have always encountered violent opposition from mediocre minds."

"Lazy" horses just need motivation and incentive. They need a reason to go forward, they need to know something is in it for them. That's why a lot of people go to spurs to try to force forward in a horse, because a lot of other techniques don't work...because it isn't playing on what this type of horse needs.