Our rough phase is going away, update on Oliver :)
---
So those of you who know I have been working with Oliver and excepting/learning to be on the bit going forward correctly as a foundation before anymore jump training or lateral work...knows the first few sessions where stressful and not a lot of progress happened....well he was so good this weekend! I think by the end if next month we will be doing well at all three gaits when it comes to forward correctly on the bit in a relaxed way as we are working very hard on making this be his happy place...he is cathingbin and liking it alot!
Here is what we did this weekend!
So I have a wonderful update for those who have helped me, I have gone to lunging him (with help) with one ouside side rein and the lung line attached at the girth, then through the bit and working with him there before riding to have him work on the contact, as you know he didntvtake well to it at first, running backwards, spinning the other way and having meltdown ever 6 strides (if we made it that far) well, he got a week off to think on things..not by choice cause I had a huge final in one class and had to get that done.
But this weekend he showed me how much he learned and tried so hard, staurday morning we took him out and just lunged him...had one meltdown, spinning, backwards and then....like happens forward, blowing stretching flexing, relaxed! Wow! It was great to have him lunged for me by the more experienced person who's done this many times beofe, me not so much! This way i really got to see how big (not rushy or tense but big reaching stride) he needed to go in the trot. He looks breathtakingly beautiful when forward and on the bit and happy! I feel so lucky to own such smart boy who tries so hard and looks darn good when he figures it out!
So he got lots of treats and hugs for that workout, only was about 25 minutes but was so good!
So this afternoon I had a lesson and I was the one to lung him to warm up...I did it...and....no meltdowns, no backwards anything!!!! That was huge! He was so good we cut the lunging short to not tire him out and to show that's all he needs to do at this point.
So I got on....different horse from two weeks ago....amazing...can't believe it! He was there 80% of all trot work, need work on the change of bends and keeping that smooth and stay on the bit and forward through it...but he was so smart....he was rather pleased with himself both days this weekend, strutted out back to barn and was looking at me like mom....I did it!
He will get worked again Tuesday and once this weekend as I have to drive 6 hours away this weekend to my grandmas funerual and memorial service in OR and will be making a weekend trip out of it to see family i havnt seen in two years... I wish it could have happebd later but we can't plan these things, then the weekend after that we will be gone at another show, not Ollie, I'll just be the groom. But will be able to work him that Tuesday, thursay and staurday I hope, very slight chance I might be able to fit in a Sunday work out as well if I'm lucky and not to tired from grooming for two long days!
Any who
I'm so pleased with him!
We are among headway and faster then I thought so it will be good that I'll be gone this weekend, I'll miss him though!
Here he is very much enjoying his 40 minutes of grass :)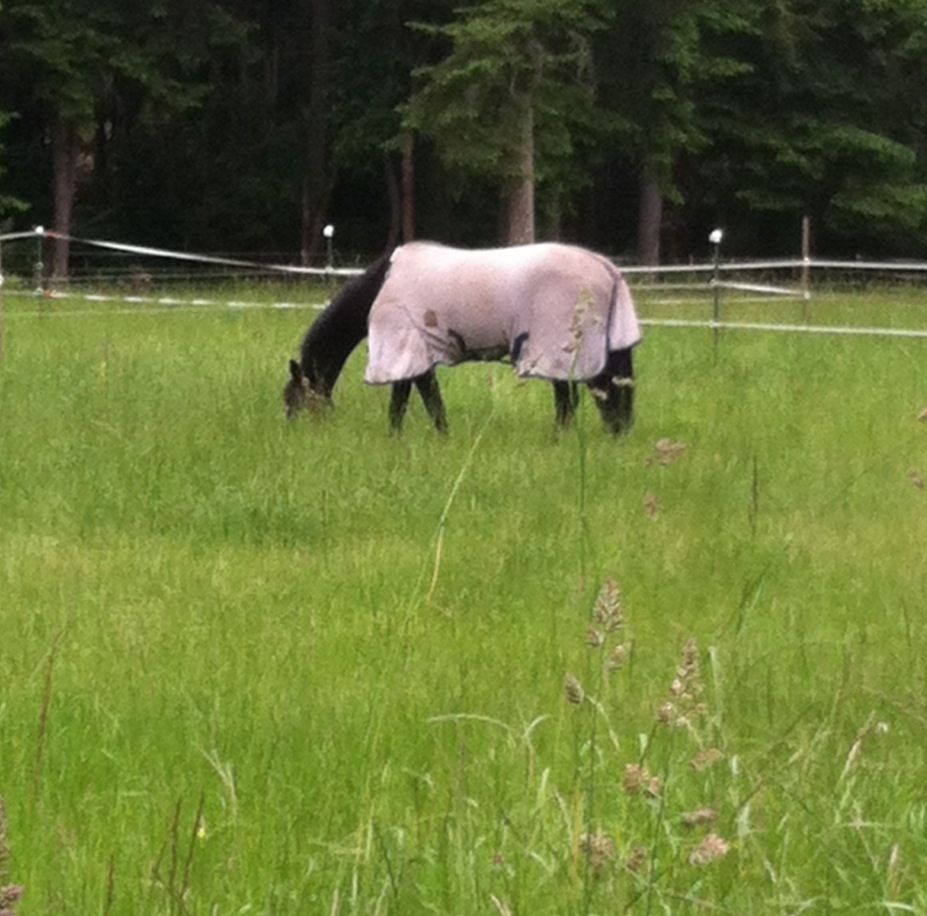 Way to go, girly!!
---
"Strength is the ability to use a muscle without tension"

It's exhilirating when things start coming together. I'm happy for you.
Thanks! I'm just over the moon excited to what all we will do and Kearney together this summer! I have never been more attached or had a stringer bond with any other horse I have owned, ridden or leased! He is my soul horse!
congrats! Sounds like amazing work being done.
Congrats. I'm sure he'll turn even more amazing if you keep up the good work :). I also just have to say I am in love with your boy. He is SO handsome.
Awh thanks!
This next couple of weeks are going to be hectic so I'm hoping we can keep moving forward even if it's small....I hope that by the end of July I can participate in a great dressage clinic that my friends have been going to for a year or s every other month, the trainer Is a great guy, tall and handsome too! Hehe I think I could get alot of homework and feedback and just want all three gaits to be there!
My bigger goal is that by April 2013 we will be Ítre ding our first schooling show at Donida and be able to do 1-2 tests :)
Also wanted to add that I'm seeing his msucke structure is already really lifting and changing, I love it!
I'll try to get pictures tomorrow before I leave for OR and you hopefully will be able to tell some difference from beginning for May to June 5th :)
Stay tunned! I will be getting video of Ollie and I tomorrow, crossing all apendages that it doesnt rain tomorrow! With my luck it will!
I will also be in a new saddle, Im going to try out a friends Bates dressage saddle! Really hoping it works out! Any tips/reminders before I get on tomorrow!? I feel horriably guilty that I havent ridden him a week, he didnt get lunged but infact worked himself by getting loose twice, two days ina row and running all over the place and then grazing to his hearts content before being found and having the fence fixed now TWICE!

So I will get video, upload it to my youtube channel, I will also get pictures of the saddle and hope to get some input on how it looks and fits on his from you guys (my little supporrt team!) If the weather holds and is dry tomorrow he will be gettinga good scrub down and get confirmation shots to compare to May when he first started working on this stuff!

Also a little bit of hopeful news: I am hoping to have the money to sign up for a lesson with a great dressage trainer who flies in every other month or so to teach clinics, if so that will be July 5th or 6th and ill be getting tons of video from that as well, part of that is if this ssaddle works for the both of us or not!

So like I started out, check back tomorrow and tell me what you think as I dont really want to start another thread on this topic!
Thanks
Sam
Wonderful news!! I hope the Bates fits.. apparently those are pretty nice saddles there, missy!

And no worries, Ollie knows you are busy and he'll be fine without a week of work :)
---
"Strength is the ability to use a muscle without tension"