Pickles Training Thread
---
I've never started one of these, but always enjoyed reading them, so I thought I'd give one a go. Pickles story:
I was selling a well bred appy broodmare of my BO's when a reputable breeder contacted me, asking to trade a two year old. We went to take a look at what he had. as we were standing in an an open feild watching the horses have a bite of grain, my BO serious concidering a snowflake filly, I felt something furry touch me. This was pretty unusuall, as these youngsters had been out to pasture for 6 months and wernt particularly interested in people. I looked down to find the sadest little brown thing I'd ever seen. ribby, with a skinny neck, hay belly, short and half shed out in June, she was the most pitiful yearling of the herd, and she refused to leave my side. where I went she went, ignoring the other horses and piles of oats. The BO saw what was happening and bought her on the spot, and sold her to me the next day.
I kept telling myself I would sell her, but I've grown attached. I tried all sorts of names and none fit the quirky little thing, until someone sugested 'Pickles'. It stuck.
her sire is a halter bred appaloosa named 'Coolest Dream' and her dam is a pleasure bred mare named 'Docs 3 d Sonata'. Pickles is registered 'Docs Sonata Dream'.
She is three and will be getting 30 days of light under saddle work pretty quick here. so far this is what we've done;
great gound manners, w/t in hand, ties, trailers, bathes, lunges, basic yeilds to preasure well in the ground(yeild hind, yeild fore, back, side pass, lowers head with pole preasure). had a saddle on multiple times(no reaction), been bridled, ponied all over, and ridded twice bareback in a rope halter. Perfect for the vet, farrier and deworming. This was all done last fall(except for the farrier and deworming of course), and she was kicked out to be a horse, so I will need to do some refreshing before I hop into the saddle, but I dont anticipate any problems.
I dont have any current confo shots, so the first her as a two year old, then two from this spring, you can see how she's starting to color out. I'll update with pictures and progress.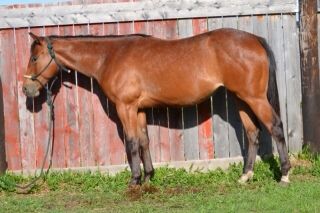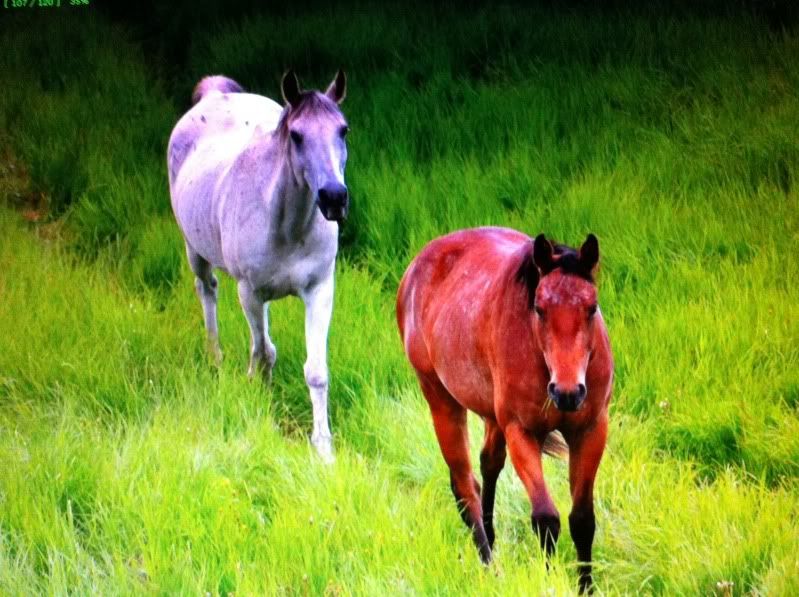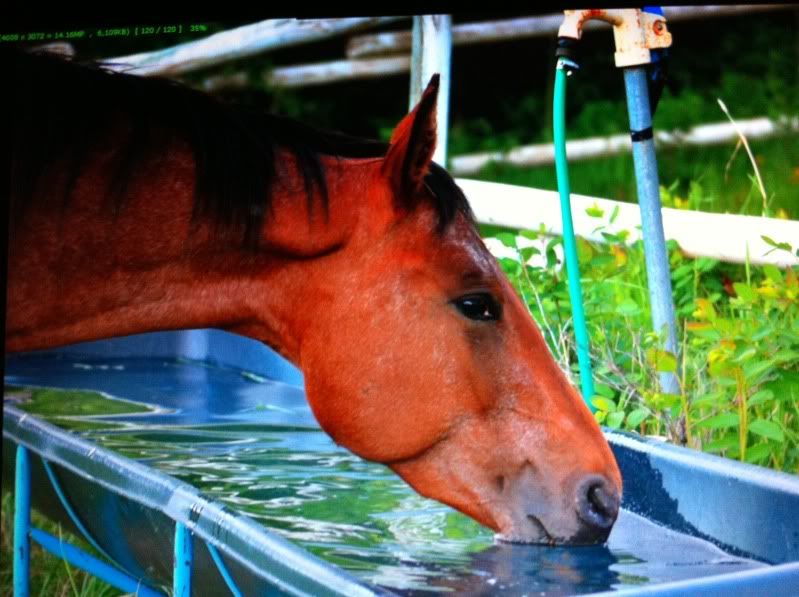 Update:

I decided to put 30-60 ish days on her this august-September, then maybe a couple snow rides this winter, but for the most part give her the winter off, then refresh and start putting some longer(but not hard or fast) trail miles on next summer. So far:

Last week. Two days of ground work. refresher on respecting space, yielding and basic lunging, All of which she passed with an a+, as if it was yesterday she learned it, not last fall. Then a session with the bridle and bit (big d French link with a medium thickness mouth piece., she hated it the least), flexing with it, backing, etc. She wasn't particularly fond of the bit, so last year she had about 10 sessions wearing one, now she just has to learn how to use it. Teeth are fine, so Its just a preference thing.

Yesterday: First ground driving session. quick refresher on wearing and lunging with the saddle on(passed with flying colors), then hooked up the lines and off we went. as I kind of suspected, she was not a fan of bit preasure. I was as gentle as possible, and by the end (about half an hour) we had a lovely soft, walk, turn both ways and stop.

tomorrow is ground driving session two. I intend to continue the ground driving until she has perfected it and is soft and willing to drive any where, which will come in handy in the future, when I purchase a cart/sleigh.
Got crazy busy for a while there. I did a few more ground driving sessions with her, she has really caught on quick. While she still plays with the bit, she seems to be accepting it a lot more, especially after I changed from a French link into a plain single jointed full cheek. She is a lot more sensitive than I expected her to be, which is kind of a pleasant surprise. I got to the point where she was responding consistently to verbal cues and bit pressure, and I felt she was ready for under saddle work. Timed perfectly, she come in from the field with a punctured leg and large scrapes right where the saddle goes. Its almost like she planned it, her first injuries since I bought her over 2 years ago, right when we were ready to start riding
any how, they are minor, she'll be ready to go in a week or so. Mean while here are some pictures of her "dressed up".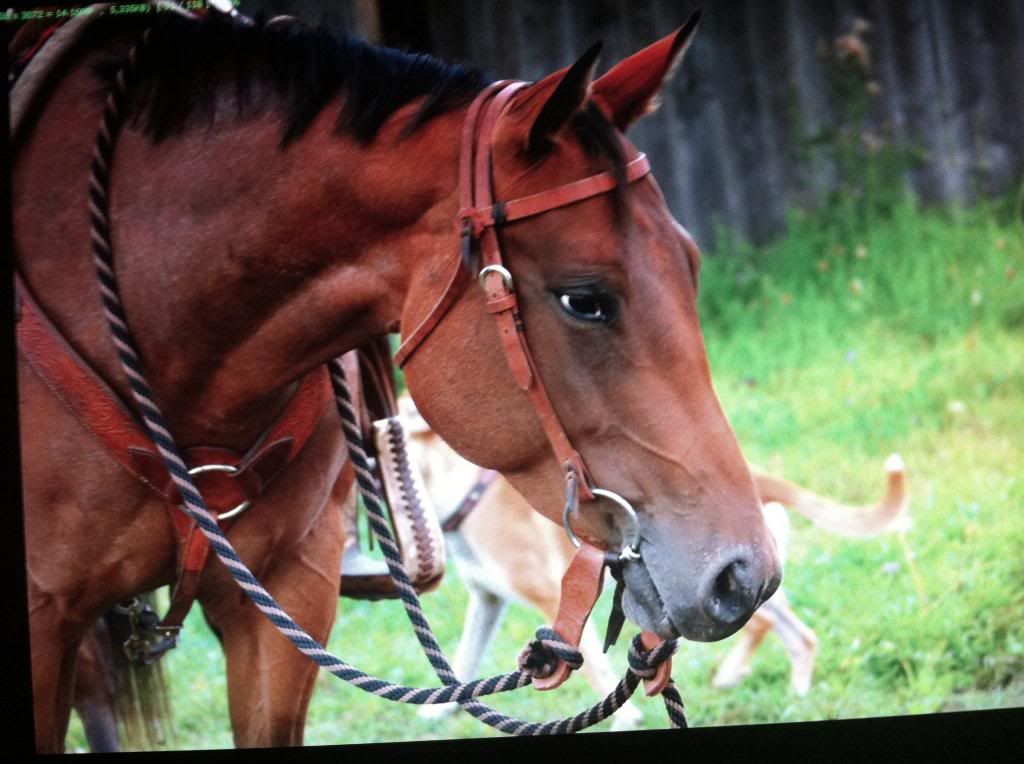 Teen Forum Moderator
Join Date: Dec 2010
Location: South East Texas
Posts: 7,157
• Horses:
2
Subbing. I love Pickles!
---
Everyone in your life is meant to
be in your journey, but not all of
them are meant to stay till the end.
Lovely horse. So glad she's working out so well.
Update time! First and second rides this weekend! I'm very pleased with how it went. First was Saturday. Went to refresh some ground work and do some round penning. She decided she didn't want to lunge(I only lunge for 5ish minutes at a time, or as long as it takes to make sure I have her focus and she is accepting the saddle well. She was stiff and attempting to ignore me. We fixed that in a hurry. Then we moved on to round penning. She REFUSED to go to the left
I did stretches and watched her trot out before I started, she is 100% sound. She would spin and change direction every few strides. We fixed that in a hurry(that she was in heat likely didn't help). When I had her going well both ways, dominance issue sorted and her full attention, I hopped on for a few rounds of the pen and a bit of flexing. A+ for the last bit.
Second ride was yesterday. She was great on the lunge and the round pen. Stood to be tacked up with a bobcat(the machine) moving round bales just feet away. I got on in the round pen, flopped all over her, did a few rounds of the round pen w/t, a bit of backing and more flexing laterally, and practicing our one rein stop, at which she is a pro. Got on and off both sides. At this point we were both bored of the round pen, so moved out into the small yard in front of the barn. We practiced walking and trotting in and out of the dark barn and around the BO, who was moving straw around, one rein stop, and stopping and backing with both reins. Ended the session with walking around some noisy garbage bags and bouncing kids.
so far, so good
Session 3 on Wednesday.
Subbing. Sounds like she's going wonderfully
.
---
Always remember that feeling of looking at a big, open country over the ears of a good horse, seeing a new trail unwind ahead of you, and that ever-spectacular view from the top of the ridge!!! Follow my training blog:
http://robertsontraining.blogspot.com/
*giggles* That picture makes it look like she's about to plant all 4 feet and come to a screeching halt LOL.
---
Always remember that feeling of looking at a big, open country over the ears of a good horse, seeing a new trail unwind ahead of you, and that ever-spectacular view from the top of the ridge!!! Follow my training blog:
http://robertsontraining.blogspot.com/