So she tried something today! I've been focusing on putting some trail miles on, mostly w/t just getting some miles and in better shape, so not a lot at a lope. Today I asked for a lope and got a buck!! Half hearted bouncing, but still. So we loped until she wanted to stop loping and was going smoothly and consitantly. About 2km. She was wringing wet when we got back. Lovely mare
we loped past the horrifying grain silos of doom, beside the flappy hay tarp and we led the ride most of the way. We even went home alone while the other riders went to talk to a neighbor. Great ride. Here she is with her fancy new corriente saddle, soaking wet. She's a big sweater.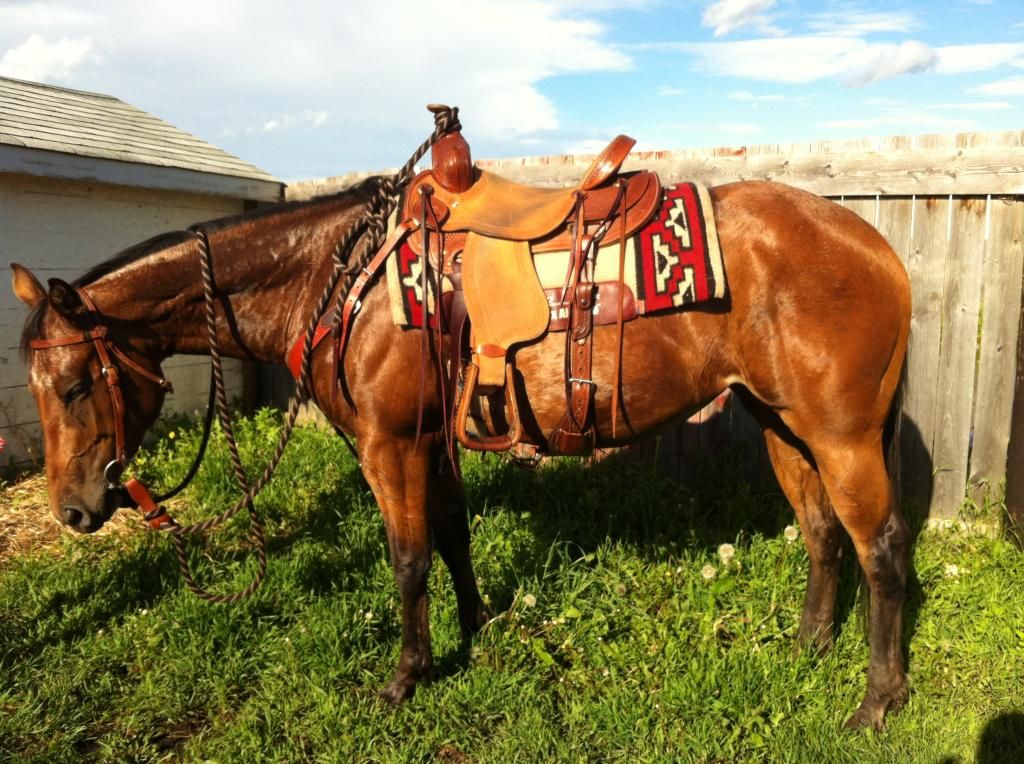 For some reason, the awkward young horses turn out very gorgeous quite often. As with mine, that seems to be the case here too! Training your own horse is so rewarding. Blessings on your future adventures together!
Went back and read and saw that you were thinking about selling. If I wasn't on the other side of the continent and had the money, I'd think about buying this horse for liberty training. She has such a fantastic attitude for it. She wants to please and trusts you completely and that is why she seems to be "born trained". Really it's just that she trusts people (or maybe just you??) so completely. I think she's a keeper =) You sound really happy with her too. Just my two cents.
Sorry for the lack of updates, been busy, busy, busy.
Her training has been going extremely well, to start with. Since her one half hearted attempt at bouncing, she has been good as gold. Went down to the rider, rode along highways with motor cycles, trucks with air brakes, cyclists, travel trailers, gone under traffic bridges, past people toting blow up rafts, by cattle, etc. I ponied another horse off her, started on neck reining and she doubles. She's almost got leg aids down pat. As a big perk, she's one of the 'caring' types that doesn't like her rider coming off. As soon as you loose balance, she stops. I trusted her so much that I gave a beginner a short w/t/c lesson in the arena. As soon as the beginner lost balance, she shifted down a gait until they got their balance back.
Since she was doing so great, I decided to take her to the mountains last weekend. She loaded and trailered extremely well(first time on a trailer since her very first trailer ride at ten months), unloaded and stood tied quietly for hours, even while the older, more experienced horses danced around her. I took her for a bareback ride in a halter around camp, through a few stream crossings and along a field the first night, and she was like an old pro.
We ponied her the first ride, because it was the toughest ride in the area with tons of ascending and decending, we had an extra horse and she is by far the best horse to pony of the whole herd. I don't even think she needed a lead. When we stopped for breaks we just let her go, she'd grab a few bites to eat and off we'd go again. She was a little wobbly coming down the very steep decent, but you cant really blame her, she had to slide down part of it.
Then the next day we did 10+ miles, she was shoulder deep in water in a lake, did a couple crossings of a fast, cold river, lots of creek crossings, found a few deer and trotted over some pretty rough trails without ever loosing her footing.
I just cant believe how EASY everything is with this horse. She was behaving better than almost any horse there, all of whom were at least 7 years older than her, with hundreds more miles. Ties for hours quietly in any circumstance? check. stand quietly on the side of a mountain in a hail storm? check. rides over, under or through anything without a fuss? check.
I cant tell you how nice it is to have a horse like this. I've worked with all sorts of horses for years, and most of them had big issues that required a lot of time and effort to correct. She just...goes. She has enough personality to keep things interesting, but give her a problem and she thinks through it, and gives you the answer. No fuss, drama, panicking, spooking, fit throwing, refusing, nada. Without further ado, pictures.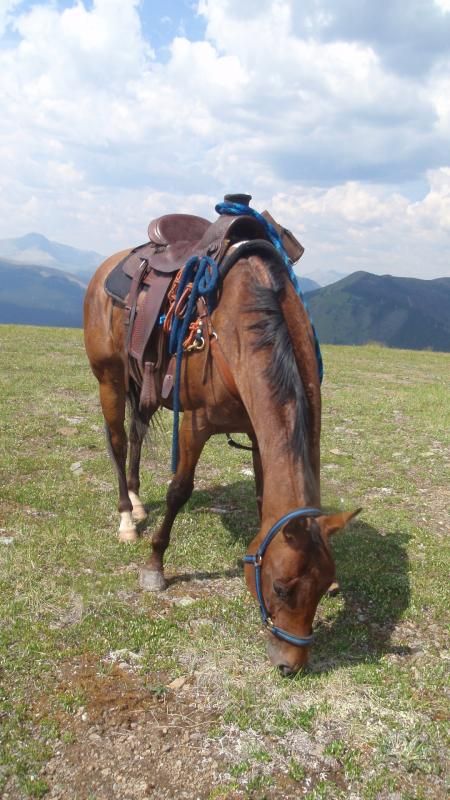 The view at the top
break on the way down. You can see her butt on the right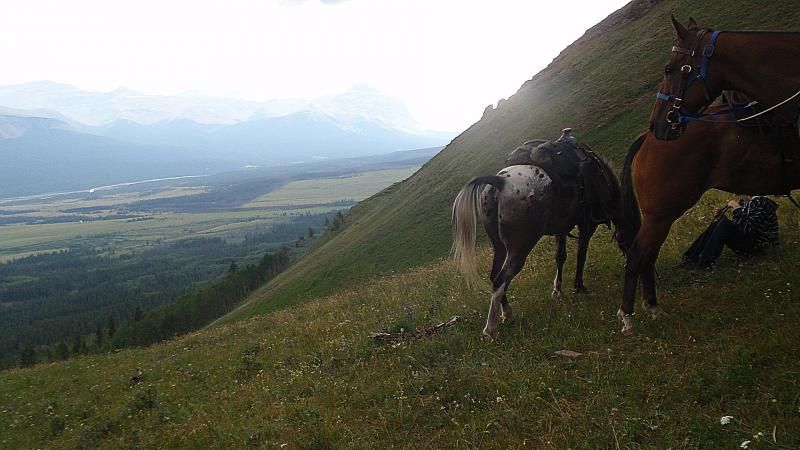 at the lake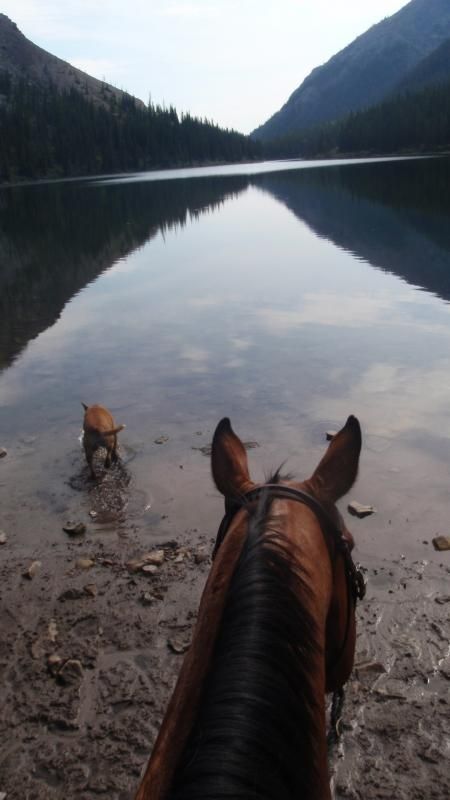 drink break
approaching the falls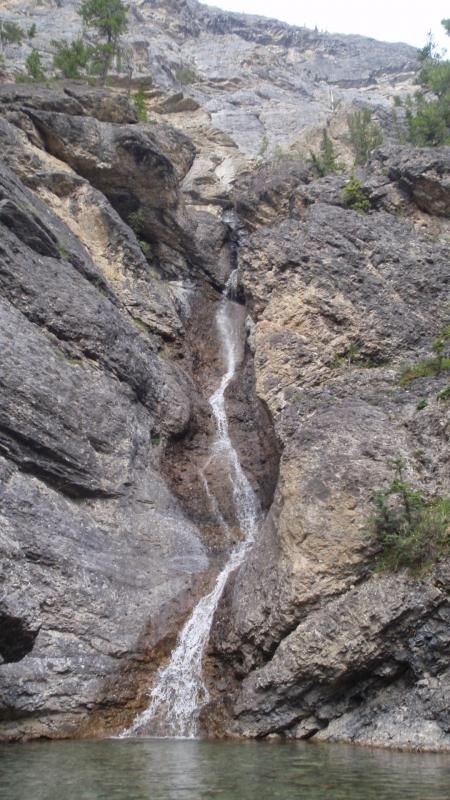 standing for lunch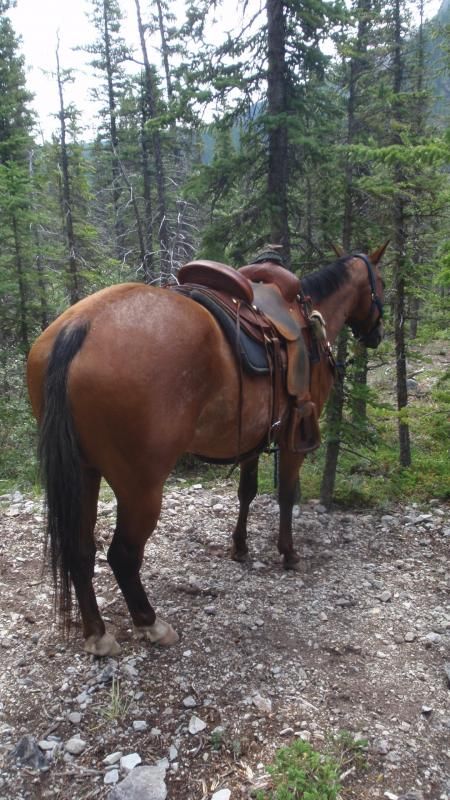 approaching her first swift water river crossing. Not 100% convinced, but she went.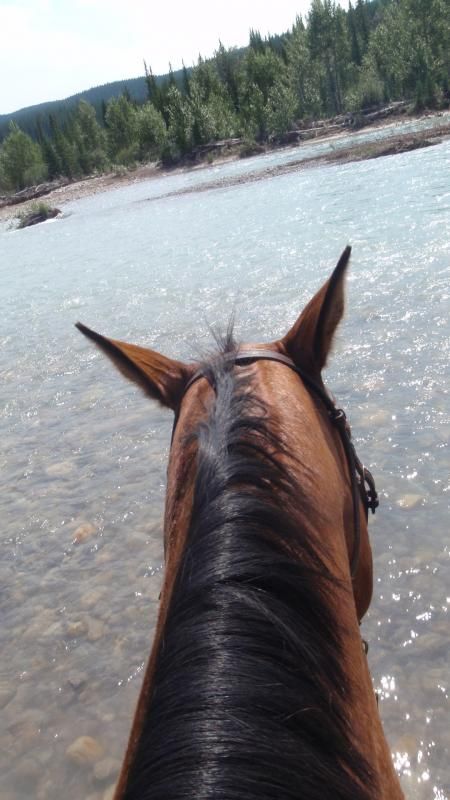 Georgious! Looks like she is doing amazing! Great Job!
---
WildHeartsCANBeTamed
Great job and gorgeous pictures!!
---
Always remember that feeling of looking at a big, open country over the ears of a good horse, seeing a new trail unwind ahead of you, and that ever-spectacular view from the top of the ridge!!! Follow my training blog:
http://robertsontraining.blogspot.com/
What a fabulous area for riding! And lovely horses. Good on you for starting such a winner, she sounds a really solid youngster.
Posted via Mobile Device
Thanks everyone
we're working on neck reining and leg aids. I always use my legs, so she gets the basic idea, but we're starting to work on specifics, yielding the hind more precisely and working on yielding the fore, which she has more trouble with, and starting on a side pass. We're also working on lightening up her cues as much as possible and getting a smoother, more consistent back, as well as better acceptance of bit contact, which she has always struggled with. She's about as western as you can get, and I ride with little bit contact, but I still want her to be comfortable with it.
I'll be honest, I'm a trail rider through and through, and I find arena work about as interesting as watching paint dry, so I tend to just do either a short arena session and head out on the trail, or work my schooling sessions into a trail ride.
We did dress up English the other day and pop over a cross rail, which she responded to with her usual "yes weird human, whatever you like" attitude. She looked pretty cute actually
I am in love with this horse. She sounds amazing!
Still so busy, working with a new project, plus canning and gardening and all the other things that need to be done this time of year, so haven't been riding as much as I'd like. we've been playing around with English the last few sessions, working on softening more to the bit and accepting contact, which she's never been fond of. Its going well.
Then I was asked to take a few pictures and my subjects regular horse was lame, so I volunteered Pickles. The girl is 13 and a beginner. She had a blast