When a horse looks into the far distance, he puts his head up-- I believe Arabs, desert critters after all, have good distance vision! And perhaps are often not comfortable when they can't see what's far off. Just a thought; to build on your trust.
My own horse (1/4 Arab) is like that too, maybe not quite to your degree, but it took a full 6 months before she would take the bit and reach down. I worked mostly at the walk. It was frustrating, but I've learned to be patient.
We have a lot of mud, and on those days when I can only walk and slow trot, I think we made most our progress.
If I could start again, I think I'd use a combination halter-bridle. That might work for you? Riding off the halter, and gradually introducing the bit.
Love Arabians
---
Two things I would consider. The horse does not like the bit and the horse does not know how to respond to it correctly. When you go on the straight, and I would start at the trot if she does it there as well, as soon as the head goes up, disengage her hip and keep her disengaging it until the nose goes down and toward her back leg. You want it to feel as though she is pushing her nose down there. When you see that in her, let her out and start again. You will want to move her hip away from the rail if you are on the rail. Otherwise, change reins often. As she gets better you will feel which rein she is leaning on and that is the one you will 'correct.'

To disengage the hip you take One rein toward your hip, look at her hip (puts your body in correct position), and the front leg on that side stops and the hip on that side moves away from the rein. If the horse is just making a small circle your rein needs to be shortened and make sure you are taking the rein to your hip. Make sure the opposite rein is not making contact with the bit either. You can lay your leg on the active rein side as well.

I have a mare that hates a snaffle as it pushes her cheek into her upper teeth. She still has to be responsive and ride correctly in it, however, I keep it in mind and try to be as light on direct rein corrections as I can. Most horses will run through the snaffle as it designed to be used with direct rein or side to side pressure.

You state it is a 'headset' issue you want to address and this should help. There are several other exercises as well as the 'one-rein-stop' that will help teach your horse to listen to and respect the snaffle.
Lots of good advice here. I like the pulley rein idea the best. It's giving a consequence to her actions and teaching her what you want all at the same time.
---
There's nothing like the Rockies in the springtime... Nothing like the freedom in the air... And there ain't nothing better than draggin calves to the fire and there's nothing like the smell of burning hair. -Brenn Hill
Green Broke
Join Date: May 2009
Location: Winnipeg, Manitoba, Canada
Posts: 4,510
• Horses:
2
Thanks a TON you guys. This thread has some absolutely fantastic advice, and I can't thank you enough for all your opinions and suggestions. You've given me an entire book to work with!
Me and Shay-la discussed it, and we've decided to halt and desist with all canter work for now. As she's retired her 18 year old mare due to hip problems, we're kind of working together on Zierra. Although we enjoy trail rides, we are definately getting old enough to not enjoy galloping quite as much as we did as kids! It's completely my fault Zierra likes to "go-go-go" because she's used to being allowed to go-go-go all the time on trails.
I'm going to definately be looking at your serpintine and figure 8 suggestions, great ideas to allow her to move out a few straight strides before being curved back into a circle to focus her mind.
At this point, I'm really not concerned about "headset" so much as I am with just getting her under control. This has pretty much all started since her injury a couple years ago and consequently her time off and then riding mostly Western. She was going quite nice for awhile - even though her head was "uppish", she was a controllable horse which is my goal.
Here's a photo of her back in 2007 - sometimes I can't believe it's the same mare! This girl on her had never jumped before, and Zierra just kept circling that ring at a steady pace and hopping over the crossrail for her. I know she should have a helmet on, but she didn't have one and chose not to wear one.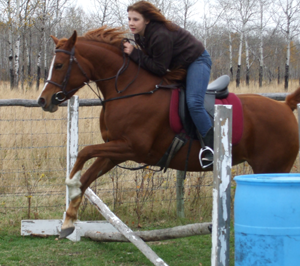 And a photo of her in 2008 - her head is high, but I had few problems "controlling" her unless she got excited. She was content to listen to me. I consider this a very natural and acceptable head position, especially in an Arabian. Obviously we want to work towards better roundness, but it's a start!
So I know she can be there, it's just a LOT trickier without a coach to do the re-training on her! I'll also be asking my aunt for some advice this spring when the snow clears up and I will potentially be taking lessons on Zierra again.
She's such a doll of a mare, I feel so guilty for letting her get this bad and not realizing it. Thank you again for your help, and we will be working hard to bring Zierra back around!
---
Quote:
I hope God tells her to smash her computer with a sledgehammer.
Had to read this thread since I am riding an arab tomorrow! I have never ridden one but I have seen them around and always they have high energy and hold their tails and heads up and 'show off' when trotting about!
I think it is a bitting problem. Either she hates the french link, she has learned that she can run through it, or she never learned to "give" to the bit pressure to begin with.
What I would do, since she rides well in a hackamore, is try a bit with a little leverage. That doesn't have to be severe, just something with some leverage to encourage her to break at the poll and not stick her nose in the air.
My first and second horse were Arabians, and they always broke nicely at the poll and gave to the bit.
I really don't like non-leverage snaffles because it seems to encourage them to raise there head up. Leverage bits encourage them to break at the poll and tuck their nose in. Just be extra sensitive with your hands with a leverage bit. But if you are riding in a hackamore (I assume a mechanical hackamore?) then it is almost the same as riding in a curb or tom thumb.
Quote:
My first and second horse were Arabians, and they always broke nicely at the poll and gave to the bit.
If Miko's problem is the same as mine was - The horse breaks at the poll and gives to the bit fine in normal circumstances - It is onyl when excitement/adrenalin kicks in that the head flips up.
---
Green Broke
Join Date: May 2009
Location: Winnipeg, Manitoba, Canada
Posts: 4,510
• Horses:
2
I'm going to have to agree with wild_spot on this one - realistically, I really think it's a combination of both her high head carriage and me having less experience in schooling a round horse that is the problem. We were fine when we were in lessons - she was going perfect, even took a first place ribbon at her first and only Dressage shows. I managed to stay on top of her since then, and not necessarily keep her round and flexed but at least "natural" and happy. As I ride English less and less, she seems to forget more and more what a bit is for.
I could actually control this horse 10x better in a halter - matter of fact, I mostly jumped her in a halter last summer because of it. She has such a sensitive little nose, I can keep her sane and happy in a halter. She has, always, seemed to hate the bit her entire life. I started her off in a normal eggbutt snaffle, and I switched her to a loose ring french link when she was 5 years old, and she's also been ridden in a tom thumb. She dislikes them all - she chews her bit, yanks at my hands, and is just generally resistant.
However, under proper instruction, I HAVE been able to get her going nicely in a bit. I tend to think a lot of the problem is that as a younger horse, I rode her exclusively in her snaffle, which she had in when we raced the local cowboys. I think even now, years later, her mind is equating the bit with a good race. I had avoided the galloping long enough when she was in training with me to teach her how to use a bit, but now that we've gone back to trail riding and quite a bit of fast paced runs, she's reverting back to that "young race mare".
Due to my inexperience as a younger rider (I broke Zierra in myself when I was 17, first horse I'd ever trained by myself) she definately learned she can run through a snaffle. We had nipped it in the bud when we started jumping and Dressage, but it seems it's resurfacing now. I am assuming her obediance in a hackamore and a halter is due to her respect for it - she doesn't like her sensitive face being pinched, and so she listens.
Oy vei, this is getting long!!
It's like pony psychotherapy! Haha, but it's gotten me REALLY thinking about the root of the problem, which is probably very good! I guess it always seemed senseless to work so hard on her English training when all I really did was trail ride and a bit of fun jumping. I truly believe Zierra is the sort of horse where it's one or the other - either she's your race happy run around mare, or she's a quiet school horse. She can definately be used on trails, but as soon as you go for a good run, it's like injecting her with a syringe of crack, I swear. Those nostrils flare, those ears perk, and those muscles just strain for more!
Does anybody think I could teach her to do both? I'm assuming she'd need a total revamp. I'm always seeing how this is a good example of the folly of green training green! Zierra is a good, reliable and trustworthy horse, but I definately laid an incorrect foundation with her that is resurfacing to bite me in the ass a decade later!
Zierra in 2005 when we were being coached: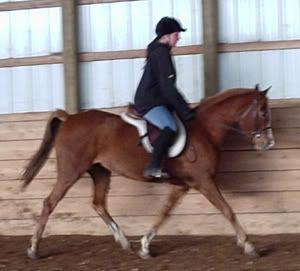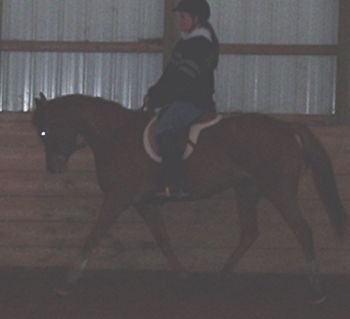 And a video still from her Dressage show:
So I guess this has turned into a post of the fault being ME!
Self reflection is a pain! She's got the stuff, she's just waiting for me to smarten up! Good thing I have a Dressage lesson on Thursday!
---
Quote:
I hope God tells her to smash her computer with a sledgehammer.
Zierra reminds me SO much of Wildey! We were green on green also - 10yo begginner with 5yo green broke ay-rab - Awesome! I to gave him some bad habits, mostly a lot of going very, very fast! Because of that, he likes to be a speed demon out on the trails. Wow it's scary how similar they/we are!

To answer you question - They can do both, but not so much at the same time :] I couldn't take Wildey out ona fast trail with another horse and halfway through put a begginer up on him and expect him to go steady. I CAN go on a fast trail and still get him to walk out on a loose rein.

In different sessions he can be super goey for me or laid back for a begginner. Now that he is getting older and more jaded he is preferring the laid back days :]

He still has afew bad habits that he can keep - He gets hard mouthed on the trail when he wants to race (totally my younger selves fault!) etc.

But mostly, he adjusts to his rider and is a very honest horse. I think a big part of it was allowing him to make a mistake before correcting it, instead of constantly correcting - I.e. Giving him an opportunity to do the right thing.
---
First off, gorgeous horse.

Next, if you asking if you can go English and trail, yes of course. My horses do Western Pleasure, Reining, and Dressage as well as trail. Will they win in all disciplines, maybe not, but that is because they are built for reining.

If you are asking can I let my horse be a hellion one minute and expect it to be cool, calm and mannered another, maybe, but it is unfair to the horse as a horse does not understand sometimes and so they will be confused when they get corrected for a behavior you condoned the day before. Unless, you have a on and off cue. If you initiate an action and the horse has a 'shut off.' For example, I can ask my horse to play 'tag,' but when give the cue to stop he must stop.

Horses are extremely intelligent animals, but they are not human. Be fair, be consistent. And most important, have fun (safety first of course).