A relief for you guys I guess.
---
I just wanted you guys to know that I liked the way Touche' handled the rope halter that I just bought.(Which is purple!) And I acually think she did better with a rope halter! She did great.

I won't be using a shank chain.

My only question is Ive seen people ride with a rope halter. What reins do you use? gaming reins?
Congrats on the new mare, I'm glad you're getting along. There are a lot of different options for rigging a rope halter to ride, from making a simple mecate out of a lead rope to rigging a bit onto the halter itself. I honestly haven't tried any of them, so I can't offer you any opinions on what works best.
I got couple rope halter with reins attached on eBay (one "hackamore" style, one "sidepull" style). Let me tell you that was the bad experience to ride as the halter slide all over the horse head (when tried to turn) and got into horse eye, so my horse liked neither of them. So I ended up donating both (was just waste of money for me). However I use rope halters for ground work all the time.
Glad she worked for you in the rope halter, horse luver!
We've climbed on board our green horses with the rope halters; just tied the end of the lead rope to make reins. But as kitten mentioned, they're not really cut/fitted for riding as the nose band is loose and will slip around. I prefer a bosal, personally, but finding one that will fit a horse well is difficult. Ruben Villasenor has a rawhide one that I like, though.
http://horsemenswesterndressage.com/catalog/
Yeah I went to horse camp when I was 11 and we had to ride with rope halters. But I forget what we did with reins. weird!
Good, just make sure you tie it right so it works good and she can't get hurt.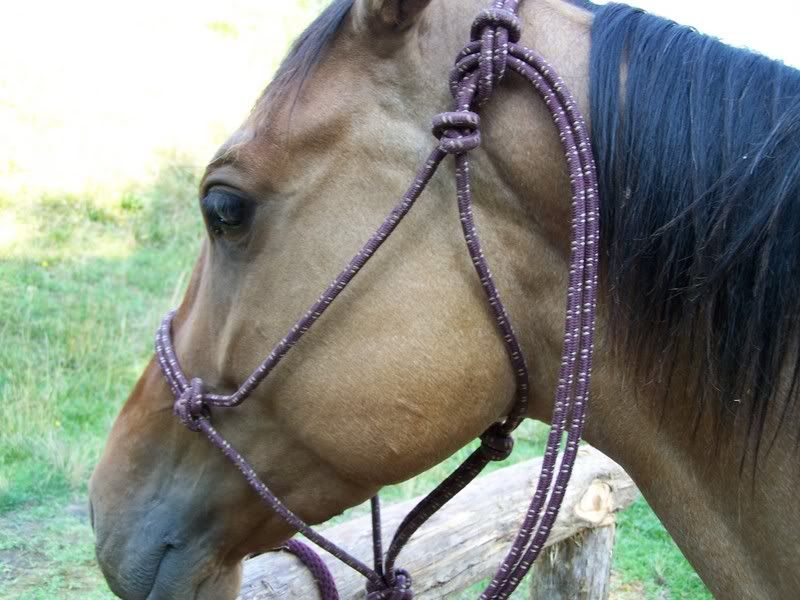 You want it up under the chin, and tie your knot right that way if it tighens up you can still get it un tied and don't have to cut it off. I ride in my rope halter all the time I just use the rope that is on it some times I will tie both ends but most of the time I just have the one side tied.
Okay but do you know how to tie the lead on the halter? I took it off for some reason and I can't figure out the 'proper' way to tie it on.