Retraining Question...*pics* -long post-
---
First, I'd like to introduce you all to Cinder, my 18 year old Heinz 57 mare! I was told she was a TB/Appy when I bought her, but I'm CONVINCED there is arab somewhere in the last 2 generations!
She looks innocent, right?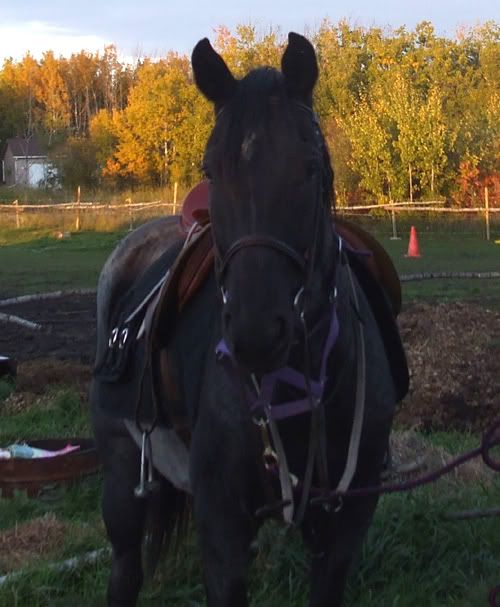 Not so much...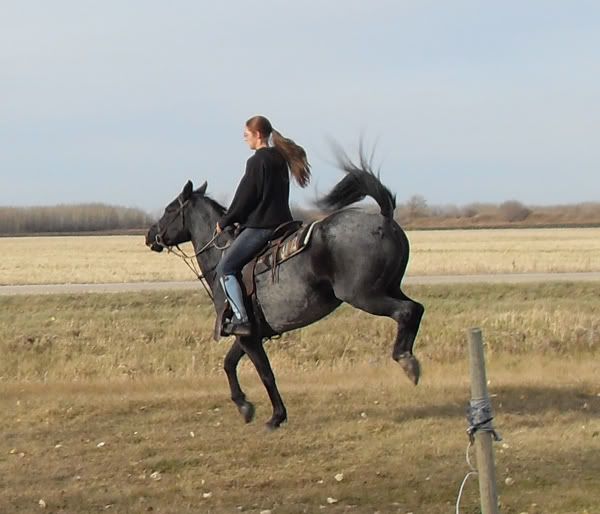 I've owned her for nearly 7 years now and it's been a LONG struggle, and I love the challenge she gives me. I had to sell her in Jan '08 when I started college, but through some AMAZING friends and a little trickery, I bought her back in Aug '08. When I originally bought her, bucking, rearing, and bolting was all she knew how to do. The lady owned her for 8 years and only rode every 2 weeks...and all they did was gallop around the block, and she taught her to rear with a rider as a TRICK. I spent the first 5 years teaching her walk, trot, and whoa were all things she needed to know how to do...and that any sort of rearing was NOT OK! She's always had immaculate ground manners, but once you were halfway in the saddle boy, you were on HER turf!
Anyway, when I sold her she was still a very spirited and animated horse, but there was NO rearing and minimal bucking. I have videos somewhere of my friend taping me out in a farmer's field TRYING to get a little action from her, just before I sold her. (bad I know, but I thought I'd never ride a buck again!) So, sold her to a girl that seemed to know how to handle Cinder's antics, and immediately regret it, knowing I had sold my other half.
SO, 7 months after selling her, I brought her back home. She was straight out a bronc chute again but this time, I couldn't settle her. After a couple months of consistant riding, she would NOT calm down...so I had a chiripractor out and discovered her hip was fused to part of her spine. The western saddle sat right on top of that spot, which made it uncomfortable!
Now, after having 6 months not in work, I've followed my vet's instruction to put her on a low dose of bute as a trial to see how she reacts to it. I have to explain though...she's FULL of herself out in the pasture! Bucking, galloping, pivots and all...I can ride her bareback and she behaves better, but I don't trust miss rodeo not to toss me! My velcrow butt's not THAT good! The other thing I discovered before trying bute, is the smaller the saddle got (western vs english), the more she relaxed and behaved.
Wow long post...LOL! So, after only 2 weeks on bute, Cinder's gone from this:
To this:
At her worst:
And now, with her best yet to come.
She has come SO far in the last couple rides...she no longer jigs, trots without pouncing into it, and canters without bolting! I truely think it was just the big saddle putting too much pressure on her "tickle spot"...between using a smaller saddle, learning to ride her better, and the small amount of bute, she has become an entirely new horse. I understand the risks with using bute, ulcers and such, but like I said she's on a very small dose.
I do have a question though...how do I ASK her to bring her head down? I know a couple aids I could use but I'd like to try asking her before showing her...if that makes sense?
Couple more recent pics...
Darn post in the middle of the yard!
Old headset...(Jan '09)
New headset...(Yesterday)
How do I get her to round a little more? Thanks to everyone that read all that! Sorry for the novel! But any advise would be more than appreciated! :)
---
Never ride faster than your guardian angel can fly
wow in just a couple weeks??? she looks so much better!! great job with her. I can say from experience, that it definitely helps when you get all your ducks in a line and then things just fall into place. I don't have any advice about the headset as I have not gotten that far in my riding yet, but congrats on the progress!
She is absolutely gorgeous. And good on you for working her through her issues and making sure that she got the help she needs. It looks to me like you are making amazing progress and you should be very proud of yourself.

Because her neck is so short and thick, she may not ever be able to have that beautiful tucked and rounded neck. However, whatever you are doing seems to be working and these issues are not something that she can just get over in one day. It will take probably months of intensive training to really get her right. I would just work on her suppleness to the bit, try working her in some circles and serpentines on a loose rein and see if she naturally carries her head high or if she is willing to lower it if there is no bit pressure. I am kinda tired right now so I can't think of anything else but someone else should be along shortly that can probably be of more help.
I second smorbs, except she can have the beautifully tucked and rounded neck. I rode a Fjord for a few years with a very short, very thick neck, and if she could do it, so could your mare. =]

Do all you can to get her supple and soft. Circles and serpentines and just getting her to bend her neck. When you feel she has softened, you can start really asking for that nice head set. Give a little half halt [outside rein, seat, and inside leg]. Keep asking her with a half halt and when she brings her head down even a little bit, stop and reward, then ask her again. Just make sure that when she brings her head down and closer to that head set that you want that she is super dooper comfortable. Make sure you aren't harassing her with your legs, seat, or hands. You want her to be the most comfortable when she is nice and round.

After all you've been through with her, I think it won't be long before she learns this new trick.

And what a great happy ending that you bought her back! It was meant to be, I think. =]
---
"Great spirits have always encountered violent opposition from mediocre minds."

PS. She is SUPER cute!
---
"Great spirits have always encountered violent opposition from mediocre minds."

Its all connected. The fusion in her back is a cause of dropping her back and touching of the bones. The dropping of her back is caused by improper self carriage. Try this yourself. Stand up, Stick your butt out and hollow your back, stick your belly button as far forward as you can. Now try walking, notice how your head falls back and the muscles in the front of your neck tighten. If you try to bring your chin straight down (horse softening to the bit) It doesn't mean that the rest of your body feels any better. It actually just means that you are bending at an unnatural spot (c3 in the horse).

The way to truly get her head down is to loosen and lift her back. Stretch the topline and the head goes down. You have noticed that the smaller saddle leads to a more cooperative horse, which I couldn't agree with more. Especially with your mares short back. Good western saddles are pricey, a horse with a healthy back is fine in a well fitted western saddle, however, the back is very hard to heal in a western saddle, especially a cheap on, as the tree is fixed and unforgiving. Any back repair work that I do is on the ground or in an english saddle. I have nothing against western and still ride western to work cows frequently, but the english saddle is much better for getting the horse to use their back.

For your horse to stretch her topline, stay very balanced yourself and make sure she is straight from head to tail, paying attention to her midsection and shoulders as well. the horse drops into the bit when the body is straight. It shouldn't be with a rapid motion, but as needed from right to left until she stretches down and into the bit. Use your leg along with the rein pressure as the barrel will go to the opposite side of the head. Let her travel at the walk working on this stretch for about a week. It would be great if she would actually travel with her head close to the ground. This will also help relax her and take the stress out of riding. I recently posted somewhere else in the training section about how to encourage the lift of the back from the stretch.

Your horse may be in a holding pattern. Some horses stick themselves in a minor left or right bend that is so slight that the rider never notices, but it prevents the horse from being truly comfortable. Since she resorts to bucking, I would say more of a fight personality. However, she also looks like she uses a little bit of momentum to keep her balance, pulling through her neck and shoulders. You will find her fight and flight sides balance out as you work with her. Hope this makes sense. It is very possible for her to have a "head set", just remember that a head set is a result of proper riding and self carriage.
Thank you all so much for your comments, means alot to me! I know she's a compact girl and that the typical roundness may not be achieved, but my main thing was I didn't know how to ask for it. I'd always been focussed on just getting her head out of the clouds!
I understand that everything comes from the hind end...but to warm up at a walk and get her to drop her head, how do I ask for that? She's still just learning that riding doesn't hurt so for the first 5 minutes or so she's still pretty worried, but smooths out. From YEARS of riding with her head placed neatly under my nose, the underside of her neck is VERY muscled which I know can make coming down a little harder...trying to change it by degrees over the long term, not a "quick fix".
During the last couple months of her time off, I had been long reining her and that seemed to help with her suppleness a TONNE! I had never done it before and it allowed her to focu just on what I was asking her to do...I've got some pictures from that but I'm replying quick before work so I'll add more to this with a couple of those later today!
Again, thanks! Much appreciated!
---
Never ride faster than your guardian angel can fly
WOW! What a transformation... I grinned when I saw the first new picture, she's a gorgeous lady!
My instructor/best mate explains it to me like this. The back end is the powerhouse. If we want the front end to be working, we need to be asking from the behind first. The energy created is recycled like a figure of eight. If you keep the balance between your hands and legs, and not block the energy flow, then she should just come into the contact more on her own.
I'd focus on getting her forward... make her walk a brisk, active walk, and the same with her trot too. Really get her tracking up and stepping under herself. Do loads of serpentines and circle work, but don't exhaust them either, as much as a circle helps a horse engage more easily, straight lines are helpful too, as you have to be able to hold that straight line too (and not drift off it haha)! Then when you feel like you've got a good work ethic happening, take up more contact, so you can feel her. it's like driving a manual car... you have to keep the balance between the two pedals, and the hands and leg are exactly the same. If she's racing off with your legs on her side, then you're not asking with your hands enough. If she doesn't feel like she's going anywhere, you've probably got too much contact on her face and not using enough leg to keep the energy flowing. Don't expect results immediately, she's gotta build the muscle to be able to get self carriage and start to work in a frame.
Sorry I'm rubbish at describing this, I was learning more and more about teaching my mare to work in more of a frame before I broke my leg. And if I've made any mistakes, please more knowledgable people, feel free to correct me.
I wish you all the best!
x
---
♥ Seoul Searchin' for the Lovebug ♥
OK, so a couple long reining pics...
And a short video of our first "drive" down the road. Cinder's the type of horse that once you turn and head for home, she'd JIG the entire way...the fact that I was able to ask her to whoa and stand nicely for the school bus to pass first on the way home...AMAZING!
As for the referance to a standard car, the first and only time I drove standard, I nearly left the engine on the highway! LOL But I get what you're saying...find the happy balance for her. She's normally a very forward moving horse, she has NO issues moving out...it's just harnessing that energy that we have to work on! A loose rein, to her, means she's allowed to speed up...but if I keep a light contact and give the tiniest of jiggles and say easy when she starts to jog, she'll come back down to an easy walk. I suppose thus far, the reins have been a speed gauge to her...not sure how exactly to change the definition of that in her mind! I'll try all your suggestions, thanks again, and see if patience and persistance pays off the way it has before!
---
Never ride faster than your guardian angel can fly