Round Pen work in winter?
---
Hi guys, I'm new to the forum and also to horse training. I've just recently gotten back into horses after a 12 year gap. I have a 2 year old quarter horse filly that I am hoping to train for trail riding.

I was wondering if it's possible/safe to work in a round pen during the winter? We don't have snow yet, but the ground (that is normally really sandy) is rock hard.
Originally the plan was to let her just be for the winter and to start in the spring, but I'm running into issues with her being overly pushy and disrespectful when she's not wearing a halter and lead, so I want to start her in the round pen to start establishing the alpha position.
What would you recommend?
---
The learning never stops!
Round pen work is possible bc at this age you won't want to have long sessions. I like the idea of establishing authority with her in the round pen, but rock hard footing is very concussive. Do you stall her? If so, you could train her to halt, back and "walk on" with her halter and lead, and demand that she obey every time you turn her out and bring her in to be stalled.
When I first got my horses (1985), I had 6 in an outside herd and NOBODY wanted to be caught. (They were all broken, however.) I thought that maybe I could get a few interested in being caught by shaking the grain can by the gate. The herd leader didn't buy it (that day), so others came up to the gate, I haltered them, then lead them to a tie up pole and fed them their grain in their own bucket. Anybody who didn't come to the gate didn't get any grain. Day TWO, the leader was the first up. After that I insisted that each horse had to put his head over the gate, wait to be haltered, then quietly lead to his own spot for graining DAILY. They came out in pecking order and they went back in in pecking order, too. When I put them back in they had to turn, put their head over the gate and wait quietly to be unhaltered, bc I was very concerned about being run over and kicked by horses that didn't know me well. You can do the same with her. I taught my 16'3hh KMHSA gelding to do this, and now he ALWAYS walks around the open gate, puts his head over the gate and waits to be unhaltered. My gates and fencing are a little tall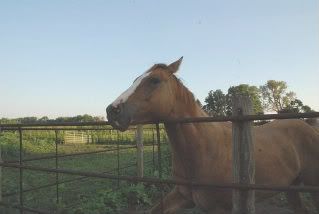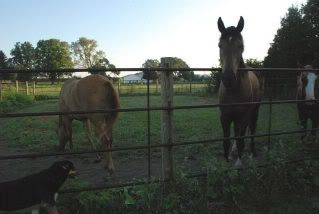 but my 5yo QH will put his head over if I insist, although he's not trouble to catch and doesn't pull away when I turn him out. I suggest you look into Clinton Anderson's videos. Two year old horses are very reactive and you'll want to be especially patient, and PRAISE, PRAISE, PRAISE for ANY effort, so that you show her that you are a benevolant leader. =D
---
Last edited by Corporal; 12-09-2011 at

02:10 PM

.
You don't need to do 'training sessions' per se to fix the particular problem you're having. I bet you mostly pet her. That can cause a horse to become so comfortable in a human's space that they'll begin to disregard it. It's normal and I bet she's not doing it to be wrong.

IMO that doesn't necessarily mean that a person shouldn't pet their horse. I think that some people think they have to be at one extreme or another. Either they let their horse walk all over them or they always keep them away and think that showing affection will ruin them but I haven't really found that to be true. I always pet my horses and get in close to them but I can also walk into the pasture with a wheelbarrow full of hay and keep them all off of me with a look and pointed finger. Actually, it's only the minority of times that I have to do that much. Most of the time they wait patiently until I've dropped a flake AND moved on before approaching it.

I'm able to do this because I've taught them that sometimes I can be in close and petting/scratching and other times I want them to respect my space. You CAN have both if you're very clear to your horse. Experience has shown that a horse is able to make those kinds of distinctions, which they will do if you're clear and (I can't emphasize this enough) consistent.

It bears repeating that consistency is important! That means that you really make an effort to do what you do the same way as close to 100% of the time as you possibly can. You won't always, you'll miss a lot of moments when you're green where you'll realize after the fact that you should've done something. I wouldn't worry about it or try to play catch-up after the fact. Just start over.

Anyway, if your horse is loose and she pushes into you when you don't want her to just drive her away any way you can. If it happens on the halter rope, give the rope a good pop and she'll back off. You don't have to beat her up or get mad about it though. When I do it I think of myself as an electric fence. Electric fences don't get mad or frustrated, they just shock you if you touch them and it's nothing personal. If you can keep that mindset when you correct your horse they'll learn without getting upset. I actually make it a point to pet my horses after I correct them, strange as that may sound.

Hope ya don't mind the long reply lol. I tend to get talking about one thing and it brings to mind 10 others. :P
Thanks for the great advice! Like I said, she only acts this way when she's not on a lead and I kind of chalked it up to her being young and pushy, but wasn't sure how to go about stopping it. Back to my original question though, is it safe for her if I work her in a round pen when the ground is this hard? Another horse owner told me that it should be fine if I kept her at a slow pace, but I'm betting she's going to want to go fast the first time or two...
---
The learning never stops!
Quote:
is it safe for her if I work her in a round pen when the ground is this hard?
Nope. If you don't believe me jog around it 3x yourself and see how your shins feel.
Thanks again for the help! I'll start being more of an authority figure and save the round pen work for when we're back on sand!
---
The learning never stops!