Quote:
Our two year olds enjoyed being two year olds in a field, we don't start training until three
(although many don't start until four)
They won't go under saddle until 3.
Here they are sporting tack a few weeks ago.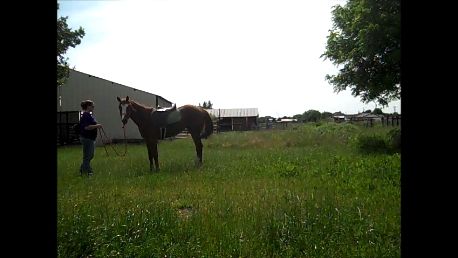 Just to update for her cuz she is sick and puny, between the weather and her being sick they have had a bit of a break.
Thanks honey :) Yes, I'm home in bed (as in bed as you can be with a 5 year old) with no voice and a sinus infection. Tornados last night left things pretty wet.

They will go back to work this weekend.
Paolgal.......Tornados...they scare me. Husband's family are in Iowa. I told him I would only live there if it was in an underground house. Human moles!!!!
A real mess in some areas there where you are. Stay safe and get better.
---
If you ever find yourself in a fair fight, it's because your tactics suck. ~ Marine 1SGT J. Reifinger
Feel better, Palo!
---
O-Ba-Gee-Ba-Jabba-Joy!
Another round of storms headed in today....Still hacking but better :)
Hope you get to feeling better soon. Sick and having the barometric pressure adding to the already stiffling pressure of sickness never make a good combination.
---
I am Second
Born Once, Die Twice. Born Twice, Die Once.
Here's to hoping for a speedy recovery!
---
Learning never stops
Looking good
.
I feel your pain though, I've got 2 youngsters that are 3 and 4 years old. I finally had enough time this summer to finally catch the older up and start putting a few rides on him...the younger is just going to have to wait. That's a bit fortuitous though because he's not quite grown into my saddle yet anyway LOL.