Side Reins..
---
I want to start lungeing with side reins in a few weeks here to get her using her body a little more. Im not very experienced with them and since im at a parelli barn NO ONE there uses them *rolls eyes* So I need your help :)
Will they help her get her hind under neither her more? Because right now shes using almost all her forehand. Were doing A LOT of trot poles but Im not seeing much of a difference.
Now I need to find side reins that will connect to the saddle because I dont have a surcingle.. and really dont want one..
Advice???
I was thinking these:
http://www.statelinetack.com/item/ny...nut/SLT700702/
But im not sure if they connect to the saddle..
---
Last edited by HorsesAreForever; 06-03-2009 at

06:27 PM

.
Green Broke
Join Date: May 2009
Location: Winnipeg, Manitoba, Canada
Posts: 4,510
• Horses:
2
Almost all side reins are designed to be used with the saddle, including the ones you posted. The clip end attaches to the bit, and the other end is a loop with a buckle which will go around your girth leathers under the saddle flap.
Like this: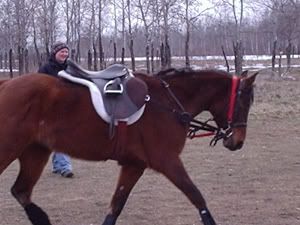 ---
Quote:
I hope God tells her to smash her computer with a sledgehammer.
thanks!! :)

So will it help get her to use her hind more?
it can help, but if not adjusted properly the horse will learn to lean on the side reins and look very nice while the side reins are attached, but take them off and you're back to square one.

from what I read any type of side reins that are NOT fixed will prevent this (Vienna style, sliding side reins, the pessoa system) They all pass through the bit so therefore she can't lean against it

It does all take time and you have to be patient with things like this. If she's always moved on the forehand, its going to take time and proper training before she'll move onto her hind end.
Side reins are a great thing! if you know how to use/adjust them properly ;)...you can use split reins as well (western), they do help build there topline and teaches them to use there body. It also teaches them to work off of the bit and collect so they arent on your hands, it also can prepare them for upcoming training undersaddle as well once you get on, if you havent already!
Green Broke
Join Date: May 2009
Location: Winnipeg, Manitoba, Canada
Posts: 4,510
• Horses:
2
They CAN help, but I wouldn't rely on them, because if you can't ride her INTO the headset then a headset is pointless. I prefer using side reins on younger horses, very loosely, just to help teach them about the bit without worrying about balancing a rider on their back.

However, you need to be very careful with side reins. You shouldn't ride with them on (some coaches WILL lunge students with side reins, but that should be left solely to the professionals), and anytime you aren't lunging with them, they should be unclipped from the bit and onto the side of your saddle. Always keep your horse moving forward, and make sure you're using them as loose as they go in the beginning to allow your horse to get used to the feeling. Snug side reins can cause a horse to panic and shoot backwards, and without a human to "release the pressure", they will often hurt themselves trying to get away.
---
Quote:
I hope God tells her to smash her computer with a sledgehammer.
So say I was gonna get the ones I posted.. How would I prevent her from leaning on them? How would I adjust them???

Chance is w.t.c and jumps she just has never really used her hind. Except jumping of course :P
Double post sorry

Chance is 5 so pretty young :] Still learning
Don't get nylon. They won't break if your horse stumbles or panics. Cheap leather with donuts are much better. Always warm up your horse first at W/T/C without the side reins attached. Once she's warmed up, attach them to the bridle so that her nose is well in front of the vertical. Let her get used to them while they're a little long. You never want them so tight that her nose is on the vertical, always a little ahead. The idea is to drive her up into the contact, not restrict her head. Side reins are a great way to develop a horse's topline when used correctly. If she really objects when you first attach them, just use the outside rein until she gets used to the feeling and then add the inside one.