Slowing Down On Trails
---
Hi everyone, I was hoping for tips on slowing down my filly on down hill slopes. She is just three years old and this is her first summer out and about. She tends to think that it's easier to trot up a hill and back down when the time comes. I check her and make her slow down. Hoping that she'll watch her footing along the way. That's not always the case.
She is young and lazy. So while we are out if she stumbles over a log because she doesn't feel the need to pick her shoulders up I take her back until she "clears" it. If she wants to try and jog up a hill I stop her and make her walk. We work on flexing, and leg yields along the way. She's always very alert and curious of the "boogy men" out there. If there is a burnt tree she wants to smell said thing and be certain it isn't the dark hole she originally thought it was.
I'll only have her at my place until the end of the month. Come November she will be boarded again. I'll be working on picking her shoulders up more when I have decent non-rocky footing.
Any tips along the way would be greatly appreciated. The only thing I can think of is lots of miles and wet saddle pads. Lots of giving and releasing. She is still young and I'm not in a rush or expecting a miracle.
Thank-you ahead of time.
These are some pictures of the area I ride. On this day we rode six miles. She had the wet saddle pads to show for it.
Thank-you again.
P.S. Pictures From Cell Phone.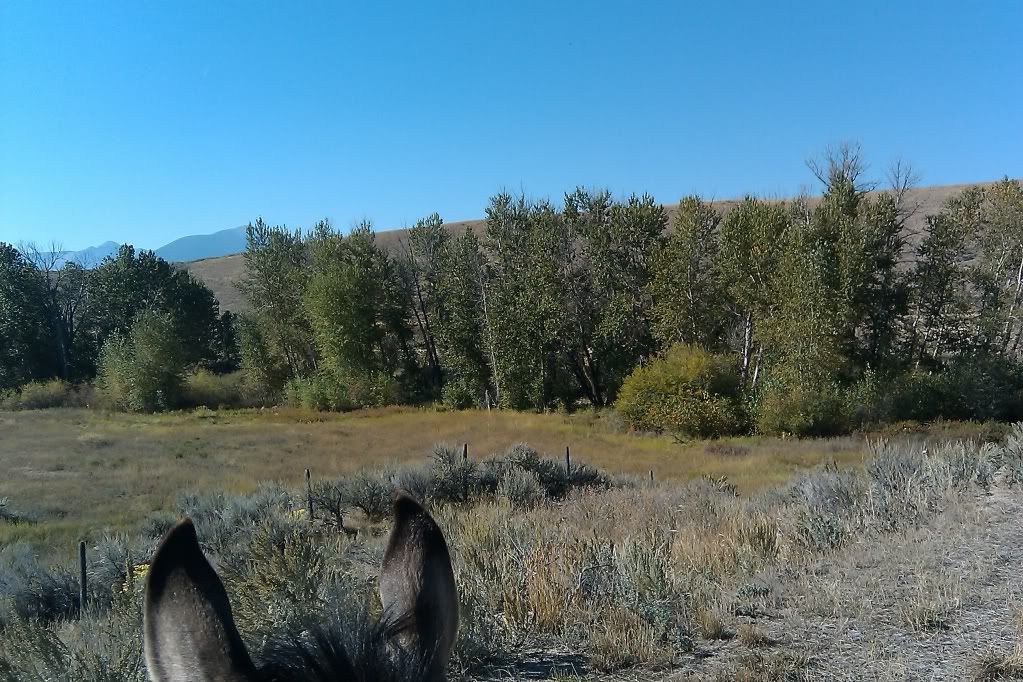 Always Alert.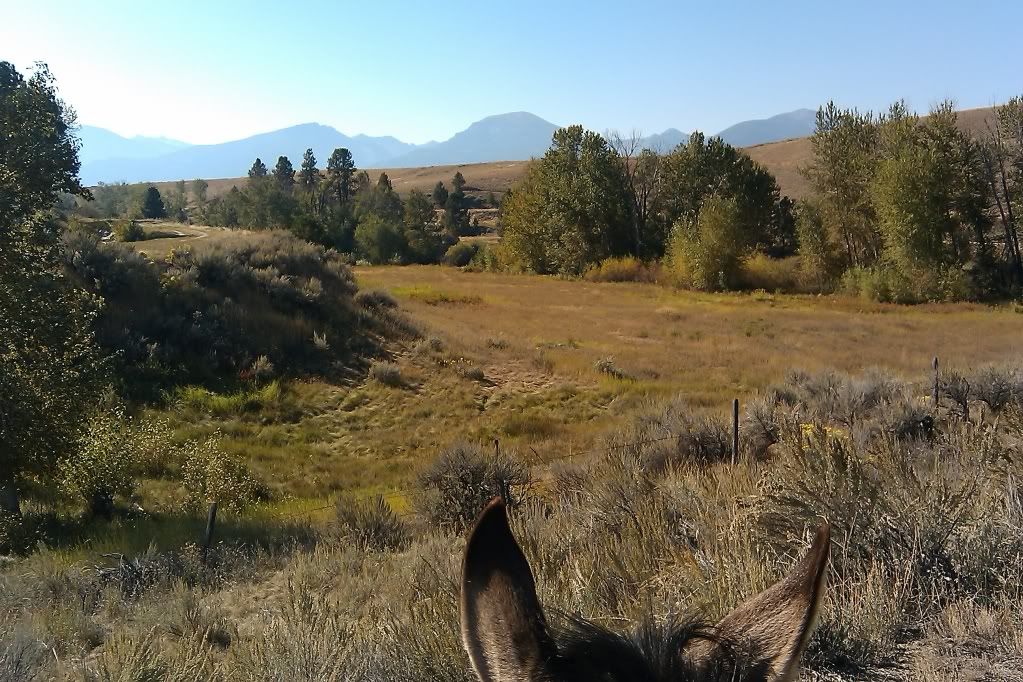 Part Of A Meadow.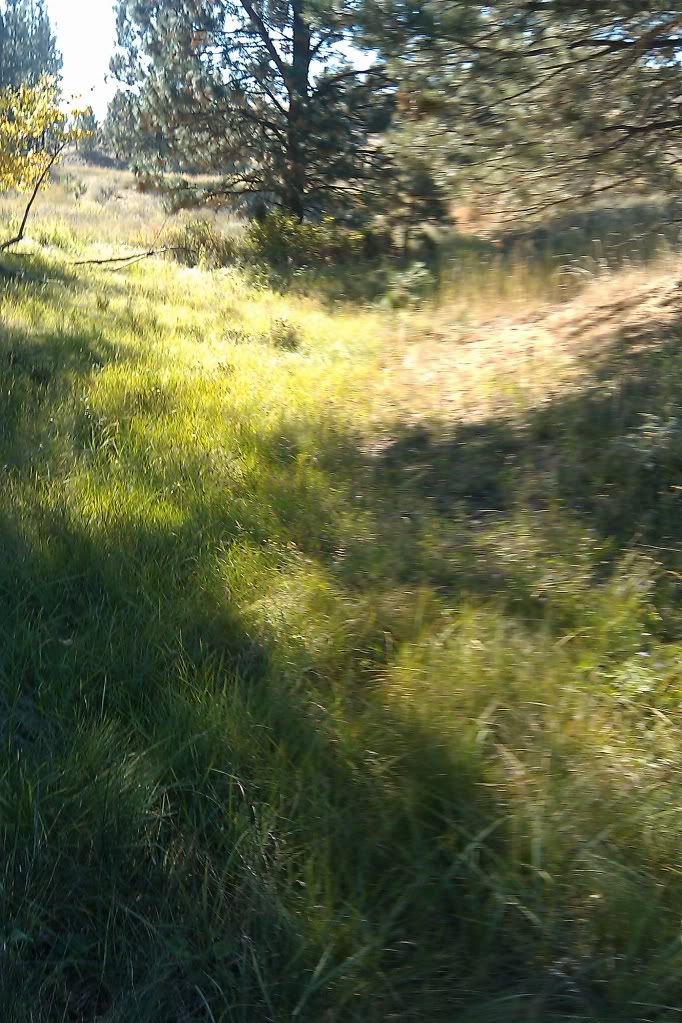 I think you are on the right track. I have done a couple of other things when there is room, like zig zagging up and down to keep them thinking and slow them down without always pulling. If there isn't room, you end up with the half-halts and or walk/stop transitions.
Good luck.....
---
Signature undergoing edits. Please standby.......
Cross posting from another board, this method really helped my young guy to get his balance going down hills. He now collects himself up and heads down hills like a pro, plus it helped build that butt muscle!
Training a horse to go down hills, working off the hindquarters...in balance...no rushing
As explained by Larry Whitesell:
She rushes downhill because she is out of balance. She has more weight
on the forehand than the hind end. Both up or down, if you use the reins
to slow her she will go to the forehand. So even going uphill
she will rush because she feels she has to pull the rider up the hill.
Going down: As you approach the crest of the hill, take your shoulders up
and back a little as if you are asking her to back. At the same time, you must
bend your knees and take your heels back an inch or so, keeping a little
weight in the stirrups. This allows the horse to lift her back and walk
her hind legs under her. You should feel this happen. Now her hind legs
will brake her. In the beginning, she will rush because it is habit. Open
and close your right hand, then left, then right then left. Do this as
slowly as you want her to walk down the hill. She will keep time to your
hands with her front feet. Stop her every three or four steps until she
learns to take her time. When you stop, you can't just sit down and then
go again or she will be on the forehand. You must maintain the position
of shoulders slightly lifted up and back and heels taken slightly back
taking weight off her back. When you start down again, don't just let her
go or she will be on the forehand. You must leg her off to tell her to
take her hind legs more underneath you. When you leg her you should
hardly have to touch her. Sometimes when you get to the bottom, ask her
to back up the hill a few steps. She must round her back to back up the
hill or she is practicing backing on the forehand.

Going up hill: Lean forward and up a little. You must take your heels
back just a little and put weight in the stirrups. If you don't get off
her back she can't get her hind legs under you so she rushes. Technically
when this happens, she is falling up the hill, so she must be able to bring
her legs underneath. If she rushes from habit, open and close each hand to
show her the timing you want the front feet to climb with. Ask her to
climb three or four steps and pause. When you start again you must ask
with the calves of your legs and your heels must be back.

Going up or down, people lean forward or back, but they don't bring their
heels back more so they are out of balance. It is hard for the horse to
balance herself and the rider on such an angle. You must get off the
horse's back so she can lift it to bring her hind legs under to brake or
drive. Back up hills and down hills. It helps them learn. Do small
inclines first and just a few steps.

I hope this will help.

Larry


I like to use a verbal cue. I will often say eeaassyy to a young horse when they feel like they might be thinking of rushing. If they continue to rush, I won't hesitate to actually stop them in the middle of the decent and just make them stand for a moment or 2. If you just steady them with a nice deep seat and some light checks with the reins, most will figure it out pretty quickly. I do the same thing going uphill only I take a forward seat and grab a handful of mane. I don't really know why, just force of habit I guess.
The reason she is going faster down hill is because she is not fully balanced yet. Just like a person going down a hill, if you lose your balance you wind up going faster and stumbling. What I would do is hold her head up high and lean back and keep your hands up and have a steady contact with her mouth, if you feel her speed up, sit back deeper in the saddle and lift her head up more and keep a good grip with your legs the whole time. She is a young horse so she doesn't know how to balance herself that well yet. She'll get it.
Thank you everyone for replies. I appreciate it tons.

I know with time she'll improve. She's had a year of riding I'm sure she doesn't have the best of balance as the time goes it'll improve but I feel that alot of her stumbling is due to not paying attention.

I'm going to start taking her into rougher country and make her work and watch her footing. This will be a work in progress no big hurry.

Thank you again for the replies.