Sudden explosion
---
My BF has had a horse for about 2 years now. hes a 16hh sorrel BLM mustang gelding. He got this as a project horse, totally unbroke at 5 but was adopted as a 2 year old. He was disappointed because the horse was to easy to train lol. This horse will do ANYTHING to please. If he spooks it in-place and then he looks at what spooked him and thinks about it. If he dose not understand something he still tries to figure it out. Well my BF was going to sell him (as he did not need 3 horses anymore) and his Dad flipped and ended up taking the horse over. Lets just say I have seen more graceful sacks of flower ride. This man has sent this horse on his side too many times (BF put good brakes on the gelding and his Dad pulls hard. At one point the horse stumbled and he pulled and the horse stopped so hard the horse fell). Despite the 'fantastic' riding abilities of BF's dad the horse had always had the same behavior. If his dad fell, the horse would stand there. He would always stand for someone to get on him and always was well behaved. Well yesterday the horse was way off.

BF's dad got his foot in the stirrup and the horse started bucking. This horse has NEVER done something like that. Bf's dad broke his ankle (from stepping off the horse -_-') and the horse ran away across the round pen. Someone went to grab him and he reared and ran away bucking (NEVER done something like that ether). Then BF was leading him back to his stall and the horse tried to bolt, again NEVER done something like that. The horse was always fed a little hot but he never acted like this. He is worked 2 times a week. The only thing I can think of is the people who live next to the Livery are messing with him (hes stall is on the property line). IDK what else could have caused him to explode like that. We are aware that BF's dad can't ride for manure but that change in the gelding's behavior still bothers me. It was out of nowhere (he was acting normal up until he started bucking) and why so violent. Again this horse had behaved even with BF's dad's lack of riding ability.

Anyone ever had something like this happen?
---
Last edited by KigerQueen; 08-10-2013 at

04:06 PM

.
Did a horse fly or bee sting/bite his butt? Was he getting pinched by the saddle? Has he injured his back in the pasture and no ones aware of it? Just things to ponder;)
Their horses stay in a stalled, so no turn out (the gelding can be destructive so his stall has been reinforced). And we thought of that but he was still acting up 20 min later (when bf was leading him). We thought tack too but thats the saddle they have always used on him. He changed the blanket but she should have acted up from the start (or stopped once there was no pressure). Bf is going to look at the blanket and see, though.
Maybe he just got fed up and exploded? Ive heard of horses doing this. He prolly got sick of that guys crap and grew to resent him. Id just go over the basics with him again or maybe give him a break.
Posted via Mobile Device
I agree- either he got fed up, saddle or something was hurting him or it was a bee or a fly. I rode a mare who was the most laid back, lazy thing. She gave lessons to beginners all the time. The only time she ever bucked was when stung by a bee. She would never do this at any other time.
I'd look more into pain issues or startling. Any bug bites? Back pain? Was the arena by a road? In earshot of the barn?

Have you seen any signs of your horse becoming grumpy? More tail swishing, ear pinning, head shaking, etc? I don't think many horses will just snap, usually there are warning signs.

Just last week my normally placid lesson horse bucked a student of mine off. A bus let off air behind him (you know, when it goes pshhhhhhh) and the horse came unglued. He didn't just take off ... He was like a rodeo bronc for 30 feet! He stopped when I got in front of him (which was actually what caused my student to fall), and while another person was walking back you can still tell he was shaken. Head up, jumping forward, looking around, etc. I've never seen this horse buck and my student has been riding him for 2 years. We still have to remember horses are animals, and prey animals at that!
Posted via Mobile Device
The stall needs to be reinforced because he destroys it and there is no turn out.
How often is the horse rode and how long is he worked?

I have absolutely no issues with horses being stalled as I have worked in show barns/training facilities. But the horses at those facilities were worked worked 4-6 days a week and were able to use energy and their minds(being stimulated mentally)and never come up with the habit of trying to destroy a stall. The behavior the above horse has comes from boredom and not being able to expend his excess energy along with the "hot feed" and lack of mental stimulation.
---
I DON'T LEAD 'EM AND FEED 'EM, I RIDE 'EM AND SLIDE 'EM.
I agree that he is fed up and not willing to take anymore (regarding bf's dad who, thank goodness, won't be riding him any longer?), and boredom. Sounds like a good horse, and worth the effort- If this is your bf's horse (he's owned him for 2 yrs.) Then it appears his dad had no right to "take over" the horse! Pretty nervy of him. Your bf should be firm about care/ownership rights that belong solely to him. Hope this can be resolved soon! :)
My mare was having issues there (she started to do things like rear!) soIi moved her and she is fine. Sadly the only turn out there is an unsafe arena (filled with manure that's been worked into powder) and EVERYONE is always fighting for turnout time. I agree all of their horses need worked more but I 'cant work their horses for them (wont ether). They also think its unsafe for horses to be turned out with no one watching them, and with their two mustangs together I'd agree. The round pen is at the back of the property but surrounded by stalls on 2 sides (there can be up to 40 horses boarded there so there are a lot of pipe stalls). He is not in pain as he his tack fit and he is not worked enough to be sore. He is also a big baby, if he scraps himself he will let you know lol. He teeth where just done and hes utd on shoeing (bf's dad shoes his own horses and mine. The only farrier who dose not make horses lame in my area). I can see him being fed up though. Lol BF gets fed up with him in 5 min XD.
here is a pic of the horse in question
(My BF is 6'4")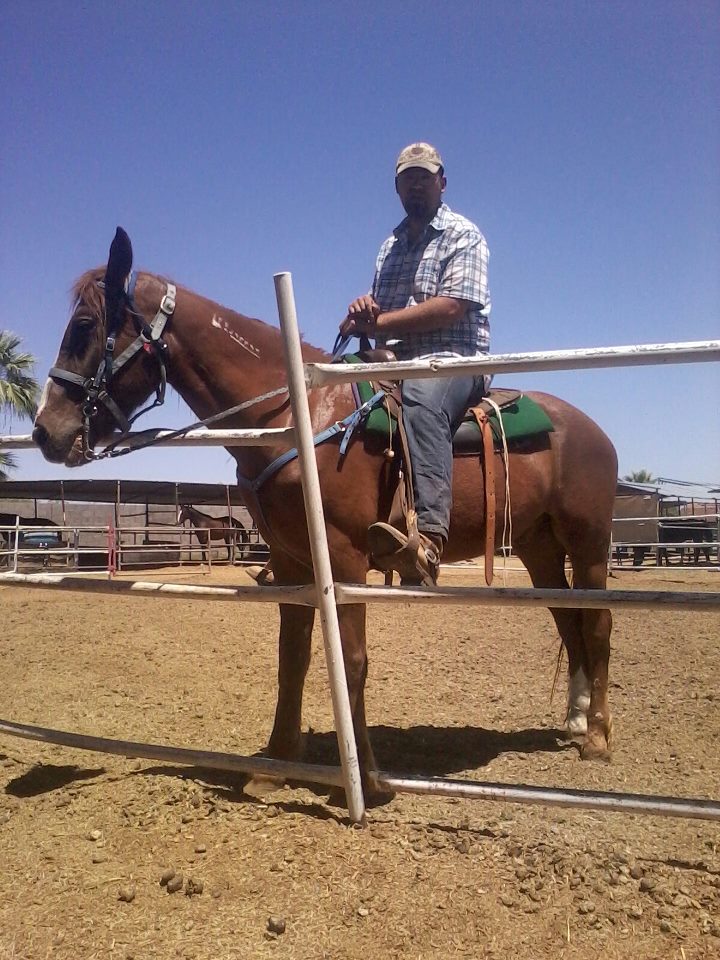 To add, I would probably guess that it wasn't actually a sudden explosion. Most likely it had been coming and the signs were overlooked. Horses are bad liars.
---
I DON'T LEAD 'EM AND FEED 'EM, I RIDE 'EM AND SLIDE 'EM.