Would not surprise me with this horse. He is an extremely shy horse, and a little to gentle for these two. They like that hardheaded mustang types with quirky personalities. He reminds me more of an arab with this personality, hes not a hot horse though. I REALLY wish BF's Dad would let BF sell him, I'd take him if I had the $ but one horse is a good number for me.
BF is going to ride him probably tomorrow and see if he acts up and find out why if he can.
Here is a slightly better pic and you can kinda see the stall that has been "Chris proofed"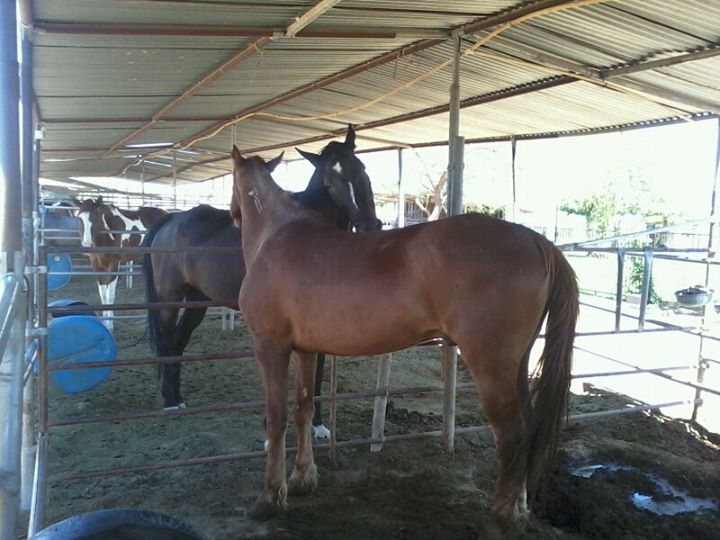 Quote:
To add, I would probably guess that it wasn't actually a sudden explosion. Most likely it had been coming and the signs were overlooked. Horses are bad liars.
I 2nd, 3rd, 8th, 15th, 22nth, 50th and 2000th this right here exactly. Normal well mannored horses don't just all of a sudden get fed up and go ape poo. Either there were ignored signs OR something spooked him and got him worked up.
Posted via Mobile Device
The hot feed may or may not be the issue or be a "hot" horse by nature but there are horses that can not sit idle regardless. They start to fiddle or destroy their surroundings. They need to be stimulated mentally and blow off some energy= have a regular job.
I even had one of those types turned out on acres and acres he would get bored and destroy the fence and act up if not rode, and I mean rode with a purpose, not just loping circles, on a regular basis.
I have found these horses to be smart and need a job, purpose and a way to engage their brain along with regular exercise.

Also I would rethink the saddle fit, maybe its the angle of the picture you posted but the forks look like they sit down on top of the withers.

Out of curiosity, how does he destroy a panel stall?
---
I DON'T LEAD 'EM AND FEED 'EM, I RIDE 'EM AND SLIDE 'EM.
If I kept my mare stalled 24/7 with no turnout and little exercise, the devil himself couldn't handle her. She would have so much pent up energy that she would be insane. I would also be insane if stuck in a 12 X 12 enclosure with nothing to do.
---
Celeste
Carpe Diem!
We have one horse who can stay stalled 24/7 and have absolutely no problems whatsoever. For whatever reason he loves a stall and would rather be there anyway. Most of our horses are TWHs and pretty mellow but they can hardly stand 8 hours in a stall.

I stalled my very first horse(for medical reasons) for two weeks straight. When I got her out of that stall she acted fine no problems. Took her to bathe her about 30 minutes later and all hell broke loose. She was bucking, rearing, kicking, running into the fences, fighting us tooth and nail. I just let go of the lead and let her get it out of her system. It took her about 30 minutes of running around like a mad man before she finally calmed down. All that was from being stalled for too long. And she wasnt even on any type of grain or supplements. She got plain grass hay and that was it.
He was wild when they got him so he was destructive. Now when he brakes something it is him and the paint you can see in the last pic (also a 16.2hh 'mustang' gelding also). Otherwise he just sits there and zones out. My BF thinks it might have been the blanket, Ill look at it tomorrow. Ill see if I can get vid of him ether being ridden or playing with his buddy. As for the saddle fit they are vary ocd about that. His saddle is one of thought that will fit 3 out of 5 horses perfectly and is almost a perfect fit for the 4th (event fit my mare though not me lol).

This horse has the weirdest behavior though (a lil off topic). He will just sit there and lick you. I timed him. he just sat there licking my arm for 5 min without stopping. He gets small amounts of salt (he has a pee spot that takes 3 hours to muck out a week) so I don't think its a salt issue lol.