Here are two ex-racers. One I own, (the chestnut) he is 20 years old, 16 hands tall and has been doing pony club/4H his whole non-racing life. He did up to 5', was trained to 1st level dressage, barrel racing, bareback, natural horsemanship, etc.

The fleabitten grey is 12 year old, 17 hands tall and has been showing 3' hunters. He has major dressage potential and is a beginners lesson horse.

Both are very sweet and calm. One of them, Bear (the grey), im buying this week. I have proof that one of them was abused (Junior, the chestnut) and we think that Bear was abused as well. Both of them are the only horses, that we have, we trust putting little kids/beginners on.

Here is a video of them:

Aubre (NordicJuniper), the rider, hasnt ridden a different horse for the last year (since she started riding Junior with me). She is very timid with new horses. She got right on Bear and walk/trot/canter and jumped him. He was perfect for her and did his best to take care of her.

I am biased to TBs, though I do like other breeds, but I think they get a bad rep thanks to people thinking that they are mean and hot headed. I myself, dont really like Arabs, ive always had more problems with Arabs (though I think it depends more on the horse itself), and I think they are more air-headed than TBs. That is just my opinion.

I think that if you dont like TBs, maybe you shouldnt get one..? But bond with a horse is more important then the breed. I find bonding with TBs is easier then bonding with other breeds; again, just my opinion.

Hope I dont get eaten alive for anything that I said, just my opinions. :]
Started
Join Date: Aug 2009
Location: In the barn whenever possible.
Posts: 1,910
• Horses:
2
Here is my daughter riding bareback on Sushi, one of the thoroughbreds. :)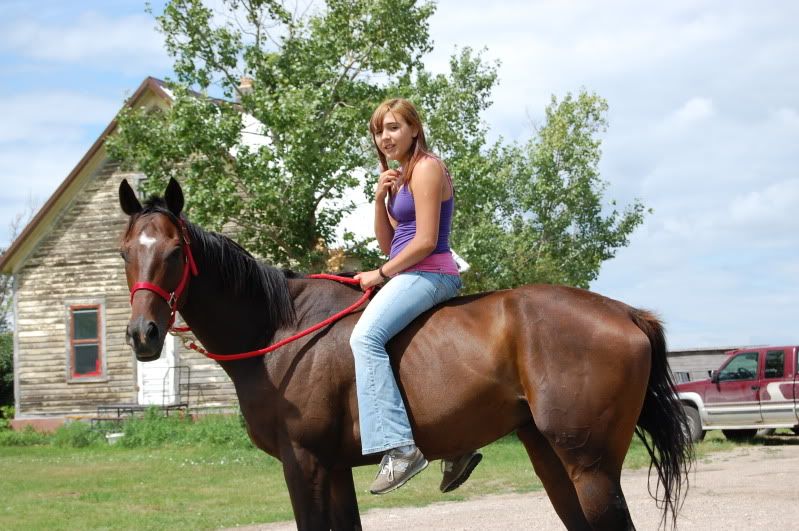 Hi there..
OTTB's can make wonderful horses! My Dad is a breeder and I have taken many TB's from the track and restarted them to do Low level Dressage and Huter Jumpers. The ones I retrained were all great on trails and had great personalities as well.
One was sold to a young girl who ended up taking the horse to the Jounior Grand Nationals. She did very well there and won a lot. This was about 20 yrs ago.
I would suggest that you take your time in picking one. It did concern me too when you said you did not like TB's. I think it is hard to conclude this when you have only known one and had a not so good experience with it!

Why don't you find some to ride before going to the point of purchasing one??
Have you trained horses before?

It has been a long time since I worked with horses and my horse was trained for racing but I cried when my dad wanted to send him back to the track! He ended up giving me the horse and he is really great.
I have to say that being he sat in a pasture waiting for me to recover from a car accident, I did have to seek out some help from trainers to get him started.

IMHO- if you have not trained horses in the past it would be a good idea to seek out a trainers assistance. They can help you find a horse that is suited for your level of capabilities...

Not to say your not capable just a general suggestion. I do think if you find the right one that you may be pleasantly surprised at how wonderful they are.

Best of luck to you on your search!!
Half Pass
Vintage is off the track and she was excitable when I first got her but now she's really calm we were at our first show on sat and she did great! It just takes time I only have one problem with vinty and that's standing to mount but under saddle she's great!! Vinty also free jumps 4ft and does amazing in dressage she's going to the royal this year she tries her heart out and she's only 6. She is a little hard to get the weight on but once it's on it normally stays on
---
You are a great champion. When you ran, the ground shook, the sky opened and mere mortals parted.
I love you Vinty, you'll always be my champion.
---
Last edited by VintageMatch; 09-02-2009 at

03:45 PM

.
Green Broke
Join Date: Aug 2009
Location: New South Wales, Australia
Posts: 4,847
• Horses:
1
I've broken a horse before, taking it from yearling to well adjusted 4ish year old, and worked around other young horses. A lot of the horses I have ridden have needed a fair bit of work - I don't have much money to buy a horse and if you want something young you generally have to go with uneducated, and the people I knew were somewhat the same.

I've owned a TB, and he was trained, not you know to epic proportions but he had been unofficially competing at elementary dressage, and he was an EFA D Grade Showjumper with points. He wasn't great but he wasn't a "raw" horse. He was good at Gymkhana's too though, we'd always win barrel racing and flag races etc. He wasn't a bad horse, he performed well and wasn't dangerous unless you had a big problem with the trying to run of cross country, he just had an attitude and would be prone to moments where he would just be a pain to get out of anything. It was hilarious though, my friends who could ride a little (a year or two lessons in a school) and they would get on him but because they couldn't 'ride' he'd just plant his feet and refuse to move. He was gelded late so he was very into mares, and would even try and mount some of them, although we generally tried to avoid this situation occurring. He wasn't a rig or anything, just the way he was.

I've known many TBs that aren't so good. One that i looked after and rode for a while you had to hold its leg up during rugging so it wouldn't kick you in, he was generally not so nice, although he was a lovely looker (9 yr old). Another that I knew would get so worked up if you asked him to do anything but trail ride, I rode him for months but its like his head would just freak out - he was slowly getting better, but he wasn't mine so I didn't end up putting too much work into him (10 yr old). Another OTTB I knew you couldn't do anything with but plod along, but I think thats because he had been abused post track, I imagine he would have gotten better with work but he was already 17 and just used as a trail horse. Another one I rode while my horse was out was this 17.2hh OTTB who seemed perfectly lovely and calm but would have these episodes where he would endeavour to through of his rider by any means necessary and then just sort of stand there. Unfortunately the owners didn't tell me this even though their daughter had needed a knee reconstruction from this horse. When I came of I was on crutches for a month.

I don't just dislike TBs for no reason. I think they are lovely looking horses, generally intelligent and quite versatile, which are all reasons why I would consider one. I also think that they make a good cross breed, ie. Anglos, QH/TB, draft/TB etc. I've seen some great unraced and purpose bred ones that perform very well, not to mention some lovely OT ones. Its just my experience with OTTBs has taught me that they can be unpredictable, unreliable and uncooperative. The reason I went on here was to hear others opinion, because I know how much riders can screw up horses, and that could have happened to the ones I knew.

From what I can hear from you guys is that with consistent time and work that a lot of them can be retrained successfully. Its something that I am going to have to think over though. Perhaps I might get an unraced breed for my next horse, and if I have time for a second in the future look into an OTTB. When I start horse looking I'll see what is out there. Thanks for all your insights.