Top line muscling?
---
Hi,

I'm trying to muscle up my Arab gelding for show season/to be leased out. I've never trained a true show horse. This is my second year in horse ownership. I've been riding for 5 years & I start babies/retrain/tune up horses. I just never have shown. My gelding is ver lacking in top line muscle. He jumps 2'6 regularly on the ground, canters on the ground, trots, gallops. Undersade he jumps whatever on the trail, w/t/c. I do different exercises with him all the time.

What should I do for his top line?
Thanks!
Posted via Mobile Device
Yearling
Join Date: Jan 2008
Location: British Columbia, Canada
Posts: 1,284
• Horses:
4
Long and low will really get them using their stomach muscles to lift their back.
Long and low means having the horse going forward driving with his hind legs while reaching forward and downward with his neck. Do you know how a Stallion looks when he drives his mares forward? Or when a horse is excited about meeting another horse for the first time and they come toward each other? The way that the neck arches and reaches forward is the kind of shape you are looking for; lifting the base of the neck , reaching outward and letting the nose point down to the ground. You would probably have the horse's neck a bit further arching downward than the above examples, but my point was to emphasise the long, "telescoping" arch of the neck.
Also, it's very important that the horse be really stepping forward and under with his hind legs.
This sort of reaching down and stepping under is harder for Arabians due to their high neck placement, but they can do it. You will work on encouraging your horse to follow the bit forward and downward and to stay down there while trotting forward.

Also, trotting over ground poles, either on the lunge or mounted, helps develop the abdominal muscles and they are what lift the back into a good topline.
Riding a horse "on the bit" is the best way to develop topline muscles (after a horse goes this way, they learn to go with their necks "long and low" to stretch their muscles). I would highly recommend some dressage lessons - also, if your horse has never been ridden "on the bit" I would recommend 10 - 15 mintes of lungeing with side reins a few times a week.
I would love to get him a circingle (is that what it's called?) to adjust his head set.

He keeps his head high a lot, with a short choppy trot. I try to make him move out (at a lunge & in the saddle) - but I have a hard time if he "doesn't feel like it".
Posted via Mobile Device
ilovemyPhillip, you do not need any extra equipment to adjust a "head set". When he drives from behind and rounds the head will come to the "head set" naturally.
And don't expect it to happen in day, week, or even a month, because until he'll build all those muscles (which is a gradual process) he won't be able to stay in it. I gonna suggest what I suggest most of the time in such situation - take some lessons with the good dressage trainer (at least for couple months). Trainer will help you to get an idea of how to deal with the problem (and I'm talking from the personal experience here - I had exactly same problem with my paint - head in air, run-run-run).
You can also do some search in "English Riding" and "Dressage" sections. The problem of the "nice head set" was discussed there number of times with the great advices on how to "deal" with it. But again, any advice on web won't substitute a live trainer who can see what's done wrong.
P.S. You have to know how to use side reins if you want to use them. I'd suggest not to unless you are experienced with them.
---
Last edited by kitten_Val; 02-07-2011 at

09:06 AM

.
You don't need to use gadgets to achieve a "head set"
Long And Low will greatly help. To add onto what Tiny said, you as the rider has to ensure that your horse is driving forward. Your seat rides the hind end - your hips ride your horses hips. Your legs ride the ribs and your hands ride the shoulders.
You have to make sure your horse is lifting his back up into your seat, engaged - tracking up, and you are allowing that energy to recycle through your outside rein.
The trick is, when your horse is reaching for contact - you allow the reins to slide through your fingers slowly and softy, so that your horse can stretch down.
I sorta have it here - this was a work in progress. This pic was taken last Feb...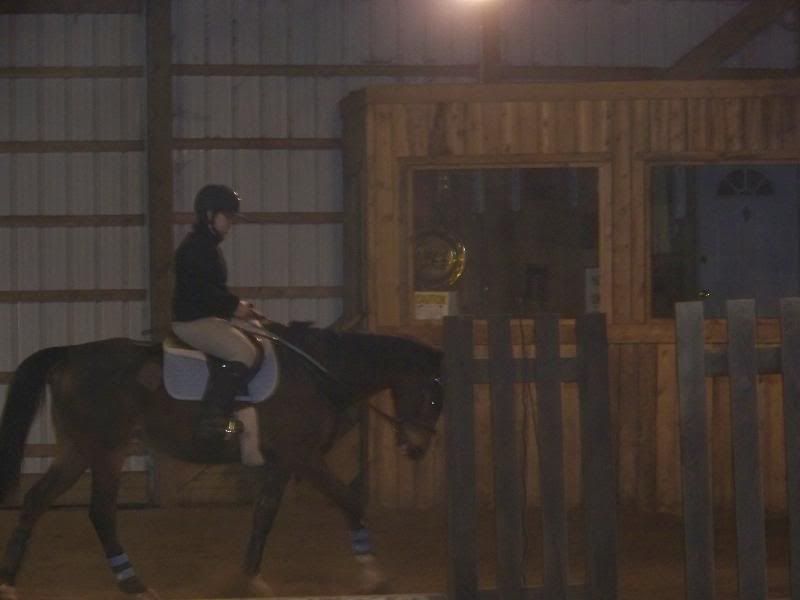 Also - you want to do on the ground stretches...
---
Kitten - we posted the same time.

I am going to agree with the side reins - I don't like them, and if you use them without understanding how to make sure your horse is driving forward, rhythmic and engaged while lunging, side reins will create issues instead of aiding.

Head set comes last! As Kitten said, headset will come naturally when you get everything else in place.

Seat into Legs into Hands to Soften.

I too agree with Dressage Lessons :)
---
Also, if you have access to any hills where you live, doing hill work is great for adding neck and topline muscle. I had a horse with a noodle neck and after riding her on hills for a few months it turned into a beautiful, arching neck. Does wonders for the back too.
Similar Threads
Thread
Thread Starter
Forum
Replies
Last Post
Better Muscling??

Lonestar22

Horse Riding Critique

7

11-30-2010

11:24 PM

muscling

BarrelracingArabian

Horse Training

10

06-16-2010

11:59 AM

muscling

BarrelracingArabian

Horse Training

8

05-18-2010

07:01 PM

Muscling?

JavaLover

Horse Health

6

02-21-2010

09:04 PM

How to even out muscling...

melinda27858

Horse Training

6

08-25-2008

10:45 AM