I used to teach some.. and I started out with the student on their horse.. and we would do some things. If all was going well.. we went forward.

OTOH when it was clear things were NOT progressing I would get up on Ol' Dobbin myself. Was I a perfect rider? Nope.. never have been.. but I could tell right away if Ol' Dobbin was working right or not. Sometimes the student was not advanced enough to deal with a problem. If I saw that, and it wasn't a big deal, I would get on and give the horse 15 minutes in Elana's Horse training School.. and then the student would get on his/her horse with an attitude more in tune to what we were doing.

Never thought about refusing to get on a student's horse. Fact is, I often asked to get on. Sometimes I got to spend a few minutes on a really wonderful horse that way! ;)
---
There is something about the outside of a horse that is good for the inside of a man.
~Winston Churchill
(or woman!!!!
) Dinosaur Horse Trainer
My trainer has never ridden one of my horses, she can see from what I'm doing and what the horse is doing where the issues lie. I was so pleased in my first lesson on Willow, my first ride on her, that we were seeing, well she was seeing and I was feeling the same thing at about the same time.

I can certainly see the benefit of a trainer riding your horse, but I don't think that they have to. I'm sure Mel would ride one of mine if I asked her to, but so far I haven't reached the sort of road block where I need her to ride for me.
Quote:
A good coach can see what's happening before the rider feels it. I've often wondered if my coach is some kind or weird horse psychic because of what she sees before it happens, but as my feel gets refined and my eye gets better watching her teach, I am beginning to see and feel it as well. She very, very rarely gets on a horse in a lesson and usually only to ride through what I do not have the timing or feel yet to do. There are only a handful of horses she will ride, I'm lucky that mine is one of them.
I feel like any coach who feels that they need to get on a horse to feel what's going on is an inexperienced rider themselves. When I am teaching, only if the horse is so far off from another whom I have ridden do I think I need to get on for a spin. The issue for me in doing that is it is usually that I can work through the issue easily and then it frustrates me that the rider can't do it when for me it is almost in my nature. So I avoid getting on the horse until I have an idea of the communication style of the rider and that I know I can explain what I am doing. However usually going through a few analogies and exercises the rider can come to their own understanding which is ideal.

And yes if you put leg on your horse and it runs away, you didn't hold it enough and it is your fault. I've put 20-25 rides on a greenbroke horse never off the lunge and he is already schooling first level and hacking out quietly. Do you think he didn't run away or buck the first times I used a leg aid? Reinforcement and training are what have him where he is now, not eye rolling at important concepts and how hard it makes your life to do something fundamental like put a leg on and then deal with the result. It's called training and riding, not pretending to be a sack of potatoes.
Posted via Mobile Device
I really like your explanation as you have made it easy to understand. It was also though provoking. I am now thinking back and asking myself if my current trainer explained WHY I didn't have enough leg. I know a lot of it is visual to her and she says my legs don't "hug" him. She also tells younger students that their calves are their "seatbelts" and they must always hold on tightly with their "seatbelts." Cinny doesn't like the whole "seatbelt" approach and hat IS my fault because I never gave him more leg than I needed to make him move forward..which as I said is a mere tickle of the calf...a split second squeeze then release and only gently resting my lower legs against him. Sometimes all I have to do is a hairline movement of an ankle.
And the constant holding with the leg confuses me. This may be where I am very wrong. I have always learned to ride a horse solely on core and balance and legs are just cues, signals but not meant to hold with. Maybe my very first H/J trainer i the 80's that ingrained this in me was the start of going down a wrong path I don't know. I do know that almost any horse I have ridden since then, I can literally lift my calves, off them, let my legs just hang and no matter what they do I just sort of stick....like handgalloping full out with no legs holding you on, sort of in this sweet spot of balance where there is no effort at all...the horse just moves under you freely.
There was a day that they had a sprinkler in the arena to do some obstacle work with the 4 H Girls and I wa riding Cin bareback. When the water hit him the first time he leaped sidewas and did a spin. The trainer and her asisstant dropped their jaws and said "How did you stay on, you aren't holding on with your legs at all" And then told me I need to start "using my seatbelts."
I know I am by far not even an intermediate Dressage rider. I know my trainer isn't exactly a Dressage trainer (mainly a 4H leader that owns a barn). Maybe I am having too much attitude in looking for her flaws. Or maybe she really confusing me.
I admit that where it comes to Dressage and my horse, I really don't know what is right from wrong anymore. I read and watch from training parafenelia from Conrad Schumacher and Jane Savoie, and think "hey, wow, that really helped" but then have a trainer tell me to do the opposite things or that something that Schumacher says is an expected response from a green or young horse is something that is very wrong and I should NEVER allow Cinny to do and I'm crazy to think that's correct. Sigh.... and then a reputable clinician when asked which is right then ends up agreeing with the vids/books....
IT's no wonder Cinny and I are such a big mess.
Many coaches are worried that if they get onto a student's horse and can't get better results, it reflects badly on their abilities. They often will not get on as a result.
I get on all of my students horses. When a horse has a stumbling block that the rider can't address properly, I want to get on a feel what is really going on. Every horse is different and what it may take to help this horse will differ every time. There is no "cookie cutter" solution for every problem.
I believe that I have the ability to diagnose where the problem is, just what it may take to help, try it, see the results, get off, and now talk the student through this solution.
At a clinic I taught in Canada a student brought a horse with a serious resistance problem.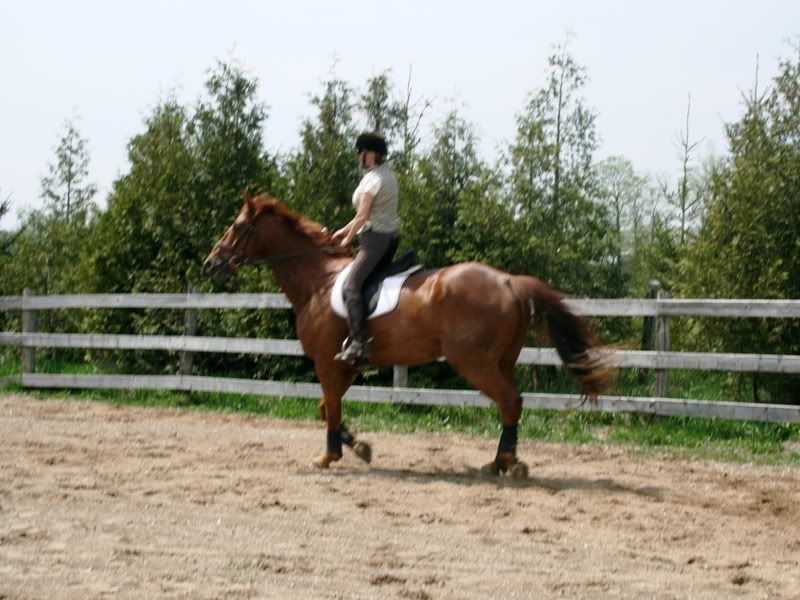 It was a study in frustration for both horse and rider. I got on to see what was going on. Simply watching from the ground doesn't always give to a clue at the the subtlety that may be required to help. Within minutes I figured out what was going on and how to fix it.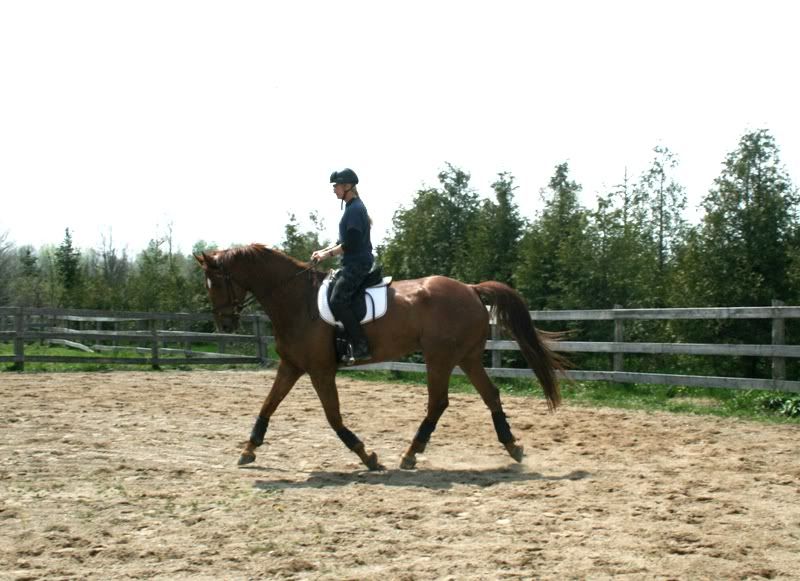 When the owner got back on, I was able to talk her through the correction. The rider was a really nice rider who had just hit a wall. She quickly was able to adapt her riding to give this horse what he was looking for. At the end of the lesson, all was going well.
Could I have gotten the same result without getting on? Probably. But, I was able to speed the process by my getting on.
I wonder why other trainers are so hesitant sometimes, even though I understand the worry of looking bad.
Amount of leg may vary with the horse's training. A lot of western trained horses are not used to having constant contact with the lower leg, and they respond by going faster - which is what they think they are supposed to do. And when I ride my horse with our Circle Y, I don't have contact with my lower leg because the saddle tree pushes my leg away.

Trooper was trained on a ranch. He was also spurred quite hard on a ranch he was loaned to, and it took several years of riding before even very light touches of the lower leg didn't automatically cause a rapid increase in speed. Mia was trained by a western trainer (yes, she got her training 3 years after I bought her, but that is another story). However, I'm the one who has ridden her out. Riding her in an Aussie-style saddle, I normally have a light contact with my lower leg. She knows me and doesn't worry until the light contact becomes a nudge.

When I ride Trooper, I try to remember he doesn't like feeling my lower leg next to him. And I think it is reasonable for a teacher to get on a horse and find out where the horse is at in its training rather than expecting it to be trained her way. More of my humble opinion...
---
"Make the right thing easy and the wrong thing...well, ignore it mostly."
Allison, that top picture looks like Cinny when I do the "seatbelt" thing I described above that my trainer says to do. Although, I know my current saddle situation doesn't help but he does it bareback and bareback with my daughter. We take part of the "hold on for life" thing out of our lower legs and he relaxes.
I would def ask your trainer to get on when she gets better so she can see what your guy is all about. For now, I would ask her to tell you the moment you are doing something correctly so you can feel what "correct" is and reward him. This way it will be easier to ask your horse correctly in the future. When she gets on in the future, she can see what he's all about, etc...

On to the galloping issue (I had this one):

If you squeeze your horse tighter with legs but you leave the "front door" open, he's going to run. If your horse is out to your hands and is creating the contact and you squeeze your horse tighter, the front door is no longer open and he won't run. Same thing happens in you leave the "back door" open and increase the pressure of your hands, your horse will draw back from your hand to evade the bit and then his gait gets choppy, blech... ask your trainer if you should if you should close your hands more if you increase the leg pressure


When I ride, I remember this pyramid, I start from the bottom and work my way up (imagine the left bar as the horse's front end and the right as his rear end)
|:)|
|-> <-|
|-> <-|
|-> <-|

Here's what happens when you leave the "front door" open and increase leg pressure:

:( <---<--| <-|

and when you leave the "back door" open and increase hand pressure:

|-> |-->--> :(


Asking tons of questions never hurts it can only help. A trainer can only teach you the mechanics of riding correct, you need to learn to feel correct and a trainer can't teach you feel.
Ask ten different horse people and get ten different answers. :)

I am open to different approaches and my horse tells me if it works. Currently my horse is saying, "do whatever Buck Brannaman says" so I do. Just because it works for her. Other approaches which may or may not conflict with that work, or not, to varying degrees.

The thing about staying on by gripping with your calves as though they were a seatbelt seems odd to me. I was taught to not do this. I can also stay on a spook bareback and I don't grip with my legs.

When I took lessons, my trainer would occasionally get on. If nothing else, it was reassuring to see that my horse could actually do what was being asked of her.
Posted via Mobile Device
my pyramid got messed up, boo

basically bottom of the pyramid: long and low and then you compress both ways until you get your horse to where he needs to be at your level (only works if your horse stands out to your hand).
While 4evariding is certainly right in theory, I would say that Cinny's problem is complicated by the fact that her horse is not (as I read her posts in this thread and elsewhere) very accepting of hand or leg aids. If he's resistant to the hand and she closes the door, he hollows and flings his head around, right? You need a trainer who will use whatever method to help him calmly accept the aids. That will make a huge difference.
Posted via Mobile Device